Challenging Science's Unshakable Truths, Star Chef Now Feeds Hungry, Africa's Solar Revolution
Inspiring News Articles
February 6, 2015
Hi awesome friends,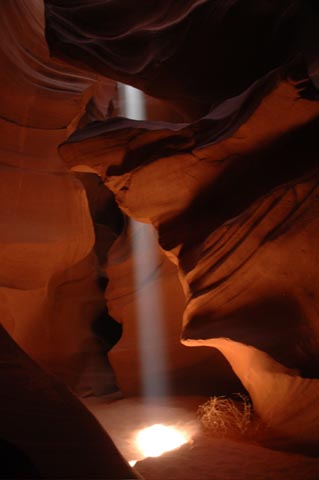 Below are key excerpts of inspiring news articles with great information on a challenge to science's established 'truths,' a star chef who gave up an illustrious career to feed the hungry, Africa's quiet, yet powerful solar revolution, and more.
Each inspiring excerpt is taken verbatim from the media website listed at the link provided. If any link fails, click here. The key sentences are highlighted in case you just want to skim. Please spread the inspiration and have a great one!
With sacred love and warm wishes,
Fred Burks for the PEERS websites
Special note: Read a fascinating New York Times article on one intriguing way to fall in love. Watch an inspiring video and read the article on how Salt Lake City has practically eliminated homelessness. Watch a touching video of a most beautiful water birth. Enjoy a fascinating close-up view of our nearest galactic neighbor, the Andromeda Galaxy. Explore a compelling selection of major media vaccine articles which raise serious questions about the risks and dangers of vaccines.
Quote of the Week: "After we have mastered the wind, the waves, the tides, and gravity, we shall harness the energies of love. Then, for the second time, man will have discovered fire." ~ Teilhard de Chardin
---
Five insights challenging science's unshakable 'truths'
June 28, 2014, The Guardian (One of the UK's leading newspapers)
http://www.theguardian.com/science/2014/jun/29/five-insights...
1. Lifestyle can change genes. We have each inherited a particular set of genes, but the outcome of that inheritance is not fixed. Our environment, diet and circumstance flood our bodies with molecules that switch the genes on or off. The result can make a huge difference. What you eat, what your mother ate, the age when your grandfather started smoking, the amount of pollution in your neighbourhood – these factors have all been linked to epigenetic changes that get passed down through the generations. 2. The mind can affect the body. What used to be dismissed by science as superstition or old wives' tales ... has a palpable effect on our bodies. 3. Quantum effects exist in biology. Plants, for instance, use quantum theory to harvest energy from the sun [by] using "superposition". This trick effectively searches all possible [solar energy delivery] paths [through the organism] simultaneously, and finds the quickest and thus most energy-efficient route. That means the energy reaches the plant's storage centre before it dissipates. There are also hints that smell is a quantum sense. The fact that these things happen in the warm, wet world of biological material suggests that we are missing a trick. 4. The universe is a computer (and we are the programmers). The universe ... behaves exactly like a computer [and] we, by our conscious and unconscious actions, are playing the role of that computer's programmers. 5. Human beings are nothing special. Researchers know of only a handful of genes unique to humans; it's thought that, when the count is finished and the numbers are totted up, fewer than 20 of our 20,000 genes will be exclusively human.
Note: Read the complete article for more on these and other interesting scientific breakthroughs. For more along these lines, see concise summaries of deeply revealing news articles that push the boundaries of our understanding of reality.
---
Africa's quiet solar revolution
January 25, 2015, Christian Science Monitor
http://www.csmonitor.com/World/Africa/2015/0125/Africa-s-quiet-solar-revolution
By Tanzanian standards, Nosim Noah is not poor. A tall, handsome woman with the angular features of her fellow Masai tribe members, Ms. Noah makes a good living selling women's and children's clothes. But despite their relative prosperity, up until late 2013, the family had no electricity. Now, however, [they have power because] a new solar energy movement is bringing kilowatts to previously unlit areas of Africa – and changing the lives of hundreds of thousands of people. The idea behind the latest effort isn't to tap the power of the sun to electrify every appliance in a household. Instead, it is to install a small solar panel not much bigger than an iPad to power a few lights, a cellphone charger, and other basic necessities that can still significantly alter people's lives. People use the money they normally would spend on kerosene to finance their solar systems, allowing them to pay in small, affordable installments and not rely on government help. The concept is called pay-as-you-go solar. When [Noah] and her late husband moved into their house in 2004, they paid about a $200 connection fee to TANESCO, the Tanzanian national utility, to extend a power line to their home. After a six-month wait, workers finally erected a utility pole outside their home. But the power never came. "I have no idea why it didn't work," Noah says. "All I know is that the lights never came on." They have power now, though, with the help of the sun.
Note: Explore a treasure trove of concise summaries of incredibly inspiring news articles which will inspire you to make a difference.
---
Once a rising star, chef now feeds hungry
April 2, 2010, CNN
http://www.cnn.com/2010/LIVING/04/01/cnnheroes.krishnan.hunger/
Narayanan Krishnan was a bright, young, award-winning chef with a five-star hotel group, short-listed for an elite job in Switzerland. But a quick family visit home [to the south Indian city of Madurai] before heading to Europe changed everything. "I saw a very old man eating his own human waste for food," Krishnan said. "After that, I started feeding that man and decided this is what I should do the rest of my lifetime." Krishnan quit his job within the week and returned home for good, convinced of his new destiny. "That spark and that inspiration is a driving force still inside me as a flame -- to serve all the mentally ill destitutes and people who cannot take care of themselves." Krishnan founded his nonprofit Akshaya Trust in 2003. Now 29, he has served more than 1.2 million meals -- breakfast, lunch and dinner -- to India's homeless and destitute, mostly elderly people abandoned by their families and often abused. The hot meals he delivers are simple, tasty vegetarian fare he personally prepares, packs and often hand-feeds to nearly 400 clients each day. The group's operations cost about $327 a day, but sponsored donations only cover 22 days a month. Krishnan subsidizes the shortfall with $88 he receives in monthly rent from a home his grandfather gave him. Krishnan sleeps in Akshaya's modest kitchen with his few co-workers.
Note: Don't miss the beautiful three-minute video of this great hero. Explore a treasure trove of concise summaries of incredibly inspiring news articles which will inspire you to make a difference.
---
Probiotic Bacteria Chill Out Anxious Mice
September 2, 2011, NPR
http://www.npr.org/2011/09/02/140146780/probiotic-bacteria-chill...
You might have heard probiotic bacteria help keep your gut healthy, but could they be good for your brain, too? A study out this week suggests the answer is yes, at least for mice, because mice on a probiotic diet for a couple of weeks were more relaxed than their counterparts who were not. They showed fewer visible signs of anxiety, lower levels of stress hormones, even chemical changes in the brain. Sounds a little like valium, doesn't it? Other than signals telling you when you're hungry or full, what connection is there between the intestinal tract and the brain? And why would it be there? It's been long known that the brain and the gut communicate. What's becoming clearer over the last while is that this brain-gut communication [is] bidirectional, [and that the microbial] flora within the gut can actually also play an important part in regulating this. So we can now describe what we call the microbial gut-brain axis, and this is coming across in a whole variety of studies in [many new and] different ways. We've known for a long time that if you're feeling sick, or you've got a bad bacteria, like a food poisoning, the [vagus] nerve will signal to the brain to allow you express the sickness behavior. So it's kind of like the good side of what we've already known. We were able to get such a pronounced effect, and similar effects as if the animals had been given some pharmaceutical agents that are used to treat anxiety and depression.
Note: The above is a summary of an NPR interview with John Cryan, discussing findings published in PNAS by his research team. Explore a treasure trove of concise summaries of incredibly inspiring news articles which will inspire you to make a difference.
---
Placebo effect influenced by perceived cost, study finds
January 28, 2015, Los Angeles Times
http://www.latimes.com/science/sciencenow/la-sci-sn-expensive...
Parkinson's [is] a movement disorder that causes tremors, stiffness and balance problems. A 2008 meta-analysis found that placebos used in clinical trials of Parkinson's treatments improved symptoms by an average of 16%. [A] team from the University of Cincinnati ... had a hunch that patients would be more responsive to a fake drug they thought was real if it came with a heftier price tag. So they recruited 12 patients with "moderately advanced" Parkinson's and asked them to participate in a clinical trial. The study volunteers were told that there were two versions of the experimental drug and that both were believed to work equally well, [but] one version cost 15 times more than the other. In reality, both placebos were composed of the exact same saline solution. And yet, the patients perceived the expensive version to be more effective than the cheaper one, according to results published Wednesday in the journal Neurology. Both of the placebos improved motor function compared with a base line test. But when patients got the $1,500-per-dose placebo, their improvement was 9% greater than when they got the $100-per-dose placebo, the researchers reported. In another test, 67% of the patients were judged "very good" or having "marked improvement" after they took the expensive placebo, compared with 58% of patients after they took the purportedly cheap placebo.
Note: Even 58% experiencing "marked improvement" on the cheaper placebo is quite impressive! Why aren't more studies being done on the amazing and powerful affects of the placebo? Explore a treasure trove of concise summaries of incredibly inspiring news articles which will inspire you to make a difference.
---
How to build peace, one teenager at a time
June 17, 2014, Christian Science Monitor
http://www.csmonitor.com/Commentary/Common-Ground/2014/0617...
At Seeds of Peace, we bring kids from conflict zones together to learn to see each other and their differences in a new light. Now, our first generation of alumni are emerging as leaders. Case studies of conflict areas, including Northern Ireland and South Africa, have shown that progress toward peace does not typically result from one action or initiative; rather it is many activities on many levels that ultimately bring about change. In each case, strong leaders working across sectors have helped take incremental steps toward change even during the most difficult times. Our 5,061 graduates are positioned to play just that role. A team of our graduates in Pakistan and India has set out to change the way that people living in conflict learn history. During their Seeds of Peace dialogue encounters, they realized that they were being taught wildly different versions of the same shared historical events. This inspired them to create a textbook that, for the first time, juxtaposes their countries' competing historical narratives. They have since led workshops for more than 600 Indian and Pakistani students, and their online curriculum has received more than 1 million views. Young leaders like these directly link what they do in their personal and professional lives to their experiences with Seeds of Peace: engaging with the "Other," recognizing their leadership potential, and gaining a commitment to peace at a young age.
Note: The complete article above contains several inspiring stories about Seeds of Peace's incredible programs.
---
Cat Town Cafe a creative, humane space for adoption
November 17, 2014, San Francisco Chronicle (San Francisco's leading newspaper)
http://www.sfgate.com/bayarea/johnson/article/Oakland-s-Cat...
A local cafe [in Oakland, CA] serves up cappuccinos, teas and lattes alongside a variety of pastry delights. And there in this comfortable and sprawling space filled with armchairs and rugs are the cats. There are all sorts of cats – orange, black, gray, shorthairs, longhairs, big and small. And what they all have in common is that they're available for adoption. The Cat Town Cafe is the first permanent cat cafe to open in the United States. Patrons ... adopted 32 cats in [the first] 15 days. Other cities are following suit. Temporary, pop-up cat cafes have appeared in Los Angeles and New York, and efforts are under way to establish permanent businesses in San Francisco, San Diego and Denver. Cat Town has become so popular so quickly that reservations are required just to get in the door on weekends. [Co-founder Ann] Dunn, a former volunteer at the Oakland Animal Shelter, ran a private cat rescue operation for three years before starting the business. During that time, she saved more than 650 cats, she said. All the animals at the cafe are brought from the city's animal shelter – and for them, it's a second chance at life. Dunn and Myatt started the cafe as a way to save more cats because a trip to the animal shelter to adopt a pet can be a downright depressing experience. The cat cafe has created an instant buzz among Bay Area cat lovers. "We're creating a cat community, and it's exciting to watch it unfold."
Note: Explore a treasure trove of concise summaries of incredibly inspiring news articles which will inspire you to make a difference.
---
Girl Saved By Her Puppy After Spending 11 Days Lost In The Siberian Wilderness
August 14, 2014, Huffington Post
http://www.huffingtonpost.com/2014/08/14/girl-saved-by-her-puppy...
What's more adorable than a puppy? A life-saving puppy, of course. That's especially true of the pup named Kyrachaan, who rescued Karina Chikitova, a 3-year-old girl from northeast Russia's Sakha Republic. Thanks to her dog, Chikitova is recovering safely after spending 11 days in the Siberian wilderness. Kyrachaan, meaning "little one," was with Chikitova when she got lost and is believed to have cuddled with the girl at night to keep her warm. After nine days, the dog went in search of help. The Siberian Times reports that the young girl ended up in the remote area after wandering away from home in search of her father, who had left for a nearby village. As a result, her mother -- believing Karina to have gone with her father -- didn't realize the girl was lost in the woods. Karina survived on wild berries and river water and seems to have escaped any run-ins with the bears and wolves inhabiting the area. According to the Toronto Sun, the girl "looked surprisingly well" when rescuers showed up, having followed the puppy to her hiding spot in a large tuft of grass. The girl was taken to a hospital to recover.
Note: Explore a treasure trove of concise summaries of incredibly inspiring news articles which will inspire you to make a difference.
---
Sleeping-Bag Coats Warm, Employ Detroit Homeless
May 9, 2013, ABC News
http://abcnews.go.com/blogs/headlines/2013/05/sleeping-bag-coats-warm-employ...
The Empowerment Plan began in 2010 as an idea to fulfill Veronika Scott's assignment for her product-design class at the College for Creative Studies in Detroit. "We had to design something that could actually happen," Scott, 22, of Detroit said. Scott's product was a coat that transformed into a sleeping bag for the homeless population of Detroit. The latest design ... can be rolled up and turned into a shoulder bag for the warmer months. After her class ended, Scott [continued to work] with the homeless at the shelter Neighborhood Service Organization in Detroit to develop the first prototype. Scott said the coat was initially meant to offer comfort and pride for the homeless, but one homeless woman's words changed that. "She said, 'Your coats don't matter, jobs matter. We need jobs, not coats,'" Scott said. "It was then about who I could employ." The Empowerment Plan [now] employs 13 former and current homeless people to manufacture its coats, [and] only hires homeless single parents without a violent crime record. Employees are paid well above the minimum wage in Michigan and are given microloans. The coats are not only ordered by nonprofit organizations for free distribution to the homeless, but are also used by the Red Cross for disaster relief. With the help of donations ... the Empowerment Plan plans to create 4,000 coats this year. Scott said that she wants the Empowerment Plan to be a model for U.S. humane manufacturing.
Note: Don't miss the inspiring three-minute video of this courageous woman which shows how one person can make a big change.
---
From Rwandan Garbage Dump To Harvard
May 24, 2014, Huffington Post
http://www.huffingtonpost.com/tp-allen/rwanda-orphans_b_5357352.html
Life -- indeed, survival -- was always difficult for 8-year-old Justus Uwayesu. During the 1994 Genocide against the Tutsi in Rwanda, Justus' father was executed for being born into a family whose identity cards had the Tutsi box arbitrarily checked. His mother vanished shortly thereafter. By the time Justus was 8, he [was living] in the garbage dump for Kigali, the capital of Rwanda. One Sunday ... a taxi [rattled down the dusty road] transporting Clare Effiong, a visitor from the U.S. She was on a mission, "letting the Spirit lead" in a way that causes many to feel very uncomfortable and even suspicious. Through an interpreter Clare ... asked little Justus [what he wanted]. He said, "I want to go to school." Clare drove Justus to a friend's home in Gikondo and told him, "Educate this boy and I will send money to pay for school fees, school materials, uniform, shoes -- whatever." From his first day of school, Justus' most distinctive attribute has been (and remains) his ever-present conviction that it is a precious privilege to learn. Justus obsessively studied, [and received] guidance in applying to colleges and universities in the United States. On [college admissions] "decision day," at 11 PM Rwandan time (5 PM EST), Justus ... fumbled and struggled at first to get into the secure admissions site. Then the letter began to load, and Justus read the first word: "CONGRATULATIONS!" Justus screamed with joy and fell to the floor. When he composed himself, he borrowed my phone to call Clare in the U.S. "Mom, MOM!" he yelled. "I'm going to Harvard!"
Note: Explore a treasure trove of concise summaries of incredibly inspiring news articles which will inspire you to make a difference.
---
Video: Woman makes connection to late stage Alzheimer's patient using music
December 13, 2014, Fox News Affiliate
http://fox4kc.com/2014/12/13/video-woman-makes-connection-to-late-stage...
The holidays are a time which put a lot of people in the spirit of giving and helping others, and one YouTube video, which is currently trending on social media, encompasses just that. In the video, uploaded by an organization called Memory Bridge, the selfless and caring spirit of one woman is displayed as she forms a very personal interaction using gospel music with someone who has longed for that connection while in the late and deteriorating stages of Alzheimer's Disease. According to her biography, Naomi Feil, the founder of Validation Therapy and someone who has worked with the elderly for over 40 years, has long believed traditional methods of working with severely disoriented elderly people needed to change. That belief led her to write several books on the subject, and develop alternative therapies.
Note: What a beautiful way to connect with those who have late stage Alzheimers disease. Don't miss this most touching video with a beautiful surprise at the end.
---
Fasting for three days can regenerate entire immune system, study finds
June 5, 2014, The Telegraph (One of the UK's leading newspapers)
http://www.telegraph.co.uk/news/uknews/10878625/Fasting-for-three-days...
Fasting for as little as three days can regenerate the entire immune system, even in the elderly, scientists have found in a breakthrough described as "remarkable". Although fasting diets have been criticised by nutritionists for being unhealthy, new research suggests starving the body kick-starts stem cells into producing new white blood cells, which fight off infection. Scientists at the University of Southern California say the discovery could be particularly beneficial for people suffering from damaged immune systems. It could also help the elderly whose immune system becomes less effective as they age, making it harder for them to fight off even common diseases. The researchers say fasting "flips a regenerative switch" which prompts stem cells to create brand new white blood cells, essentially regenerating the entire immune system. Fasting for 72 hours also protected cancer patients against the toxic impact of chemotherapy. "While chemotherapy saves lives, it causes significant collateral damage to the immune system. The results of this study suggest that fasting may mitigate some of the harmful effects of chemotherapy," said co-author Tanya Dorff, assistant professor of clinical medicine at the USC Norris Comprehensive Cancer Center and Hospital. "More clinical studies are needed, and any such dietary intervention should be undertaken only under the guidance of a physician."
Note: Explore a treasure trove of concise summaries of incredibly inspiring news articles which will inspire you to make a difference.
---
Note: For summaries of the latest news articles covering deep politics and censored news, click here. For summaries of the most important news articles ever along these lines, click here.
Don't miss our treasure trove of inspiring resources
Kindly support this work of love: Donate here
Explore the mind and heart expanding websites managed by the nonprofit PEERS network:
Subscribe to the PEERS email list of inspiration and education (one email per week). Or subscribe to the list of news and research on deep politics (one email every few days).