Miracle Surgery Restores Sight of Poor, Audi's New Carbon-Free Fuel, Love Thy Neighbor
Inspiring News Articles
May 15, 2015
Hey awesome friends,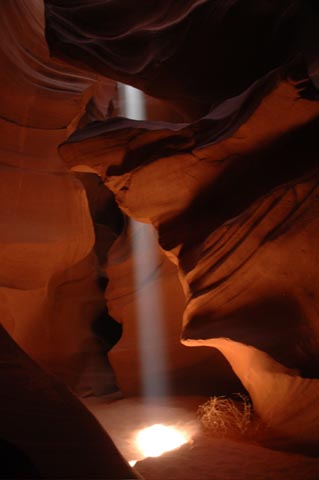 Below are key excerpts of inspiring news articles with great information on the $300 miracle surgery that restores sight to poor blind people, the new "blue crude" synthetic fuel that powers cars in an environmentally friendly way, a woman who invites her son's killer to move next door, and more.
Each inspiring excerpt is taken verbatim from the media website listed at the link provided. If any link fails, click here. The key sentences are highlighted in case you just want to skim. Please spread the inspiration and have a great one!
With sacred love and warm wishes,
Fred Burks for the PEERS websites
Special note: Watch an inspiring seven-minute video on a generous couple raising a huge mixed family. Watch an inspiring video of how four Swedish police respond to a fight on a New York subway in a surprisingly compassionate way. A recent study found that having a sense of life purpose reduced odds of suffering a stroke by 44%. For those interested in the WingMakers, read this fascinating story on how one woman's life was transformed.
Quote of the Week: "No problem of human destiny is beyond human beings. Man's reason and spirit have often solved the seemingly unsolvable – and we believe they can do it again." ~ John F. Kennedy, 1963
---
'I Can See, Mommy': Witness The Moment Two Blind Sisters See The World For First Time
September 8, 2014, Huffington Post
http://www.huffingtonpost.com/2014/09/08/blind-sisters-see-first-time-202020...
Sonia and Anita, two sisters living in rural India, were both born blind. A simple surgery, costing about $300, could have restored their sight long ago; but their parents, who earn 17 cents an hour planting and harvesting rice by hand, could barely make ends meet. Thanks to the efforts of 20/20/20, a nonprofit working to restore vision to blind children and adults in some of the world's poorest countries, Sonia and Anita were able to undergo that simple surgery on their eyes. When the bandages came off, they saw the world around them for the very first time, and it was captured in a video detailing the sisters' story. Sonia, 12, is said to have gasped as she opened her eyes and blinked into the sunlight for the first time. Her 6-year-old sister, holding her mother close, reportedly declared, "I can see, Mommy." According to 20/20/20, the 15-minute "miracle" surgery, which the sisters both underwent, involves a surgeon removing the defective lens that causes blindness and replacing it with an artificial lens. The procedure could restore the eyesight of half the blind children and adults in the world, the nonprofit says. "The only problem is, for the poorest people in the world, who live on $1 a day, they could never afford to pay for a $300 surgery. So they will remain blind for the rest of their lives –- unless someone helps them," 20/20/20 writes on its website.
Note: Explore a treasure trove of concise summaries of incredibly inspiring news articles which will inspire you to make a difference.
---
Audi creates green 'e-diesel fuel of the future' using just carbon dioxide and water
April 27, 2015, International Business Times
http://www.ibtimes.co.uk/audi-creates-green-e-diesel-fuel-future-using-just...
German car manufacturer Audi says it has created the "fuel of the future" made solely from water, carbon dioxide and renewable sources. The synthetic "e-diesel" was made following a commissioning phase of just four months at a plant in Dresden, Germany. Unlike regular diesel, the clear fuel does not contain any sulphur or fossil oil, while it has an overall energy efficiency of around 70%. Creation of the fuel, which Audi and Sunfire are calling blue crude, first requires heating water to 800C (1,472F) to trigger a high temperature electrolysis to break down the steam to hydrogen and oxygen. The hydrogen then reacts with the CO2 in synthesis reactors, again under pressure and at a high temperature. The reaction product is a ... synthetic fuel, which is free from sulphur and aromatic hydrocarbons, [that] is suitable for mixing with fossil diesel or being used as a fuel in its own right. Reiner Mangold, head of sustainable product development at Audi, said: "In developing Audi e-diesel we are promoting another fuel based on CO2 that will allow long-distance mobility with virtually no impact on the climate."
Note: Read exciting news from major media sources on other amazing new energy breakthroughs. Explore a treasure trove of concise summaries of incredibly inspiring news articles which will inspire you to make a difference.
---
Love thy neighbor: Son's killer moves next door
June 8, 2011, CBS News
http://www.cbsnews.com/news/love-thy-neighbor-sons-killer-moves-next-door/
In February 1993, Mary's son, Laramiun Byrd, was shot to death. He was 20, and Mary's only child. The killer was a 16-year-old kid named Oshea Israel. Mary wanted justice. "He was an animal. He deserved to be caged." And he was. Tried as an adult and sentenced to 25 and a half years -- Oshea served 17 before being recently released. He now lives back in the old neighborhood - next door to Mary. How a convicted murder ended-up living a door jamb away from his victim's mother is a story, not of horrible misfortune, as you might expect - but of remarkable mercy. A few years ago Mary asked if she could meet Oshea at Minnesota's Stillwater state prison. As a devout Christian, she felt compelled to see if there was some way, if somehow, she could forgive her son's killer. Oshea says they met regularly after that. When he got out, she introduced him to her landlord - who with Mary's blessing, invited Oshea to move into the building. Today they don't just live close - they are close. Mary was able to forgive. "Unforgiveness is like cancer," Mary says. "It will eat you from the inside out. It's not about that other person, me forgiving him does not diminish what he's done. Yes, he murdered my son - but the forgiveness is for me. It's for me." For Oshea, it hasn't been that easy. "I haven't totally forgiven myself yet, I'm learning to forgive myself." To that end, Oshea is now ... singing the praises of God and forgiveness at prisons, churches - to large audiences everywhere.
Note: Watch a beautiful, moving video by the founder of StoryCorps, which led to this story.
---
Real Junk Food Project: The Leeds cafe that has fed 10,000 people, using 20 tonnes of unwanted food – and started a worldwide movement
December 16, 2014, The Independent (One of the UK's leading newspapers)
http://www.independent.co.uk/news/uk/home-news/real-junk-food-project-the...
Adam Smith, founder of The Real Junk Food Project, in Armley, Leeds, feeds his punters on goods that would otherwise have been thrown away by supermarkets, independent grocers and food banks. The 29-year-old trained chef cooks up stews, casseroles, soups and cakes with the unwanted food, charging [based on] a "pay as you feel" policy - allowing punters to pay what they feel they can, and if that is nothing, they can help with the washing up. In just 10 months he has fed 10,000 people on 20 tonnes of unwanted food, raising over £30,000. The cafe ... has inspired 47 other "pay as you feel" cafes to spring in the past few months. But Mr Smith says The Real Junk Food Project ... is about more than simply feeding those who might otherwise go hungry. "It is bringing people from different demographics together [in a way] that doesn't involve money. People are opening Junk Food Projects because they have had enough of what is going on in society and care about what is happening to other human beings," he said. The publication of an all-party report into Hunger in Britain last week revealed 4m people in the UK were at risk of going hungry, while 3.5m adults could not afford to feed themselves properly. Britain experienced the highest rate of food inflation in the world the report said, rising 47% since 2003, compared with 30.4% in the United States, 22.1% in Germany and 16.7% in France.
Note: Explore a treasure trove of concise summaries of incredibly inspiring news articles which will inspire you to make a difference.
---
Judge Says Vermont Law on Genetically Modified Food Stands
April 27, 2015, ABC News/Associated Press
http://abcnews.go.com/US/wireStory/food-industry-block-vermonts-gmo-labeling...
A Vermont law that could make the state the first in the country to require labeling of genetically modified food has been allowed by a federal judge to stand for now despite opposition by food industry groups. U.S. District Court Judge Christina Reiss in Burlington on Monday ruled against the Grocery Manufacturers' Association and other industry groups in their request for a preliminary order to block the law from going into effect as scheduled on July 1, 2016. The case is likely to go to trial. The ruling comes nearly a year after Democratic Gov. Peter Shumlin signed the law, under which Vermont is expected to become the first state to require genetically modified organism, or GMO, food labeling. The Grocery Manufacturers Association was joined by the Snack Foods Association, the International Dairy Foods Association and the National Association of Manufacturers as plaintiffs in the lawsuit, seeking to have Vermont's law declared unconstitutional. Supporters of the law have included consumer and environmental groups. The judge found that the concerns embedded in Vermont's law were well within the state's purview. "The safety of food products, the protection of the environment, and the accommodation of religious beliefs and practices are all quintessential governmental interests, as is the State's desire 'to promote informed consumer decision-making,'" she wrote, quoting from the state's court filings.
Note: Can you believe that industry groups are claiming it is unconstitutional to require labeling of GMOs? For more along these lines, see concise summaries of deeply revealing news articles on genetically modified foods from reliable major media sources.
---
Why are older Danish women so happy?
May 2, 2015, The Guardian (One of the UK's leading newspapers)
http://www.theguardian.com/world/2015/may/03/europe-happiness-danish-women...
Eva Kerner, 71, a former secretary, has been retired since 2006 and goes to the gym twice a week ... attends concerts, visits museums, travels extensively, sings in a choir and is a prolific seamstress. "It's a nice life," Kerner tells me. "Being so active keeps you young. I'm very happy." She's not alone. A study claims that retired Danish women are the most content in Europe, with those aged 65-74 scoring 8.6 out of 10 on the happiness scale – something experts suggest is partly down to the perspective that comes with age. But it's not just being over 65, female and busy that guarantees you a retirement of pure revelry. There's something about the experience of "living Danishly" that also helps. "Denmark is a country that takes care of its citizens," says retired associate professor Jette Eiberg, 71, from Copenhagen. "I feel very lucky to be here and I'm really grateful" – something else that has been proven to boost happiness levels. Sky-high taxes ... have the happy side effect of making Danes more content. Denmark has the lowest income inequality among all the OECD countries and studies show that living in neighbourhoods where most people earn about the same can make you happier. And because Denmark has one of the shortest working weeks at just 37 hours, Danes have plenty of time to foster friendships and extracurricular interests throughout their careers to see them through retirement.
Note: Explore a treasure trove of concise summaries of incredibly inspiring news articles which will inspire you to make a difference.
---
After Years Of Hiding, 'Walking In Love' As Transgender
May 3, 2013, NPR
http://www.npr.org/2013/05/03/180628239/after-years-of-hiding-walking-in-love...
Growing up in a rough housing project on Chicago's South Side during the early 1960s, Alexis Martinez had to hide that she was transgender. "When I came out to my mom that I was transgender, I think I was 13 or 14," Alexis says. "And she called the police. And I always remember that when the police showed up, they just laughed and told her, 'You've got a fag for a son, and there's nothing we can do about it. So, I went as macho as I could be, to mask what I really was underneath," explains Alexis, now 62. One day, [Alexis' daughter] Lesley discovered some of her father's female clothes. "It was a big to-do," Lesley says. "It was sort of, you know, my uncovering the secret." Alexis knew trying to cover up that she was transgender would mean a loss of trust with her daughter — so she told. "I was really torn between being a female role model and a dad," Alexis says. "And so, I said to myself, 'OK, well be the best parent. Whatever it takes, however I do it, you have to look out for your baby.' But one of the most difficult things for me was, I was always afraid that I wouldn't be allowed to be in my granddaughters' lives." She needn't have worried. Lesley and her husband's acceptance, Alexis says, "blew that completely out of the water. To Alexis, the openness with which her family can talk about her gender identity "is a miracle," she says. "Now I walk in love, and I try to live that way every day."
Note: Watch a beautiful, moving video by the founder of StoryCorps, which led to this story.
---
Leadership for Collective Wisdom
April 29, 2015, Daily Good
http://www.dailygood.org/story/1019/leadership-for-collective-wisdom-alan...
Five conditions for the emergence of collective wisdom: 1. Deep Listening. Listening with an intention that the other person feels heard and seen; creating the conditions and presence for the other to more fully come into their own highest being. 2. Suspend Certainty. Capacity to suspend what we think is right, correct, or proper for a period of time, allowing other ways of knowing and other people to contribute to an expanded understanding. 3. See Whole Systems. Seek diverse perspective. Remain alert to the intrinsic interdependence of one's own group, other groups, larger collectives, and our shared Earth. 4. Gather for Group Emergence. Cultivate parallel ways of knowing - intuition, intellect, somatic awareness, respect for ancestral knowledge, regard for nature and physical space. Create safe spaces for dialogue. Maintain respect for others, for relationships, for human decency. Attend to the emotions arising within yourself and others. 5. Trust in the Extraordinary. Trust in what can emerge above and beyond your current understanding. Welcome all that is arising. Resist being constrained by the limitations of normative values or other's expectations. Recognize the power of synchronicity and meaningful coincidence to shape choices and inspire awe and action.
Note: The above was written by Alan Briskin, co-author of The Power of Collective Wisdom.
---
Tyson to End Use of Human Antibiotics in Its Chickens by 2017
April 28, 2015, New York Times
http://www.nytimes.com/2015/04/29/business/tyson-to-end-use-of-human...
Tyson Foods, one of the country's largest meat producers, said on Tuesday that it planned to eliminate the use of human antibiotics in its chicken production by 2017. The company had been working toward that goal for some time, ceasing the use of antibiotics in its hatcheries last year and adopting feed free of antibiotics this year. Then McDonald's, the sprawling restaurant chain that is one of Tyson's biggest customers, said in March that it planned over the next two years to rid its supply chains of chicken treated with antibiotics important to human medicine. At that time, health advocates and investment analysts predicted Tyson would take the final steps to eliminate the drugs from its chicken production. The company said in a news release that it would begin meeting with groups of farmers who produce pork, turkey and beef for Tyson under contract to come up with a plan for eliminating antibiotic use in their programs. "Antibiotic-resistant infections are a global health concern," said Donnie Smith, president and chief executive of Tyson Foods, in a statement. Perdue, another large chicken producer, said last fall that it had eliminated human antibiotics from its hatcheries, the last step in a long process to reduce its reliance on such drugs. It still uses antibiotics that are not used in human medicine, as will Tyson.
Note: Explore a treasure trove of concise summaries of incredibly inspiring news articles which will inspire you to make a difference.
---
Note: For summaries of the latest news articles covering deep politics and censored news, click here. For summaries of the most important news articles ever along these lines, click here.
Don't miss our treasure trove of inspiring resources
Kindly support this work of love: Donate here
Explore the mind and heart expanding websites managed by the nonprofit PEERS network:
Subscribe to the PEERS email list of inspiration and education (one email per week). Or subscribe to the list of news and research on deep politics (one email every few days).