Open Source Revolution, Horse Whisperers, The Integraton
Inspiring News Articles
May 29, 2015
Hey awesome friends,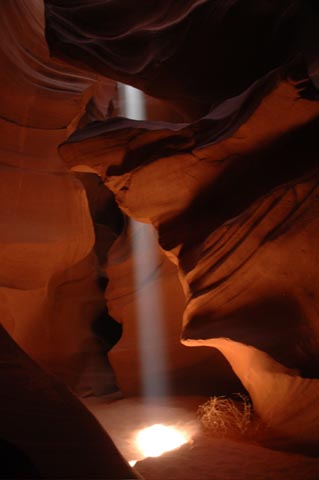 Below are key excerpts of inspiring news articles with great information on a former CIA agent claiming that the open source revolution can't help but transform our world for the better, horse whisperers who bring tremendous healing to traumatized children and adults, the intriguing Integraton designed allegedly according to equations given by ETs, and more.
Each inspiring excerpt is taken verbatim from the media website listed at the link provided. If any link fails, click here. The key sentences are highlighted in case you just want to skim. Please spread the inspiration and have a great one!
With sacred love and warm wishes,
Fred Burks for the PEERS websites
Special note: Watch an incredibly moving six-minute video showing how aging might look on one couple about to be married. Watch the most excellent documentary "Bought" showing how big business is threatening human health in a big way.
Quote of the week: "After we have mastered the wind, the waves, the tides, and gravity, we shall harness the energies of love. Then, for the second time, man will have discovered fire." ~~ Teilhard de Chardin
Video of the week: Watch an awesome 2 1/2 minute video on the choice between fear and love.
---
The open source revolution is coming and it will conquer the 1% - ex CIA spy
June 19, 2014, The Guardian (One of the UK's leading newspapers)
http://www.theguardian.com/environment/earth-insight/2014/jun/19/open-source...
Robert David Steele, former Marine, CIA case officer, and US co-founder of the US Marine Corps intelligence activity, is ... widely recognised as the leader of the Open Source Intelligence (OSINT) paradigm. In 1992, despite opposition from the CIA, he obtained Marine Corps permission to organise a landmark international conference on open source intelligence – the paradigm of deriving information to support policy decisions not through secret activities, but from open public sources available to all. The conference was such a success it brought in over 620 attendees from the intelligence world. But the CIA ... ensured that Steele was prohibited from running a second conference, [prompting] him to resign from his position as second-ranking civilian in Marine Corps intelligence. Last month, Steele presented a startling paper at the Libtech conference in New York. Drawing on principles set out in his latest book, The Open-Source Everything Manifesto ... he told the audience that all the major preconditions for revolution – set out in his 1976 graduate thesis – were now present in the United States and Britain. Steele's book ... connects up the increasing corruption, inefficiency and unaccountability of the intelligence system and its political and financial masters with escalating inequalities and environmental crises. But he also offers a comprehensive vision of hope. "Sharing, not secrecy, is the means by which we ... can create a nonzero win-win Earth that works for one hundred percent of humanity."
Note: Watch an excellent video showing Mr. Steele believes that most terrorist attacks are false flag operations.
---
Horse whisperer Monty Roberts aids veterans and others who face traumas
April 2, 2015, Christian Science Monitor
http://www.csmonitor.com/World/Making-a-difference/2015/0402/Horse-whisperer...
Monty Roberts is taking his message of nonviolent communication and developing trust to military veterans, military police, and incarcerated youths with post-traumatic stress disorder. "The key is to speak the horse's language, which is gesture," he says. He has demonstrated an uncanny ability to "speak" this language, eliminating the centuries-long practice of "breaking a horse" with traditional methods. Roberts is considered the original horse whisperer ... spending a lifetime refining his system, teaching it globally through books, videos, TV shows, demonstration tours, and his own Equestrian Academy. At an evening at his ranch titled "Night of Inspiration," Roberts told of overcoming an abusive father and the prickly resistance of the traditional equestrian community to become arguably the top horse trainer in the world. Now he is morphing into the role of advocate for the healing power of horses. Henry Schleiff, president and general manager of the Military Channel, summed up the results after about 400 people attended a clinic: "The impressive, unique work that Monty Roberts has pioneered, using untrained horses as a therapeutic tool for veterans who are trying to work through anger and depression, is absolutely inspiring." Brigitte von Rechenberg, a professor of veterinary medicine, [said] "There is trust and respect; there is no winner and no loser. Monty's methods leave the horse his dignity. These concepts cause happiness to reach your soul."
Note: Explore a treasure trove of concise summaries of incredibly inspiring news articles which will inspire you to make a difference.
---
Cowgirl uses horses to motivate at-risk kids
December 17, 2014, CNN News
http://www.cnn.com/2014/08/07/us/cnnheroes-kelly/index.html
"It's tough growing up here," said Wright of his low-income neighborhood in Hartford, Connecticut. "I was walking around with a lot on my shoulders," he said. "I couldn't handle it. I didn't care about life anymore." But all that started to change when Wright met Patricia Kelly. A former U.S. Marine and an equestrian, [she] took Wright under her wing and helped him find hope in an unlikely place: on a horse. For the last 30 years, Kelly has helped children in Hartford stay on the right track through her nonprofit, Ebony Horsewomen. The program offers horseback riding lessons and teaches animal science to more than 300 young people a year. "We use horses as a hook to create pride, esteem and healing," said Kelly, 66. Connecticut ... has one of the nation's largest income gaps between rich and poor. Kelly ... witnessed the effects of that inequality. "It is a divided city; the children in the poorer neighborhoods have less resources," Kelly said. "When you teach a child to ride a horse, they learn they are the center of their environment," said Kelly, whose program reaches children from age 5 to 19. "Once they make that connection, they can change what happens in school, at home and in the community." In the case of young men like Wright, the nonprofit has been a critical part of their development. "I can't tell you where I would be without this program. It changed my life. It's helped me set goals for myself," said Wright, who has dreams of becoming an equine blacksmith and dentist.
Note: Explore a treasure trove of concise summaries of incredibly inspiring news articles which will inspire you to make a difference.
---
Welcome to the Integratron
August 20, 2014, New York Times
http://www.nytimes.com/interactive/2014/08/20/style/tmagazine/welcome...
In the wee hours of Aug. 24, 1953, George Van Tassel, a 43-year-old former aviation engineer, was awakened by a man from outer space. The spaceman looked like a human. He informed Van Tassel that his name was Solganda and that he was 700 years old. (He looked no older than 28, Van Tassel said.) Van Tassel was ushered onto the spacecraft where he was told that Earthlings' reliance on metal building materials was interfering with radio frequencies and disrupting interplanetary "thought transfers." Solganda also divulged a secret: a formula that Van Tassel could use to build a remarkable machine, a device that would generate electrostatic energy to suspend the laws of gravity, extend human life and facilitate high-speed time travel. A circular, dome-topped building, 38 feet tall and 55 feet in diameter, [was] constructed by Van Tassel over the course of nearly two decades in accordance with the instructions of his extraterrestrial architectural patron. The name that Van Tassel gave to his time machine: the Integratron. It ... was constructed without nails, screws, flashing or weather stripping. But it's not the way the Integratron looks that draws thousands to Landers each year. It's how the place sounds. You may not subscribe to Van Tassel's [beliefs], but an Integratron sound bath will startle your ears, and, perhaps, awaken your imagination. Beneath the wooden dome, it seems at moments that you're not listening to sound so much as inhabiting it. It is, aesthetically speaking, extraterrestrial: a transportative encounter with music, an experience of pure sound not quite of this earth.
Note: Watch an incredible video interview from 1964 of George Van Tassel. In this interview, Van Tassel shares the equation he claims given to him by an ET: F=1/T, Frequency = 1/Time. For more fascinating equations received in a similar method, explore Wilbur Smith's essay "The New Science." Read more on the Integraton in this 2015 article in the Atlantic. And if you are eager for more, listen to a very informative and revealing 50-minute interview with Van Tassel. Fascinating stuff!!!
---
Pope Francis Explains To Children How War Profiteers Never Want Peace
May 12, 2015, Huffington Post
http://www.huffingtonpost.com/2015/05/12/pope-francis-weapons-war_n_7266688.html
Pope Francis did not mince words when he told a group of children gathered at the Vatican that some people will never want peace because they profit off of war. "Some powerful people earn their living off making weapons," the pope said, in a translation provided by Rome Reports. "For this reason, many people do not want peace." He also called the weapons business an "industry of death," according to Catholic Herald. The pontiff spoke in front of roughly 7,000 children at the Vatican on Monday, in a visit sponsored by the Fabbrica della pace ("Peace Factory"), a non-governmental organization that operates educational programming in primary schools with the purpose of promoting cross-cultural understanding. "Whenever we do something together, something good, something beautiful, everyone changes," he said. "This does us good." The pope's strong words against the weapons industry echo the pontiff's earlier anti-war statements. On December 7, 2014 Pope Francis sent a letter to the Vienna Conference on the Humanitarian Impact of Nuclear Weapons, stating, "Nuclear weapons are a global problem, affecting all nations, and impacting future generations and the planet that is our home." "Spending on nuclear weapons squanders the wealth of nations," he continued. "To prioritize such spending is a mistake and a misallocation of resources which would be far better invested in the areas of integral human development, education, health and the fight against extreme poverty."
Note: Go Pope Francis! Watch the beautiful video of this event at the link above. Explore a treasure trove of concise summaries of incredibly inspiring news articles which will inspire you to make a difference.
---
Pope Francis' Latest Mission: Stopping Nuclear Weapons
April 10, 2015, Time
http://time.com/3817021/pope-francis-nuclear-disarmament/
The Vatican has long opposed nuclear weapons, but Pope Francis is making the cause one of the top diplomatic priorities of his two-year-old papacy. In December, the Vatican submitted a paper calling for total nuclear disarmament to the Vienna Conference on the Humanitarian Impact of Nuclear Weapons. In January, Pope Francis touted nuclear disarmament as a major goal alongside climate change. "Pope Francis has recently pushed the moral argument against nuclear weapons to a new level, not only against their use but also against their possession," Archbishop Bernedito Auza, the Holy See's Ambassador to the U.N., says. "Today there is no more argument, not even the argument of deterrence used during the Cold War, that could 'minimally morally justify' the possession of nuclear weapons. The 'peace of a sort' that is supposed to justify nuclear deterrence is specious and illusory." For Francis ... inequality and nuclear power are interwoven. "Spending on nuclear weapons squanders the wealth of nations," Pope Francis wrote to the Vienna Humanitarian Conference in December. "To prioritize such spending is a mistake and a misallocation of resources which would be far better invested in the areas of integral human development, education, health and the fight against extreme poverty. When these resources are squandered, the poor and the weak living on the margins of society pay the price."
Note: Explore a treasure trove of concise summaries of incredibly inspiring news articles which will inspire you to make a difference.
---
Meet the American Couple Saving Thousands Trying to Get to Europe
December 22, 2014, Time
http://time.com/3639877/christopher-catrambone-migrants-rescue-europe/
Christopher Catrambone and his wife have spent $7.5 million of their own money rescuing migrants. In the summer of 2014, Catrambone and his wife Regina channelled [their] empathy – and $7.5m of the family's personal wealth – into an extraordinary mission to launch the world's first private search and rescue operation. The aim of the Migrant Offshore Aid Station (MOAS) was to locate the flimsy vessels overloaded with men, woman and children [in the Mediterranean Sea] trying to reach sanctuary in Europe, and save the lives of the passengers if they were in danger. "We're not here to save the world, we're here to help people who are in desperate need," says Catrambone. "We leveraged nearly 50% of our savings on this project because it was that important to us." Now they are appealing for the public's help to keep the operation going. Global conflicts have forced record numbers of people on perilous voyages to Europe, but rich nations have scaled back operations to save them – a situation Catrambone finds astonishing. During their [first] 60 days in international waters, MOAS assisted nearly 3,000 people in jeopardy at sea. While an impressive figure, that's still just a small proportion of the 207,000 people the U.N. refugee agency estimates set sail on clandestine voyages in the Mediterranean this year. That figure dwarfs the previous record of 70,000 people who attempted the voyage in 2011, after the Arab Spring sent the first wave of asylum-seekers towards Europe.
Note: Explore a treasure trove of concise summaries of incredibly inspiring news articles which will inspire you to make a difference.
---
FTC Unveils New Website to Help Victims of ID Theft Recover
May 15, 2015, WSPA (North Carolina CBS affiliate)
http://www.wspa.com/story/29078081/ftc-unveils-new-website-to-help...
There's now a new way you can report and recover from identity theft. The Federal Trade Commission is unveiling a new website to keep your identity safe. It tells victims what steps to take in the moments after identity theft happens. You can see detailed advice and checklists at www.identitytheft.gov. The site also helps you check to see if you've been a victim of identity theft without knowing it. Federal officials said they created the site after receiving more than 300,000 complaints from id theft victims in 2014. A Spanish version of the site is also available at RobodeIdentidad.gov. The new website provides an interactive checklist that walks people through the recovery process and helps them understand which recovery steps should be taken upon learning their identity has been stolen. It also provides sample letters and other helpful resources. In addition, the site offers specialized tips for specific forms of identity theft, including tax-related and medical identity theft. The site also has advice for people who have been notified that their personal information was exposed in a data breach. Identity theft has been the top consumer complaint reported to the FTC for the past 15 years, and in 2014, the Commission received more than 330,000 complaints from consumers who were victims of identity theft.
Note: Explore a treasure trove of concise summaries of incredibly inspiring news articles which will inspire you to make a difference.
---
Berkeley, California, to require cellphone health warnings
May 13, 2015, CBS News
http://www.cbsnews.com/news/berkeley-california-to-require-cellphone-health-warnings/
The city council of Berkeley, California, voted Tuesday night to pass a cellphone "right to know" law requiring health warnings with the purchase of a cellphone. When it goes into effect this summer it will be first safety ordinance of its kind in the country. Cellphone retailers will be required to include a city-prepared notice along with the purchase of a cellphone, informing consumers of the minimum separation distance a cellphone should be held from the body. The Federal Communication Commission recommends keeping your phone 5 to 25 millimeters away, depending on the model, to limit radio frequency (RF) exposure to safe levels. "If you carry or use your phone in a pants or shirt pocket or tucked into a bra when the phone is ON and connected to a wireless network, you may exceed the federal guidelines for exposure to RF [radio frequency] radiation," the Berkeley safety notice reads. "This potential risk is greater for children." Lawmakers in at least six states have also considered warnings to address cellphone radiation concerns. The Berkeley proposal seeks to address concerns that even as cellphones become ubiquitous in our lives, many people remain unaware of basic safety recommendations. An April 30th survey funded by the California Brain Tumor Association (CABTA) found that 70 percent of Berkeley adults did not know about the FCC's minimum separation distance.
Note: The American Academy of Pediatrics says that mobile phone radiation is more dangerous for children than adults, and has been petitioning the FCC to modify safety regulations accordingly. For more, read concise summaries of revealing news articles on this and other important health topics.
---
Sabotage Conviction Overturned Against Nun, Fellow Activists
May 8, 2015, ABC News/Associated Press
http://abcnews.go.com/US/wireStory/sabotage-conviction-overturned-nun-fellow...
An 85-year-old nun and two fellow Catholic peace activists who splashed blood on the walls of a bunker holding weapons-grade uranium — exposing vulnerabilities in the nation's nuclear security — were wrongly convicted of sabotage, an appeals court ruled Friday. At issue was whether Sister Megan Rice, 66-year-old Michael Walli and 59-year-old Greg Boertje-Obed injured national security when they cut through several fences to break into the Y-12 National Security Complex in Oak Ridge in July 2012. A panel of the 6th U.S. Circuit Court of Appeals ruled in a 2-1 decision that they did not. Once there, the trio had hung banners, prayed and hammered on the outside wall of the bunker to symbolize a Bible passage that refers to the end of war: "They will beat their swords into ploughshares." "If a defendant blew up a building used to manufacture components for nuclear weapons ... the government surely could demonstrate an adverse effect on the nation's ability to attack or defend," the opinion says. "But vague platitudes about a facility's 'crucial role in the national defense' are not enough to convict a defendant of sabotage." Rice wrote in a letter to The Associated Press in March that "the important message of the appeal is the illegality of nuclear weapons, which are sabotaging the planet."
Note: Explore a treasure trove of concise summaries of incredibly inspiring news articles which will inspire you to make a difference.
---
Dolphins Use Names for Each Other
July 24, 2013, ABC News
http://abcnews.go.com/Technology/dolphins-names/story?id=19751193
They escape from aquarium tanks. They locate underwater mines. Now, a new paper published in the journal Proceedings of the National Academy of Science claims that dolphins recognized their own name when called. Vincent Janik, one of the authors of the study and a biology researcher at the University of St. Andrews in Scotland, said that the name is actually a specific type of dolphin vocalization that the animals respond to. "They're these high pitched whistles that have a little bit of a melody," he told ABC News. These sounds are referred to as "signature whistles." Janik and his colleague, Stephanie King, cruised along the east coast of Scotland looking for bottlenose dolphins. After spotting and identifying a dolphin in the wild, the researchers would play one of three different sounds: a modified sound clip of that dolphin's signature whistle, a signature whistle of one of its podmates, or the signature whistle of a completely foreign dolphin. They played the dolphin's own signature whistle and the animal would come up and approach the boat and whistle back. However, the dolphin didn't respond to the other two types of whistles and mostly kept about its business. It may seem odd that the dolphins don't react much to the whistles of their fellow herdmates, but Janik says that copying a dolphin's signature whistle just right is part of their social group. "This copying only occurs between closely associated animals, like between mothers and their calves," he said. Dolphins only need to respond to their own signature whistles, since any socially relevant animal will have learned how to copy it. "It says to them, 'I know that this [whistle] is a friend.'"
Note: Read an abstract of this intriguing study for yourself. For more on the fascinating capabilities of marine mammals, see the deeply revealing reports from reliable major media sources available here.
---
Note: For summaries of the latest news articles covering deep politics and censored news, click here. For summaries of the most important news articles ever along these lines, click here.
Don't miss our treasure trove of inspiring resources
Kindly support this work of love: Donate here
Explore the mind and heart expanding websites managed by the nonprofit PEERS network:
Subscribe to the PEERS email list of inspiration and education (one email per week). Or subscribe to the list of news and research on deep politics (one email every few days).