One Man's Wealth Transforms Neighborhood, World's First Solar Airport, Trooper's Heroic Act
Inspiring News Articles
November 28, 2015
Hey awesome friends,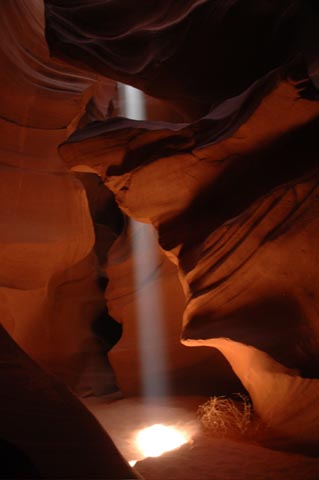 Below are key excerpts of inspiring news articles with great information on the way a dilapidated Florida neighborhood was fixed by years of education-focused donations of Harris Rosen's time and wealth, the world's first "solar airport" curbing pollution in one of India's most polluted cities, a Georgia State Trooper that went way beyond his job's requirements to lovingly help a group of children through their family's tragedy, and more.
Each inspiring excerpt is taken verbatim from the media website listed at the link provided. If any link fails, click here. The key sentences are highlighted in case you just want to skim. Please spread the inspiration and have a great one!
With sacred love and warm wishes,
Fred Burks for the PEERS websites
Special note: Watch an inspiring short clip about the incredible improvements that have happened when people removed GMO foods and pesticides from their diets. Enjoy 20 of the best photos ever taken from outer space.
Quote of the Week: "If money be not thy servant, it will be thy master. " ~~ Francis Bacon
Video of the week: Don't miss this awesome two-minute video by Axe with a profound message.
---
One Man's Millions Turn a Community in Florida Around
May 25, 2015, New York Times
http://www.nytimes.com/2015/05/26/us/tangelo-park-orlando-florida.html?_r=0
Two decades ago, Harris Rosen ... decided to shepherd part of his fortune into a troubled community with the melodious sounding name of Tangelo Park. This neighborhood [and] its leaders tried to beat back drugs, crime and too many shuttered homes. Nearly half its students had dropped out of school. Twenty-one years later, with an infusion of $11 million of Mr. Rosen's money so far, Tangelo Park is a striking success story. Nearly all its seniors graduate from high school, and most go on to college on full scholarships Mr. Rosen has financed. Young children head for kindergarten primed for learning, or already reading, because of the free day care centers and a prekindergarten program Mr. Rosen provides. Property values have climbed. Houses and lawns, with few exceptions, are welcoming. Crime has plummeted. "It's not inexpensive," Mr. Rosen said. "You stay until the neighborhood no longer needs you." But, he added, there are a lot of wealthy people with the resources to do the same thing if they choose. In all, Mr. Rosen now spends about $500,000 a year, less than when he began the program, he said. Mr. Rosen's plan gives no money directly to the schools, directing it instead to help preschool children and provide scholarships for high school graduates. Next year, Mr. Rosen is starting his education program in Parramore, a neighborhood in downtown Orlando, with housing projects and a more transient population. Success ... he said, might persuade other wealthy people to embrace the program.
Note: Explore a treasure trove of concise summaries of incredibly inspiring news articles which will inspire you to make a difference.
---
World's first solar airport takes off in southern India
November 4, 2015, Christian Science Monitor
http://www.csmonitor.com/World/Making-a-difference/Change-Agent/2015/1104/World-s...
Cochin International Airport in southern India's Kerala state may be best known as the gateway to the tourist beaches and houseboats of the region's famous backwaters. Now it has a new claim to fame: The world's first solar airport. Since August, the airport has used 46,000 solar panels laid across 45 acres to power all its electricity needs, and sell excess power to the government-run grid. At night, when the sun doesn't shine, it pulls some of that power back from the grid, making the airport effectively "carbon neutral." Over the next 25 years, the project is expected to reduce carbon emissions by the equivalent of planting 3 million trees. The move to solar power is also expected to help cut pollution in Kochi, an industrial city ranked the 24th most polluted in India. Based on the results at Kochi, India's government has directed 125 airports run by the Airport Authority of India to generate at least 1 megawatt of solar power each by March 2016. If a medium-sized airport such as Kochi, with just 1,300 acres of land, can produce sufficient electrical power for its operations, larger airports such as Delhi, with 5,000 acres, and Bangalore, with 3,000 acres, should be able to meet some of their power demand too, said Kurian, the Kochi airport's managing director. "We are expecting not only other Indian airports, but airports in other countries, also to follow suit," he said. "Every day we are being asked for expert advice and are answering queries from across the world."
Note: Explore a treasure trove of concise summaries of incredibly inspiring news articles which will inspire you to make a difference.
---
Trooper comforts children after Halloween tragedy
November 5, 2015, NBC (Atlanta affiliate)
http://ux.11alive.com/story/news/local/2015/11/03/trooper-comforts-children....
A Georgia State Patrol Trooper went above and beyond the call of duty after a Halloween tragedy. Four Morgan County children lost both of their parents as they were getting ready to trick-or-treat Saturday. Donald and Crystal Howard ... were killed instantly when their SUV flew off the road and hit a tree. Trooper Nathan Bradley arrived at the home to break the news of the tragedy. "Unfortunately, I was greeted by four children in full costumes," Bradley said. With their grandmother's permission, Bradley didn't tell the children, who ranged in age from 6 to 13, that their parents had died. "The first thing I said was, 'Hey lets go get something to eat,'" Bradley said. "They said, 'My parents will be here soon.' I said, 'Your Grandma wants you to hang out with me till she gets here." Bradley treated Justin, Amaya, Damien and Travion to dinner, movies and Halloween candy at the Monroe State Patrol post followed by a sleepover. "The whole purpose was to preserve their Halloween," said Bradley. They weren't told about their parents' accident until the next morning when their grandmother arrived. Bradley also started a GoFundMe page for funeral expenses so that Crystal and Donald can be buried in Florida, where the children are moving in with grandparents. All the kindness came from a young state trooper who didn't want to ruin Halloween for his four new friends. "It's the first time in the line of duty I told someone I loved them and I do love them," Bradley said. "I care about them a lot."
Note: Through gofundme, over $450,000 was raised to support this grieving family. Explore a treasure trove of concise summaries of incredibly inspiring news articles which will inspire you to make a difference.
---
Unmuzzled federal biologist's Facebook post goes viral
November 8, 2015, CBC (Canada's public broadcasting system)
http://www.cbc.ca/news/trending/unmuzzled-scientist-facebook-mother-1.3309303
A Facebook post from the mother of an unmuzzled B.C. biologist has gone viral, shedding more insight into the changes in the control of information since the new federal government took office last week. [Jody] Paterson quoted a status update her son made on his personal Facebook account. "We were told that it's ok to talk to the media or anyone about what we do without permission. That's how surreal it was. That's how things changed over night," the post reads. Kristi Miller, a B.C.-based molecular geneticist with Fisheries and Oceans Canada, was among the first scientists to speak out after the unmuzzling. In 2011, she was prevented from discussing her research into the 2009 Fraser River sockeye salmon collapse following its publication. "When we were banned, it almost made government scientists second-class citizens in the scientific arena," she said. "It was quite embarrassing." Navdeep Bains, the new minister of innovation, science and economic development, announced the policy change Friday, two days after Trudeau and his cabinet were sworn in. "Government scientists and experts will be able to speak freely about their work to the media and the public," he said in a written statement. The previous government ... brought in a restrictive communications policy that required national or international media requests to speak with federal government scientists to be approved by a minister's office, and all communications with government scientists to go through a government communications office.
Note: Explore a treasure trove of concise summaries of incredibly inspiring news articles which will inspire you to make a difference.
---
How Axe Made the Ad Everybody Is Talking About
January 30, 2014, Time
http://time.com/5673/how-axe-made-the-ad-everybody-is-talking-about/
Fragrance company Axe has built a grooming products empire by buddying up with bros. Their ads are well known for their sexual humor and exaggerated scenarios. Perhaps that's why Axe's latest ad has come as such a surprise. Instead of focusing on broad humor, the company's Super Bowl spot to promote the new Axe Peace fragrance line is a sprawling epic that seemingly spans to span continents and generations. Axe often visits college campuses and talks to students to discover what topics and themes will captivate their Millennial customers. Right now, [marketing director Matthew] McCarthy says, those topics are peace and harmony. "The idea of making the world a more peaceful place is a pretty universal idea. Young people are saying, 'Hey, this world's pretty soon going to be my world and I'm going to be even more responsible for it.'" The commercial ... begins with a montage of classic wartime images. A tank rolls through a devastated European city, an Asian dictator is flanked by Maoist propaganda posters and a Middle Eastern ruler wields a nuclear device. Midway through, though, the narrative is turned on its head as each invader is revealed to actually be making a loving gesture toward a woman. If the typical Axe ad operates on the assumption that sex sells, this one attempts to prove that romance does. So is Axe turning to a more serious tone for good? McCarthy says the company simply has to pick the right message for the right moment. But for now he thinks they've hit a note that resonates.
Note: Don't miss the most amazing, two-minute version of this awesome commercial.
---
How to Breathe Better to Relieve Stress
November 5, 2015, Time
http://time.com/4101180/how-to-breathe-better-to-relieve-stress/
Research is mounting that a natural, potent source of stress relief is right in front of your nose. New science is showing that slowing down and deepening your breathing can have profound effects on well-being. "Many researchers can't imagine how something so simple could actually have effects on physiology," says Dr. Andrew Weil, a physician and founder of the Arizona Center for Integrative Medicine at the University of Arizona. Breathing exercises – a staple of mindfulness and yoga practices – have been shown to help control blood pressure, improve heart rate, make arteries more flexible and activate the parasympathetic nervous system, which tamps down the body's fight-or-flight response to stress. Weil and other experts now believe deep breathing has a place in a clinical setting. "It's enough to warrant applications in several areas of medicine," says Dr. Luciano Bernardi, an internal-medicine professor whose research shows that slow-breathing exercises improve exercise capacity in patients with chronic heart failure. "We've shown that this simple thing has a fantastic series of effects.
Note: Explore three simple breathing exercises recommended by Dr. Andrew Weil.
---
Six Pillars of the Wholehearted Life
November 3, 2015, Daily Good
http://www.dailygood.org/story/1158/six-pillars-of-the-wholehearted-life-maria-popova/
In 2015, Naropa University awarded its first-ever honorary degree. Parker Palmer ... delivered one of the greatest commencement addresses of all time — a beam of shimmering wisdom illuminating the six pillars of a meaningful human existence. In his first piece of advice, Palmer calls for living with wholeheartedness. "What I really mean ... is be passionate, fall madly in love with life. Be passionate about some part of the natural and/or human worlds and take risks on its behalf, no matter how vulnerable they make you." Palmer's second point of counsel speaks to ... living with opposing truths. Take everything that's bright and beautiful in you and introduce it to the shadow side of yourself. Wholeness is the goal, but wholeness does not mean perfection, it means embracing brokenness as an integral part of your life. In his third piece of advice, Palmer calls for extending this courtesy to others: As you welcome whatever you find alien within yourself, extend that same welcome to whatever you find alien in the outer world. His fourth piece of advice: Take on big jobs ... like the spread of love, peace, and justice. In his fifth point of counsel, Palmer ... offers: "Since suffering as well as joy comes with being human, I urge you to remember this: Violence is what happens when we don't know what else to do with our suffering." In his sixth and final piece of wisdom, Palmer quotes ... Saint Benedict: "Daily, keep your death before your eyes." If you hold a healthy awareness of your own mortality, your eyes will be opened to ... life.
Note: Explore a treasure trove of concise summaries of incredibly inspiring news articles which will inspire you to make a difference.
---
Where Homeless Meets Crazy
November 6, 2015, New York Times
http://www.nytimes.com/2015/11/07/opinion/where-homeless-meets-crazy.html?_r=0
In every corner of the world, there are people who are flagrantly ill, people who mutter to invisible others and box at the air. In India ... Madhu's relatives dealt with her illness by abandoning her at a healing shrine. She wandered the country [until] the outreach team from an organization called the Banyan found her ... on the street. Since the Banyan was started in 1993, it has rescued over 1,500 women from the street. The group's members wash, feed and medicate the women, and then they teach them to sew, cook and do other tasks. Families are more likely to take the women back if they come with medication and domestic skills. Over half the women have since been reunited with their kin. When I visited the Banyan, I was struck by how happy and grateful the women were. The atmosphere seemed so different from the palpable anger and fear in the shelters that catered to women with serious mental illness that I knew from working in Chicago. The challenge for the Banyan is to enable women to be useful to families who may not accept them back if they cannot work. In our country, it's different. Because of our underfunded and fragmented mental health system, it is commonplace for people with psychosis to become periodically homeless. They often end up living in a street culture that teaches them that they become crazy only if they are weak. They distrust help, and they have learned that they should never admit to being ill. To reach the people who need our help we need to understand what it means to be crazy in their world.
Note: Explore a treasure trove of concise summaries of incredibly inspiring news articles which will inspire you to make a difference.
---
Note: For summaries of the latest news articles covering deep politics and censored news, click here. For summaries of the most important news articles ever along these lines, click here.
Don't miss our treasure trove of inspiring resources
Kindly support this work of love: Donate here
Explore the mind and heart expanding websites managed by the nonprofit PEERS network:
Subscribe to the PEERS email list of inspiration and education (one email per week). Or subscribe to the list of news and research on deep politics (one email every few days).