Extreme Poverty Halved in 20 Years, Teleportation Becomes Reality, Violent Crime's Dramatic Drop
Inspiring News Articles
October 16, 2015
Hey awesome friends,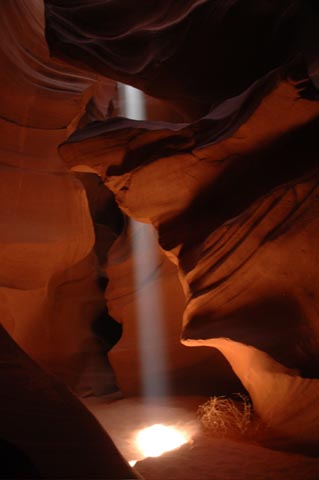 Below are key excerpts of inspiring news articles with great information on the amazing and under-reported huge decline in global poverty, scientists achieving a new record in quantum teleportation, the new FBI report showing violent crime has dropped dramatically in the US despite media claims to the contrary, and more.
Each inspiring excerpt is taken verbatim from the media website listed at the link provided. If any link fails, click here. The key sentences are highlighted in case you just want to skim. Please spread the inspiration and have a great one!
With sacred love and warm wishes,
Fred Burks for the PEERS websites
Special note: Read a beautiful little story titled "Children Who Shine From Within." Listen to free audio recordings of sessions with intriguing beings allegedly from other dimensions recorded at the amazing Monroe Institute. Watch a great video on a poodle with an instinct for healing people. Watch a seven-minute clip from an inspiring documentary about the effort of Palestinian children to break the world record in kite flying. Read an inspiring article on how the Sioux tribe of Native Americans trained their young men.
Quote of the Week: "Those who say it cannot be done should not interrupt the person doing it." ~~ Chinese proverb
Emails going to spam and disappearing: We've heard from many of you that our emails have been disappearing or are filtered to spam. For those who might have missed the video message and call for support sent out by PEERS founder Fred Burks, please watch it on this webpage. For ideas on how to avoid emails being filtered or disappeared, see this message.
---
The Most Important Thing, and It's Almost a Secret
October 1, 2015, New York Times
http://www.nytimes.com/2015/10/01/opinion/nicholas-kristof-the-most-important-thing...
Everybody knows about the spread of war, the rise of AIDS and other diseases, the hopeless intractability of poverty. One survey found that two-thirds of Americans believed that the proportion of the world population living in extreme poverty has almost doubled over the last 20 years. Another 29 percent believed that the proportion had remained roughly the same. That's 95 percent of Americans — who are utterly wrong. In fact, the proportion of the world's population living in extreme poverty hasn't doubled or remained the same. It has fallen by more than half, from 35 percent in 1993 to 14 percent in 2011 (the most recent year for which figures are available from the World Bank). The world's best-kept secret is that we live at a historic inflection point when extreme poverty is retreating. United Nations members have just adopted 17 new Global Goals, of which the centerpiece is the elimination of extreme poverty by 2030. Their goals are historic. There will still be poor people, of course, but very few who are too poor to eat or to send children to school. Inequality [remains] a huge challenge in the U.S. But globally, inequality is diminishing, because of the rise of poor countries. The challenge now is to ensure that rich donor nations are generous in supporting the Global Goals — but also that developing countries do their part, rather than succumbing to corruption and inefficiency. So let's get down to work and, on our watch, defeat extreme poverty worldwide. We know that the challenges are surmountable — because we've already turned the tide of history.
Note: Explore a treasure trove of concise summaries of incredibly inspiring news articles which will inspire you to make a difference.
---
Shades of 'Star Trek'? Quantum Teleportation Sets Distance Record
September 22, 2015, Live Science
http://www.livescience.com/52259-quantum-teleportation-sets-distance-record.html
A record-breaking distance has been achieved in the bizarre world of quantum teleportation. Scientists teleported photons (packets of light) across a spool of fiber optics 63 miles (102 kilometers) long, four times farther than the previous record. Quantum teleportation relies on the strange nature of quantum physics, which finds that the fundamental building blocks of the universe can essentially exist in two or more places at once. Specifically, quantum teleportation relies on an odd phenomenon known as "quantum entanglement," in which subatomic particles can become linked and influence each other instantaneously, regardless of how far apart they are. Scientists cannot distinguish the state of either particle until one is directly measured, but because the particles are connected, measuring one instantly determines the state of the other. Currently, physicists can't instantly transport matter (say, a human), but they can use quantum teleportation to beam information from one place to another. "What's exciting is that we were able to carry out quantum teleportation over such a long distance," study co-author Martin Stevens, a quantum optics researcher at the NIST in Boulder, Colorado. Quantum teleportation could enable the development of a "quantum Internet" that allows messages to be sent more securely, Stevens said. The scientists detailed their findings ... in the journal Optica.
Note: Explore a treasure trove of concise summaries of incredibly inspiring news articles which will inspire you to make a difference.
---
FBI report: Violent crime down in U.S.
September 28, 2015, CNN
http://www.cnn.com/2015/09/28/politics/fbi-crime-statistics-report-2014/
The FBI says crime rates, including murder, were down last year. The report is in contrast to headlines this year. In 2014 the U.S. recorded the fewest murders since 2009. Most other violent crimes, such as robbery, burglary, theft and arson have declined, while aggravated assaults and rapes, which now includes a broader definition, were on the rise in 2014. The 2014 numbers do not reflect an increase this year in murders and other violent crimes reported in some cities. Deputy Attorney General Sally Quillian Yates highlighted progress made for cities compared to decades past. "We have witnessed a remarkable drop in crime since the 1980's - both violent crime and crime overall. Entire cities have been transformed, unlocking tremendous potential and releasing a wave of prosperity," Yates said, adding that "even though crime is trending downward in most places, we are seeing pockets of rising violence in various locations across the country." While the FBI has expanded the report to include new statistics such as hate crimes and human trafficking arrests, it addressed concerns of transparency in the reporting of potential violent crimes committed by law enforcement officers on civilians.
Note: This article, like almost all media articles on the topic, fails to report the incredible news that violent crime rates have dropped to 1/3 of what they were just 20 years ago. Why are they not highlighting this incredibly inspiring news? For details on this awesome development, see this excellent webpage. See also an excellent graph on this.
---
Over Half of E.U. Countries Are Opting Out of GMOs
October 3, 2015, Time
http://time.com/4060476/eu-gmo-crops-european-union-opt-out/
Sixteen countries have alerted the European Union that they want to opt out of E.U.-approved GM crops. Members of the economic bloc have until Oct. 3 to let the E.U. know if they were requesting to opt out of growing GMO produce from major companies like Monsanto, Dow, Syngenta and Pioneer, and according to the Food Navigator, a food trade publication, countries including Germany, Italy, Denmark, Bulgaria and Cyprus recently filed their requests and applications, increasing the number to 16. In August, Scotland publicly said it would prohibit GMO crops out of concern that they could damage the country's "clean and green" brand. "Scotland is known around the world for our beautiful natural environment – and banning growing genetically modified crops will protect and further enhance our clean, green status," Rural affairs secretary Richard Lochhead said in a statement at the time. "A growing number of governments are rejecting the commission's drive for GM crop approvals," Greenpeace's E.U. food policy director Franziska Achterberg told the Guardian. "They don't trust the E.U. safety assessments and are rightly taking action to protect their agriculture and food. The only way to restore trust in the E.U. system now is for the commission to hit the pause button on GM crop approvals and to urgently reform safety testing and the approval system."
Note: Read also an article on how the American Academy of Pediatrics has cut ties with Monsanto. To understand the serious risks and dangers of GMOs, see this excellent summary of the acclaimed book "Seeds of Deception."
---
Brazil bans corporations from political donations amid corruption scandal
September 18, 2015, The Guardian (One of the UK's leading newspapers)
http://www.theguardian.com/world/2015/sep/18/brazilian-supreme-court-bans-corporate...
Amid a massive corruption scandal which has tarnished Brazil's political class and driven the country's president to the brink of impeachment, the Brazilian supreme court has banned corporate donations to candidates and parties in future elections. With eight votes in favour and three against, the court declared late on Thursday that the rules allowing companies to donate to election campaigns were unconstitutional. Rosa Weber, one of the judges who ruled in favour of the ban, argued that undue economic influence comprised the legitimacy of the country's elections. "The influence of economic power has ended up transforming the electoral process into a rigged political game, a despicable pantomime which makes the voter a puppet, simultaneously undermining citizenship, democracy and popular sovereignty." According to "The Spoils of Victory", a US academic study into campaign donations and government contracts in Brazil, corporate donors to the PT in the 2006 elections received between 14 to 39 times the value of their donations in government contracts. The case was brought to the supreme court around one and a half years ago by the Order of Brazilian Attorneys (OAB). On Thursday the organization's secretary general, Cláudio Pereira de Souza Neto, celebrated the decision. "It is what Brazilian society has been hoping for, even more so in these times of crisis," he said, adding that the court order should make future elections cheaper.
Note: What do you think might happen if the US and Europe banned corporations from making political contributions? Explore a treasure trove of concise summaries of incredibly inspiring news articles which will inspire you to make a difference.
---
Liquid water exists on Mars, boosting hopes for life there, NASA say
September 29, 2015, CNN
http://www.cnn.com/2015/09/28/us/mars-nasa-announcement/
Potentially life-giving water still flows across the ancient surface of Mars from time to time, NASA scientists said Monday in revealing a potential breakthrough in both the search for life beyond Earth and human hopes to one day travel there. While the discovery doesn't by itself offer evidence of life on Mars, either past or present, it does boost hopes that the harsh landscape still offers some refuge for microbes to cling to existence. "The existence of liquid water, even if it is super salty briny water, gives the possibility that if there's life on Mars, that we have a way to describe how it might survive," said John Grunsfeld, associate administrator for the Science Mission Directorate at NASA. NASA researchers using an imager aboard the Mars Reconnaissance Orbiter confirmed the watery flows by looking at light waves returned from seasonal dark streaks on the surface, long suspected to be associated with liquid water. It remains unclear where the water comes from. Alfred McEwen, who heads up NASA's HiRISE high-resolution camera aboard the Mars orbiter, said he's fairly confident life will one day be found on Mars. "It's very likely, I think, that there's life somewhere in the crust of Mars, microbes," he said. Jim Green, director of planetary science at NASA, said the discovery announced Monday puts NASA in a perfect position to look for that life.
Note: Explore a treasure trove of concise summaries of incredibly inspiring news articles which will inspire you to make a difference.
---
How Elizabeth Warren picked a fight with Brookings — and won
September 29, 2015, Washington Post
http://www.washingtonpost.com/politics/how-elizabeth-warren-picked-a-fight...
Sen. Elizabeth Warren, stepping up her crusade against the power of wealthy interests, accused a Brookings Institution scholar of writing a research paper to benefit his corporate patrons. Warren's charge prompted a swift response, with Brookings seeking and receiving the resignation of the economist, Robert Litan, whose report criticized a Warren-backed consumer-protection rule targeting the financial services industry. Warren leveled her criticisms in letters sent Tuesday to Brookings leaders and the Obama administration, citing the $85,000 combined fee that Litan and a co-author received from [Capital Group, a leading mutual fund manager]. Warren called the report "highly compensated and editorially compromised work on behalf of an industry player seeking a specific conclusion." Her complaint pointed to a relatively new form of influence peddling in the nation's capital, with industry groups and even foreign governments paying think tanks and scholars for research papers that support lobbying goals. Brookings over the past decade has embarked on aggressive fundraising drives to pay for major expansions. Investigations last year by The Washington Post, the New York Times and others found that donors had gained the ability to influence Brookings's events and research agenda.
Note: Read about how big money buys off institutions democracy depends on. For more along these lines, see concise summaries of deeply revealing corporate corruption news articles from reliable major media sources.
---
Styrofoam-eating mealworms might help reduce plastic waste, study finds
September 30, 2015, CNN
http://www.cnn.com/2015/09/30/us/styrofoam-eating-mealworms-plastic-waste/index.html...
Plastic, long considered nonbiodegradable and one of the biggest contributors to global pollution, might have met its match: The small, brownish, squirmy mealworm. Researchers have learned that the mealworm can live on a diet of Styrofoam and other types of plastic. Inside the mealworm's gut are microorganisms that are able to biodegrade polyethylene, a common form of plastic, according to new studies published in Environmental Science and Technology. The findings could help solve the plastic pollution problem affecting the world. The research documented 100 mealworms that consumed 34 to 39 milligrams of Styrofoam, which is about the weight of a pill, every day. Scientists also paid attention to the mealworms' overall health and saw larvae that ate a diet subsisting strictly of Styrofoam were as healthy as mealworms eating a normal diet of bran, [and] transformed the plastic they ate into carbon dioxide, worm biomass and biodegradable waste. This waste seemed safe to use in soil for plants and even crops, the studies said. Being able to find insects that can safely degrade plastic is critical to potential pollution management because other insects such as cockroaches can also consume plastic, but they have not shown biodegradation.
Note: Explore a treasure trove of concise summaries of incredibly inspiring news articles which will inspire you to make a difference.
---
Eco-friendly 3D printed supercar
August 4, 2015, NBC/Reuters
http://www.nbcnews.com/id/57704197/ns/technology_and_science-tech_and_gadgets/t/eco...
The sleek race car dubbed 'Blade' didn't come off an assembly line - but out of a 3D printer. Kevin Czinger of Divergent Microfactories has spent most of his career in the automotive industry. One day he realized that no matter how fuel-efficient or how few tailpipe emissions the modern car has, the business of car manufacturing is destroying the environment. "3D printing of metal radically changes that," said Czinger. Currently cars are pieced together on long assembly lines inside large factories that use massive amounts of energy. Even the most fuel-efficient car has a large carbon footprint before ever leaving the plant. Czinger and his team's approach was to take the large plant out of the equation. To accomplish this they printed the modular pieces that are used to connect carbon rods that make up the Blade's chassis. The 3D printed chassis is only 102 pounds and has the same strength and safety protection as a frame made out of steel. By using carbon fiber instead of steel or aluminum for the body, the entire vehicle only weighs 1400 pounds (635kg). The Blade ... runs on natural gas, reducing its carbon footprint even further. The core enabling technology, the ability to print out car components that can be easily assembled, is what Kevin Czinger hopes will revolutionize car manufacturing. He says electric cars are a step in the right direction, but alone they won't be enough to curb greenhouse emissions given the projected rise in demand for cars globally unless the way they are manufactured changes.
Note: Watch a five-minute video showing this exciting process.
---
Sweden introduces six hour work day
October 1, 2015, The Independent (One of the UK's leading newspapers)
http://www.independent.co.uk/news/world/europe/sweden-introduces-six-hour-work-day...
Sweden is moving to a six-hour working day in a bid to increase productivity and make people happier. Employers across the country have already made the change, according to the Science Alert website, which said the aim was to get more done in a shorter amount of time and ensure people had the energy to enjoy their private lives. Toyota centres in Gothenburg, Sweden's second largest city, made the switch 13 years ago, with the company reporting happier staff, a lower turnover rate, and an increase in profits in that time. Filimundus, an app developer based in the capital Stockholm, introduced the six-hour day last year. "The eight-hour work day is not as effective as one would think," Linus Feldt, the company's CEO told Fast Company. Mr Feldt has said staff members are not allowed on social media, meetings are kept to a minimum, and that other distractions during the day are eliminated - but the aim is that staff will be more motivated to work more intensely while in the office. He said the new work day would ensure people have enough energy to pursue their private lives when they leave work – something which can be difficult with eight-hour days.
Note: Explore a treasure trove of concise summaries of incredibly inspiring news articles which will inspire you to make a difference.
---
Note: For summaries of the latest news articles covering deep politics and censored news, click here. For summaries of the most important news articles ever along these lines, click here.
Don't miss our treasure trove of inspiring resources
Kindly support this work of love: Donate here
Explore the mind and heart expanding websites managed by the nonprofit PEERS network:
Subscribe to the PEERS email list of inspiration and education (one email per week). Or subscribe to the list of news and research on deep politics (one email every few days).