Top Clinton Advisor on UFOs, Reformed Bad Cop's New Friend, Vet Horse Whisperers
Inspiring News Articles
April 29, 2016
Hey awesome friends,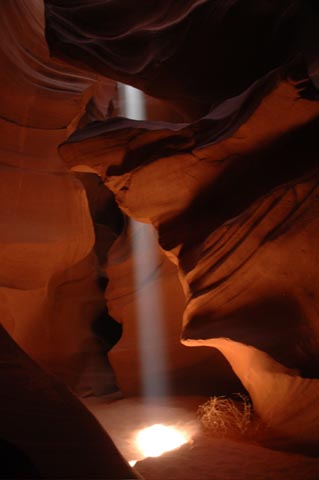 Below are key excerpts of inspiring news articles with great information on Hillary Clinton's top campaign advisor calling for UFO secrets to be revealed, the unlikely friendship between a former dirty cop and a man he wrongfully sent to prison made possible by forgiveness, the Saratoga Warhorse Foundation teaching military veterans to communicate with horses to heal emotional trauma, and more.
Each inspiring excerpt is taken verbatim from the media website listed at the link provided. If any link fails, click here. The key sentences are highlighted in case you just want to skim. Please spread the inspiration and have a great one!
With sacred love and warm wishes,
Fred Burks for the PEERS websites
Special note: Watch a great video on spiritual teacher Bentinho Massaro's fascinating take on ET disclosure and much more. Check out strong evidence in declassified FBI files that UFOs are quite real.
Emails Filtered to Spam or Junk Folder: For detailed instructions on how to make sure that all of our emails end up in your Inbox, see this webpage. And please let us know if our messages are ending up in your spam or junk folder. Thanks.
Quote of the week: "A human being is a part of the whole called by us universe, a part limited in time and space. He experiences himself, his thoughts and feeling as something separated from the rest, a kind of optical delusion of his consciousness. This delusion is a kind of prison for us, restricting us to our personal desires and to affection for a few persons nearest to us. Our task must be to free ourselves from this prison by widening our circle of compassion to embrace all living creatures and the whole of nature in its beauty." ~~ Albert Einstein, 1954
---
Clinton campaign chair: 'The American people can handle the truth' on UFOs
April 7, 2016, CNN
http://www.cnn.com/2016/04/07/politics/john-podesta-hillary-clinton-ufo/index.html
There has long been an air of conspiracy surrounding theories of alien life, and the head of Hillary Clinton's campaign said Thursday it's time to do away with the secrecy. "The U.S. government could do a much better job in answering the quite legitimate questions that people have about what's going on with unidentified aerial phenomena," [Clinton campaign chair John] Podesta said. During his time serving in the Obama administration, Podesta tweeted, "Finally, my biggest failure of 2014: Once again not securing the #disclosure of the UFO files." Clinton herself pledged in January to "get to the bottom" of ... rumors of U.S. contact with extraterrestrial life. In regard to Area 51, Podesta echoed Clinton's call, saying, "What I've talked to the secretary about, and what she's said now in public, is that if she's elected president, when she gets into office, she'll ask for as many records as the United States federal government has to be declassified, and I think that's a commitment that she intends to keep and that I intend to hold her to." Podesta, a former chief of staff to President Bill Clinton, said the 42nd president once "asked for some information about some of these things, and in particular, some information about what was going on at Area 51." Asked if there is evidence of alien life, Podesta said, "That's for the public to judge once they've seen all the evidence that the U.S. government has." And he made clear: "The American people can handle the truth."
Note: Check out strong evidence in declassified FBI files that UFOs are quite real. For more along these lines, see concise summaries of deeply revealing UFO cover-up and disclosure news articles from reliable major media sources. Then explore the excellent, reliable resources provided in our UFO Information Center.
---
Innocent man ends up pals with crooked cop that framed him
April 15, 2016, CBS News
http://www.cbsnews.com/news/on-the-road-innocent-michigan-man-ends-up-working-alongside....
Back in 2005, Jameel McGee says he was minding his own business when a police officer accused him of - and arrested him for - dealing drugs. "It was all made up," said McGee. Of course, a lot of accused men make that claim, but not many arresting officers agree. "I falsified the report," former Benton Harbor police officer Andrew Collins admitted. "Basically, at the start of that day, I was going to make sure I had another drug arrest." And in the end, he put an innocent guy in jail. "I lost everything," McGee said. "My only goal was to seek him when I got home and to hurt him." Eventually, that crooked cop was caught, and served a year and a half for falsifying many police reports, planting drugs and stealing. Of course McGee was exonerated, but he still spent four years in prison for a crime he didn't commit. Today both men are back in Benton Harbor, which is a small town. Last year, by sheer coincidence, they both ended up at faith-based employment agency Mosaic, where they now work side by side in the same café. And it was in those cramped quarters that the bad cop and the wrongfully accused had no choice but to have it out." I said, 'Honestly, I have no explanation, all I can do is say I'm sorry,'" Collins explained. McGee says that was all it took. "That was pretty much what I needed to hear." Today they're not only cordial, they're friends. Such close friends, not long ago McGee actually told Collins he loved him. "And I just started weeping because he doesn't owe me that. I don't deserve that," Collins said.
Note: Don't miss the beautiful video of this story at the link above.
---
Breaking Down the Walls and Helping Vets Become 'Horse Whisperers'
August 15, 2013, ABC News
http://abcnews.go.com/blogs/headlines/2013/08/breaking-down-the-walls-and-helping-vets...
After Bob Nevins, a medevac pilot for the 101st Airborne during the Vietnam War, returned home to the U.S., he found that working with horses was the thing that soothed him best. "I realized then that there was some kind of deep emotional connection that actually opened people up," said Nevins. For the last three years, Nevins has been giving veterans and victims of trauma a chance to connect with world-class racehorses - and themselves - through the Saratoga Warhorse Foundation. "We're creating an experience for the veterans that creates a very deep, emotional bond with the thoroughbred. That's a catalyst for a very traumatic transformation, healing-wise, for the veteran," Nevins said. "We teach them the horse's language. What they're able to do then is communicate in this silent language. That experience is so emotionally powerful that the walls just tumble for the veterans." Spc. TJ Hawkins, a former National Guardsman, said he'd completely shut down after watching his best friend die in action. "He meant a lot. The best brother anybody could ask for," he said. "[I] didn't want anybody to ask me about any good experiences in Iraq, any bad experiences." He said his time in the corral with a horse felt "amazing." "I'm on the top of the world," Hawkins said. "It brought back the happiness I had lost from going to Iraq. This is the first time I've truly been happy since I've been home." Nevins said his program was about helping veterans, not just talking about it.
Note: Explore a treasure trove of concise summaries of incredibly inspiring news articles which will inspire you to make a difference.
---
Edible cutlery: could this simple invention help save the world?
March 16, 2016, The Telegraph (One of the UK's leading newspapers)
http://www.telegraph.co.uk/news/earth/environment/12196163/Edible-cutlery-could-this...
From an environmental perspective, plastic cutlery is pretty disastrous. It's often used just once before being thrown in the bin, and every year vast quantities of plastic knives, forks and spoons end up in landfill, where they release harmful substances into the soil as they decompose. However, one enterprising inventor is now hoping to make plastic cutlery obsolete by providing a viable, environmentally-friendly alternative: edible cutlery. Narayana Peesapaty is from India, where 120 billion pieces of disposable plastic cutlery are thrown away each year. His edible cutlery, branded as Bakeys, is made from millet, rice and wheat, and is available in a variety of flavours. Bakeys, founded in Hyderabad in 2011, says its products are "highly nutritious," with a shelf life of three years. If you use a Bakeys spoon and don't eat it, it'll decompose in less than a week. A video showcasing Narayana's invention has gone viral this week after it was shared online by the website The Better India, where it's been viewed more than 2.5 million times in less than a day. It isn't quite as sturdy as its metal or plastic counterparts - Bakeys suggests not using too much force if you use its cutlery to cut into hard foods, saying: "after all these are made of flours" - but its spoons are firm enough to get you through a cup of hot soup without it wilting. But could they ever become popular enough to replace plastic cutlery the world over? We'll have to wait and see.
Note: Explore a treasure trove of concise summaries of incredibly inspiring news articles which will inspire you to make a difference.
---
This Water Bottle Refills Itself From Moisture in the Air
February 3, 2016, Smithsonian.com
http://www.smithsonianmag.com/smart-news/water-bottle-refills-itself-from-moisture-air...
Only a fraction of the Earth's water is drinkable - an estimate from the U.S. Geological Survey puts all of the world's freshwater at just 2.5 percent of the total global water. What if we could diversify and pull water from the air, instead? Now, a new invention does just that. Fontus is a water bottle that pulls moisture from the air, and in ideal conditions, can fills itself up in under an hour. The water bottle comes from Austrian industrial designer Kristof Retezár, who wanted to make a simple, portable tool to help people where drinkable water isn't easy to get. ​The UN Department of Economic and Social Affairs reports that 1.2 billion people, around a fifth of the world's population, live in areas where water is physically scarce. Another 1.6 live in countries where water infrastructure and storage is lacking. The Fontus uses solar energy to power a small cooler or condenser that works by the so-called Peltier effect. Air passing through the cold chamber rapidly condenses like droplets on the outside of a cold glass. In "really good" conditions, or temperatures between 86 and 104 degrees with humidity between 80 and 90 percent, the Fontus can generate half a liter of water in an hour. In the future, Retezár says the company hopes to improve that so the bottle can work in more conditions. The project was shortlisted for the 2014 James Dyson Award. Next the company hopes to launch a crowdfunding campaign and get the price of the water bottle under $100.
Note: Don't miss the video of this amazing invention at the link above. Explore a treasure trove of concise summaries of incredibly inspiring news articles which will inspire you to make a difference.
---
Women nurture saplings and earn income while reforesting Pakistan
January 25, 2016, Christian Science Monitor
http://www.csmonitor.com/World/Making-a-difference/Change-Agent/2016/0125/Women-nurture...
Robina Gul has swapped her needle for a trowel. Gul is growing some 25,000 saplings of 13 different species crammed into the small courtyard of her two-room house in Najaf Pur, a village of around 8,000 people. "It gives me immense pleasure to look after the saplings as this has changed my whole life," said Gul, 35. She set up the nursery at her home in March last year under an agreement with the provincial forest department, [which] provides around a quarter of the start-up cost for poor households to set up a tree nursery, with a subsidy amounting to 150,000 rupees ($1,429.93) each over a year. "I am now getting over 12,000 rupees per month (from the subsidy), just by looking after the saplings in my home," Gul said. "I have also acquired the skills I need to grow different seedlings, and this will help me earn enough even after the project is wound up." The provincial government is planning to spend 21 billion rupees ... on a project called the "Billion Tree Tsunami." The goal is to plant 1 billion trees in degraded forest areas and on private land. The initiative aims to boost local economic development in a way that uses natural resources sustainably. Outsourcing nurseries to the private sector, including widows, poor women, and young people ... provides the government with saplings to plant, as well as green jobs. At the same time, illegal logging has been almost eliminated in the province following strict disciplinary action against some officials who were involved.
Note: Explore a treasure trove of concise summaries of incredibly inspiring news articles which will inspire you to make a difference.
---
How LSD Makes Your Brain One With The Universe
April 13, 2016, NPR
http://www.npr.org/sections/health-shots/2016/04/13/474071268/how-lsd-makes-your-brain...
Some users of LSD say one of the most profound parts of the experience is a deep oneness with the universe. The sensation ... correlates to changes in brain connectivity while on LSD, according to a study published Wednesday in Current Biology. An MRI scanner [showed that] the brains of people on acid looked markedly different than those on the placebo. Their sensory cortices, which process sensations like sight and touch, became far more connected than usual to the frontal parietal network, which is involved with our sense of self. "The stronger that communication, the stronger the experience of the dissolution (of self)," says Enzo Tagliazucchi, the [study's] lead author. Researchers also measured the volunteers' brain electrical activity with another device. Our brains normally generate a regular rhythm of electrical activity called the alpha rhythm, which links to our brain's ability to suppress irrelevant activity. But in a different paper published on Monday in the Proceedings of the National Academy of Sciences, he and several co-authors show that LSD weakens the alpha rhythm. He thinks this weakening could make the hallucinations seem more real. The idea is intriguing ... says Dr. Charles Grob, a psychiatrist at the Harbor-UCLA Medical Center. "They may genuinely be on to something. This should really further our understanding of the brain and consciousness." And, he says, the work highlights hallucinogens' powerful therapeutic potential.
Note: While the war on drugs has been called a "trillion dollar failure", studies like this suggest the healing potentials of mind altering drugs are starting to be investigated more scientifically.
---
'Major victory' for kids suing Obama
April 11, 2016, CNN
http://www.cnn.com/2016/04/11/opinions/sutter-climate-kids-update/
It's a case an attorney called "one of the most significant in our nation's history." Twenty-one young people (ages 8 to 19) are suing President Barack Obama and the federal government over making a mess of the planet for future generations. The government and fossil fuel groups had asked the court to toss out the federal case, but Judge Thomas Coffin on Friday denied those requests. "The nascent nature of these proceedings dictate further development of the record before the court can adjudicate whether any claims or parties should not survive for trial," Coffin wrote in the decision. "Accordingly, the court should deny the motions to dismiss." The climate kids' argument is multifaceted and nuanced, bringing in concepts of public trust doctrine as well as constitutional rights to life, liberty and property. But one of the oh-wow points they're making is this: Young people and unborn generations are being discriminated against when it comes to the U.S. propagation of climate change. They will live through an era of rising seas, heat waves, droughts, floods and extinctions that are without precedent. Yet they have little or no voice in the political system that, despite some bold steps in the right direction, continues to lease federal property for fossil fuel extraction and continues to subsidize pollution. Officials have continued to pursue harmful practices while knowing their actions would have dire future consequences. The youth plaintiffs want the feds to come up with a wholesale plan to fight climate change.
Note: Explore a treasure trove of concise summaries of incredibly inspiring news articles which will inspire you to make a difference.
---
Why US skies keep getting cleaner
April 20, 2016, Christian Science Monitor
http://www.csmonitor.com/Science/2016/0420/Why-US-skies-keep-getting-cleaner-video
The air quality in many cities has improved markedly thanks to improved technology in fuel-burning mechanisms, although problem areas remain, the American Lung Association announced Wednesday. The biggest improvement came as counties studied across the United States lowered the levels of particle pollution in the air. Although weather patterns change air quality, 16 US cities hit their lowest levels of particle pollution ever for the entire year. This included Los Angeles, although it remains the nation's most polluted city for ozone pollution, while Bakersfield topped the list for particle pollution. Many cities benefited from both new practices at power plants fueled by coal and better emissions and engine technology in cars and larger vehicles. Improvement came across the United States, and many areas are seeing the effects of the 1970 federal Clean Air Act. Although some still have dirty air, many of the nation's most polluted cities were slightly cleaner than last year. In Ohio, for example, particle pollution readings improved in Cleveland, making it among 16 cities that reported their lowest levels of particle pollution on record. The American Lung Association lauded the federal Clean Air Act, currently on hold by the Supreme Court, but urged states to individually evaluate their air quality to determine paths to improvement. As scientific information has become more available, cities have been able to make specific plans because they know their targets for clean air.
Note: Our older readers may remember when smog alerts in large cities were commonplace in the 1960s and many lakes that were practically devoid of life have now returned to life. We are definitely making progress in some areas.
---
Businesses find new opportunity in food that once went to waste
April 19, 2016, San Francisco Chronicle (San Francisco's leading newspaper)
http://www.sfchronicle.com/food/article/Businesses-find-new-opportunity-in-food-that-once...
Bay Area shoppers will soon be able to get a new kind of local produce at Whole Foods stores. Affectionately known as ugly produce, the fruits and vegetables are perfectly healthy and safe yet are usually left to rot because they don't meet typical supermarket cosmetic standards. Bags of the aesthetically challenged produce will arrive at Northern California Whole Foods outposts later this month ... thanks to Emeryville's Imperfect, one of several new Bay Area companies taking advantage of crops that are usually wasted in California fields. Of the estimated 62.5 million tons of food Americans waste annually, much more is generated in homes, stores and restaurants than farms, but the loss at farms is more suitable for reuse, [and is] responsible for almost 20 percent of American food waste. For some specialty California crops, such as greens, 50 percent is left in the field because it's not worth harvesting, said Christine Moseley, founder and chief executive officer of Full Harvest, a San Francisco startup that aggregates ugly produce from Salinas Valley growers for Bay Area food and beverage companies. "I found out that there's this massive problem with food waste, and I saw that as an opportunity," said Moseley. She has projects in the works with larger national companies and has contracts in place to deliver 1 million pounds of imperfect and surplus produce this year. Since it launched last year, Full Harvest has rescued 15,000 pounds of previously worthless produce.
Note: Explore a treasure trove of concise summaries of incredibly inspiring news articles which will inspire you to make a difference.
---
Note: For summaries of the latest news articles covering deep politics and censored news, click here. For summaries of the most important news articles ever along these lines, click here.
Don't miss our treasure trove of inspiring resources
Kindly support this work of love: Donate here
Explore the mind and heart expanding websites managed by the nonprofit PEERS network:
Subscribe to the PEERS email list of inspiration and education (one email per week). Or subscribe to the list of news and research on deep politics (one email every few days).