Comfort Dogs Soothe Orlando, Art Dramatically Transforms Violence, Lawn Into Gardens
Inspiring News Articles
June 24, 2016
Hey awesome friends,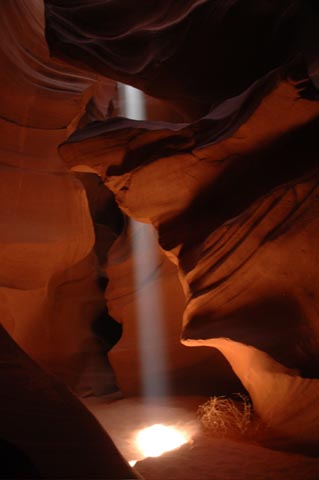 Below are key excerpts of inspiring news articles with great information on a K-9 comfort dog team bringing relief to Orlando, Florida in the wake of the recent mass shooting there, a Tijuana arts farm that helped reduce violence in one of the world's most dangerous neighborhoods by a stunning 85%, artist Pedro Reyes' creative recycling of guns taken off the streets into shovels and musical instruments, and more.
Each inspiring excerpt is taken verbatim from the media website listed at the link provided. If any link fails, click here. The key sentences are highlighted in case you just want to skim. Please spread the inspiration and have a great one!
With sacred love and warm wishes,
Fred Burks for the PEERS websites
Special note: Watch a great video showing how a photographer's bias can completely affect the subject they shoot. Another beautiful four-minute video shows how one photographer's disaster turned his life around. Learn about an excellent, sustainable new method of farming based on "syntropy" in this 15 minute video.
Quote of the week: "Positive thoughts have a profound effect on behavior and genes, but only when they are in harmony with subconscious programming. And negative thoughts have an equally powerful effect. When we recognize how these positive and negative beliefs control our biology, we can use this knowledge to create lives filled with health and happiness." ~~ Bruce Lipton in Biology of Belief
Video of the week: Wow!!! Break out the kleenex for this most profound, 6-minute video message every young person should watch (including those young at heart)!
Awesome online courses: PEERS has developed several highly praised online courses which have not only helped to educate and inspire thousands, many have said their lives were transformed in remarkable ways. The courses bring together the very best of WantToKnow.info and other PEERS websites and weave this material into a beautiful tapestry. Check out these free courses on this webpage and read the rave reviews of those who have completed one course.
---
In a Shaken Orlando, Comfort Dogs Arrive With 'Unconditional Love'
June 16, 2016, New York Times
http://www.nytimes.com/2016/06/17/us/in-a-shaken-orlando-comfort-dogs-arrive-with...
On the Monday following the Orlando massacre, 12 golden retrievers arrived in the Florida city. They had come to offer comfort to some of the victims of the attack, the families of those killed and the emergency medical workers. The animals are part of the K-9 Comfort Dogs team, a program run by the Lutheran Church Charities. Founded in 2008, the team has comforted victims of the 2013 Boston Marathon bombing and the 2012 Sandy Hook shooting. Tim Hetzner, the president of the charity, said that the dogs in Orlando were helping to provide a feeling of safety, allowing those in distress to relax their guard and express their vulnerability during a difficult time. "We've had a lot of people here that start petting the dog, and they break out crying," he said. The dogs and their 20 handlers have visited hospitals and churches, and attended vigils and memorial services. On Wednesday, they visited some of the hospitalized victims. "People couldn't get out of their bed, so we had to bring the dog up so they could pet the dog while laying down," Mr. Hetzner said. "They start smiling, and in a couple cases, they started talking as much as they could." Comfort dogs ... are often employed by therapists and medical doctors to help soothe patients. Studies have shown that they can help to reduce feelings of anxiety and depression as well as the symptoms of post-traumatic stress disorder. There are more than 120 dogs in the K-9 Comfort Dog unit, in 23 states. All of them have received extensive training similar to that of a service dog.
Note: Explore a treasure trove of concise summaries of incredibly inspiring news articles which will inspire you to make a difference.
---
Violence plunged after he brought the arts to a Tijuana neighborhood
June 9, 2016, Christian Science Monitor
http://www.csmonitor.com/World/Making-a-difference/2016/0609/Violence-plunged-after-he...
The "bunker" houses the Torolab project known as La Granja Transfronteriza, or La Granja (The Farm) for short – a place brimming with the arts and more that draws community members of all ages. As Tijuana garnered a reputation as one of the most violent places in the world, Camino Verde held the inglorious title of the most dangerous neighborhood in the city. But today, Camino Verde's story is changing. And La Granja, founded in 2010, has been no small factor. On weekday afternoons, the bunker is bustling with young kids screeching out notes on their violins under the guidance of instructors. Families gather on the weekend to grow vegetables in the nascent community garden. There's a computer lab upstairs, and parents can pursue their GED certificates. Most strikingly, however, violence in Camino Verde has plunged, falling by 85 percent since 2010. "This was one of the most violent places in the world, where you weren't expected to make it out," [Torolab founder Raúl] Cárdenas says. "Now it's common to see governments and arts schools from around the globe coming to the neighborhood to learn." When, in 2010, a group of local leaders came together to talk about what they could do to change Tijuana's violent trajectory, Cárdenas took charge of pinpointing where they could make the biggest difference. "What people want and what people need is to have a livable space," he says. Already, the project has received multiple prizes and global recognition.
Note: Explore a treasure trove of concise summaries of incredibly inspiring news articles which will inspire you to make a difference.
---
Artist Transforms Guns To Make Music - Literally
January 25, 2014, NPR
http://www.npr.org/2014/01/25/265794611/artist-transforms-guns-to-make-music-literally
Pedro Reyes says being Mexican is like living in an apartment where an upstairs neighbor has a leaking swimming pool. "Just what is leaking," says Reyes, "is hundreds of thousands of guns." Reyes believes art should address social issues like gun violence, even when they're difficult and controversial. "We have to be allowed to ask questions," he says. "If you are not allowed to ask questions, you are not free." Reyes also addresses the issue of gun violence in another way, by using guns themselves. His first project began in 2007 in the Mexican city of Culiacan. As part of a campaign to curb shootings, the city collected 1,527 guns. He used them to create art. "Those 1,527 guns were melted and made into the same number of shovels," he says. "So for every gun now, there's a shovel. And with every shovel, we planted a tree." Now Reyes is working on a new project. It is one that transforms guns into something more musical. An exhibition of the work is on display at the University of South Florida's Contemporary Art Museum. It's called "Disarm," and consists of guns that have been turned into musical instruments." To me at least," Pedigo says, "the concept is about taking weapons that are destructive in nature and chaotic and trying to make them for something else. So, instead of objects of destruction, they become objects of creation." That's exactly Reyes' point. Art, he says, is about transformation. "It's the same metal," he says, "but it is no longer a gun. It's now a flute or a guitar."
Note: Don't miss the pictures of Reyes' latest inspiring project at the link above.
---
An All-Volunteer Squad Of Farmers Is Turning Florida Lawns Into Food
May 15, 2016, NPR
http://www.npr.org/sections/thesalt/2016/05/15/477036910/an-all-volunteer-squad-of...
Chris Castro has an obsession - turning the perfectly manicured lawns in his Orlando neighborhood into mini-farms. "The amount of interest in Orlando is incredibly surprising," Castro says. Surprising because he's asking Floridians to hand over a good chunk of their precious yards to volunteers who plant gardens full of produce. His program is called Fleet Farming, and it's starting off small, with 10 of these yard farms. Most of them sit smack in the middle of the front yard. Lawns are a thing here. Urban farms? Not so much. But so far, no neighbors have complained. Castro makes sure every garden is meticulously maintained - including homeowner Gary Henderson's. "I just think that the whole idea of lawns, especially in a place like Florida, is absurd," says Henderson, standing amid rows of tomatoes, sweet lettuce, carrots and arugula growing smack in the middle of his front yard. All of Fleet Farming's volunteers only ride bikes, going from garden to garden to harvest the produce. Because the program is bike-powered, Castro keeps the yard gardens within a mile of the local farmers market, where Fleet Farming sells most of the produce. Henderson offers this advice to anyone thinking about replacing their lawn with a garden: "Give it a try ... and once you get to the point where you realize that you can eat your lawn, I think it makes a whole lot of sense." And so do 300 other residents of central Florida. That's how many people are on Fleet Farming's waiting list, ready to eat their lawns instead of having to mow them.
Note: Explore a treasure trove of concise summaries of incredibly inspiring news articles which will inspire you to make a difference.
---
John Oliver Buys and Forgives $15 Million in Debt
June 6, 2016, ABC/Associated Press
http://abcnews.go.com/Entertainment/wireStory/john-oliver-buys-forgives-15-million-debt...
Some 9,000 people stuck with delinquent medical bills had their debts forgiven courtesy of HBO host John Oliver. Oliver, on his "Last Week Tonight" program Sunday, took the action to illustrate a story about the practices of companies that purchase the records of debtors and attempt to collect on them. The show set up its own company to acquire $15 million worth of debt owed to hospitals in Texas, paying $60,000. Oliver said it was "disturbingly easy" for his show to set up a company, which it called Central Asset Recovery Professionals, and incorporate it in Mississippi to make the purchase. Oliver's show engages in a form of investigative comedy, this week examining [how] institutions often sell their debt for pennies on the dollar to companies who then attempt to collect on the bills. These companies operate with little regulation, and sometimes employ shady and abusive collectors who try to intimidate people into paying, he said. RIPMedicaldebt.org, a nonprofit that raises money to buy debt and forgive the bills owed by people who can least afford to pay them, welcomed the attention. "It's absolutely fabulous," said Craig Antico, CEO of RIPMedicaldebt.org. "It puts a light on a problem that few people know exists. If people paid attention to (Oliver's show) and it got them upset, they should realize that we can eradicate much of this debt if we all banded together to help each other," Antico said. "People can make a donation of $50 and wipe out a $10,000 debt."
Note: Explore a treasure trove of concise summaries of incredibly inspiring news articles which will inspire you to make a difference.
---
NICU Nurse Gets Emotional Surprise From The Families She's Helped
September 22, 2015, Huffington Post
http://www.huffingtonpost.com/entry/nicu-nurse-gets-emotional-surprise-from-the-families...
Renee Hendrix has been a NICU nurse at WellStar Kennestone Hospital in Marietta, Georgia for over 30 years. In that time, she's helped countless babies fight for their lives and been a beacon of support and comfort for their families. In honor of National Neonatal Nurses Day on Sept. 15, Kleenex put together this heartwarming video and arranged a special surprise to recognize the beloved nurse and let the families whose lives she touched say thank you. The surprise culminates in a emotional gathering of families Hendrix has aided throughout her time at the hospital. "We don't realize what an impact we have on families until we see something like that. It was very rewarding," the NICU nurse told The Huffington Post. "I love those babies like they were my own. I was so honored that people would stop what they were doing and come to be there for me. "It was great to see all of the kids big and healthy and thriving," she continued. "I definitely felt appreciated and loved. I was just so proud of them. To know I had a part in that was very overwhelming and gratifying." Hendrix said she was "shocked," by the surprise, but she was quick to add that her impactful work is par for the course when it comes to nurses. "I do what every other nurse does," she noted. "I just was the lucky one to get picked. It was a big honor. There are so many nurses that do the same thing."
Note: Even though it's a Kleenex commercial, this video is incredibly touching.
---
Number Of Teens With Marijuana-Related Problems Declines, Study Shows
May 25, 2016, Forbes
http://www.forbes.com/sites/cjarlotta/2016/05/25/teens-with-marijuana-related-problems...
As more states legalize the use of marijuana, the number of teens with cannabis-related problems is declining, new research suggests. Published in the Journal of the American Academy of Child & Adolescent Psychiatry, the study revealed a 24% decline in marijuana-related problems—such as becoming dependent on the drug or having trouble in school and in relationships—among teenagers. The researchers additionally found an association between drops in problems related to cannabis and reductions in behavioral issues, such as fighting, property crimes and selling drugs. The report also showed that marijuana use rates in young people have been dropping over the years. When asked whether they had used marijuana in the previous 12 months, study participants reported fewer instances of pot use in 2013 than their peers had reported in 2002, a 10% decline overall. Additional research on how the decrease in rates of conduct problems relates to other behaviors is needed. "For example, adolescent crime rates have been declining for about 20 years. Teenage pregnancy rates are at an all time low. Binge drinking among high school students is dropping. (Though you wouldn't know any of this from news coverage)," [study author Richard A. Grucza] said. "I think it is likely that all of these changes are connected to each other, and to the drop in marijuana use disorder. It's really important to figure out why this is happening so that we can extend these trends into the future."
Note: Read more on this Washington University webpage.
---
Teen births fall again, another drop in decades of decline
June 2, 2016, San Francisco Chronicle/Associated Press
http://www.sfgate.com/nation/article/Teen-births-fall-again-another-drop-in-decades...
Teen pregnancies fell again last year, to another historic low, a government report shows. "The continued decline is really quite amazing," said Brady Hamilton, the lead author of the new report released Thursday from the Centers for Disease Control and Prevention. Last year, the birth rate for U.S. teens dropped 8 percent. Rates have been falling since 1991, and this marks yet another new low. Experts cite a range of factors, including less sex, positive peer influence, and more consistent use of birth control. "The credit here goes to the teens themselves," said Bill Albert, spokesman for the National Campaign to Prevent Teen and Unplanned Pregnancy. The new report is based on a review of most of the birth certificates filed last year. There were nearly 4 million births. That's down slightly from the 2014 total, by about 4,300. Other key figures from the CDC report [include that] the birth rate was 22 live births per 1,000 females ages 15 through 19, [whereas] the rate was 24 per 1,000 the year before. Unmarried moms accounted for about 40 percent of births.
Note: Explore a treasure trove of concise summaries of incredibly inspiring news articles which will inspire you to make a difference.
---
Revealed: Cambodia's vast medieval cities hidden beneath the jungle
June 10, 2016, The Guardian (One of the UK's leading newspapers)
https://www.theguardian.com/world/2016/jun/11/lost-city-medieval-discovered-hidden-beneath...
Archaeologists in Cambodia have found multiple, previously undocumented medieval cities not far from the ancient temple city of Angkor Wat. The Australian archaeologist Dr Damian Evans ... will announce that cutting-edge airborne laser scanning technology has revealed multiple cities between 900 and 1,400 years old beneath the tropical forest floor, some of which rival the size of Cambodia's capital, Phnom Penh. Some experts believe that the recently analysed data - captured in 2015 during the most extensive airborne study ever undertaken by an archaeological project, covering 734 sq miles (1,901 sq km) – shows that the colossal, densely populated cities would have constituted the largest empire on earth at the time of its peak in the 12th century. Evans said: "We have entire cities discovered beneath the forest that no one knew were there." [A prior] survey uncovered an array of discoveries, including elaborate water systems that were built hundreds of years before historians believed the technology existed. The [latest] findings are expected to challenge theories on how the Khmer empire developed, dominated the region, and declined around the 15th century. "Our coverage of the post-Angkorian capitals also provides ... new insights on the 'collapse' of Angkor," Evans said. "There's an idea that somehow the Thais invaded and everyone fled down south – that didn't happen. It calls into question the whole notion of an Angkorian collapse."
Note: For more along these lines, see concise summaries of deeply revealing archeology news articles from reliable major media sources.
---
Note: For summaries of the latest news articles covering deep politics and censored news, click here. For summaries of the most important news articles ever along these lines, click here.
Don't miss our treasure trove of inspiring resources
Kindly support this work of love: Donate here
Explore the mind and heart expanding websites managed by the nonprofit PEERS network:
Subscribe to the PEERS email list of inspiration and education (one email per week). Or subscribe to the list of news and research on deep politics (one email every few days).