New York Offers Tuition-Free College, Blind Artist Paints by Touch, Man Restores Sight to 100,000
Inspiring News Articles
December 7, 2017
Hey awesome friends,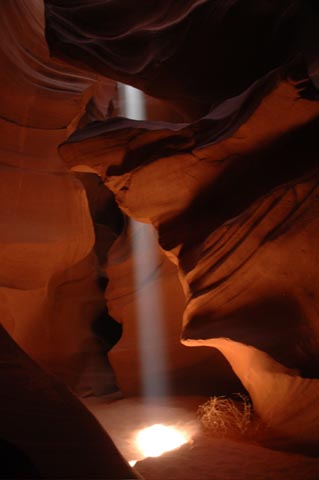 Explore below key excerpts of inspiring news articles with great information on New York's new program to provide free college tuition to some residents, a blind artist who paints using his sense of touch, one man who has restored sight to more than 100,000, and more.
Each inspiring excerpt is taken verbatim from the media website listed at the link provided. If any link fails, click here. The key sentences are highlighted in case you just want to skim. Please spread the inspiration and have a great one!
With sacred love and warm wishes,
Fred Burks for the PEERS websites
Special note: Watch an awesome 2 1/2 minute video on the choice between fear and love.
Quote of the week: "It is from numberless diverse acts of courage and belief that human history is shaped. Each time a man stands up for an ideal, or acts to improve the lot of others, or strikes out against injustice, he sends forth a tiny ripple of hope, and crossing each other from a million different centers of energy and daring, those ripples build a current that can sweep down the mightiest walls of oppression and resistance." ~ Robert F . Kennedy
We Need Your Help: At the start of every month, the amount we are in the red for the year jumps several thousand dollars. This is because that's when we add our expenses for the month (about $6,000) to the amount we are in the red. The red ink amount then gradually decreases over the course of the month as caring supporters like you make donations. Read more on this. Particularly as we're far in the red right now, please help us to decrease our deficit by donating here.
---
The first New Yorkers go to college tuition-free
September 8, 2017, CNN News
http://money.cnn.com/2017/09/07/pf/college/new-york-excelsior-scholarship-free...
New York's Excelsior Scholarship is the first of its kind. It covers the cost of tuition for qualifying students who are enrolled in a two- or four-year degree program at any of the state's 88 public colleges and university campuses. Plans for the scholarship were announced by Governor Andrew Cuomo in January. At first, students planning to attend college this fall didn't know whether it would become reality in time. It was officially approved by the legislature in April. When Governor Cuomo announced the program he said that college, like high school, "should always be an option even if you can't afford it." While similar programs in other states have made tuition free for community college students, the Excelsior Scholarship is the first to include those pursuing a four-year degree. The scholarship could save students as much as $27,000 over four years by cutting out tuition costs. The award doesn't cover fees charged by the school, or room and board. Students must also agree to live in state after college for the same number of years they received the scholarship, or it will be converted to a loan. Bonnie Tang, [a] Stony Brook freshman, is commuting from her home in Brooklyn, saving her about $13,000 in room and board costs. She'll have to buy a monthly train pass [and] pay about $2,560 in fees this year. But everything else is free. "My tuition is paid for and that saves me a lot of money," she said.
Note: Explore a treasure trove of concise summaries of incredibly inspiring news articles which will inspire you to make a difference.
---
Painting allows blind artist to see a world of color
August 12, 2016, CNN News
http://www.cnn.com/2016/08/12/health/turning-points-blind-artist-john-bramblitt...
John Bramblitt believes he could draw before he could walk. Art was also his way of coping with spending much of his childhood in the hospital. After experiencing his first seizure at age 2, Bramblitt was diagnosed with severe epilepsy. After each seizure, his vision would remain blurry for a while, but then it would clear up. What neither he nor his doctors realized was that his vision was decreasing each time. In his mid-20s, while attending college for the second time at the University of North Texas in 2001, he received the news that he would lose the rest of his vision. There was nothing doctors could do to stop it. He was completely blind by the time fall semester began. When he was alone, he felt like he was losing his mind. That's when he remembered the joy he used to gain from creating art. He began by trying to draw simple shapes, but would feel his pencil run off the paper. Bramblitt realized he needed to create a structure to follow. Fabric paint, which would create raised lines as it dried, became his new pencil, and he used oil paints to bring the paintings to life. He used [touch] to "see" what he wanted to paint and to distinguish between oil paints, because each color had a different viscosity and texture. Encouraged by the way it made him feel, he would paint for hours every day. Over the years, Bramblitt has connected with charities and started a series of workshops for artists with and without sight, young and old. He believes art should be something everyone can connect with. After all, art changed his life.
Note: Explore a treasure trove of concise summaries of incredibly inspiring news articles which will inspire you to make a difference.
---
In 5 Minutes, He Lets the Blind See
November 7, 2015, New York Times
https://www.nytimes.com/2015/11/08/opinion/sunday/in-5-minutes-he-lets-the...
He has restored eyesight to more than 100,000 people, perhaps more than any doctor in history. His patients ... stagger and grope their way to him along mountain trails from remote villages, hoping to go under his scalpel. A day after he operates to remove cataracts, he pulls off the bandages - and, lo! They can see clearly. At first tentatively, then jubilantly, they gaze about. A few hours later, they walk home, radiating an ineffable bliss. Dr. Sanduk Ruit, a Nepali ophthalmologist ... has pioneered a simple cataract microsurgery technique that costs only $25 per patient and is virtually always successful. Indeed, his "Nepal method" is now taught in United States medical schools. In the United States, cataract surgery is typically performed with complex machines. But these are unaffordable in poor countries, so Dr. Ruit [pioneered a] small-incision microsurgery to remove cataracts without sutures. At first, skeptics denounced or mocked his innovations. But then the American Journal of Ophthalmology published a study of a randomized trial finding that Dr. Ruit's technique had exactly the same outcome (98 percent success at a six-month follow-up) as the Western machines. One difference was that Dr. Ruit's method was much faster and cheaper. He founded the Tilganga Institute of Ophthalmology, which ... conducts eye surgery on 30,000 patients annually, [as well as] manufactures 450,000 tiny lenses a year for use in cataract surgery, keeping costs to $3 a lens compared to $200 in the West.
Note: Your direct donation to help this man can cure blindness for many people. Explore a treasure trove of concise summaries of incredibly inspiring news articles which will inspire you to make a difference.
---
A billionaire wages war on poverty in Oklahoma
November 20, 2017, Christian Science Monitor
https://www.csmonitor.com/USA/Society/2017/1120/A-billionaire-wages-war-on...
Across the United States, millionaires and billionaires are increasingly stepping in with private money to try to solve problems that were once largely or exclusively the purview of government. In Detroit, philanthropic dollars helped build a streetcar system. In Kalamazoo, Mich., donors are underwriting college tuition programs. Elsewhere, philanthropists are funding the mapping of all cells in the human body to try to stamp out disease and pouring money into preventing obesity. Yet few if any of today's megadonors are involved in as many programs targeting the poor in one city as [George] Kaiser. The oil and gas industrialist believes that every child deserves a chance to succeed and that effectively spent charitable dollars ... can unlock their potential. His foundation has given away more than $1 billion over the past decade, almost all of it in Tulsa, [Okla.]. Over the next decade, his foundation wants to target every poor child born in Tulsa, from birth until third grade, so that a patchwork of public programs – prenatal care, parenting classes, child care – becomes a seamless quilt. "They're making a very big bet in one community on a comprehensive strategy that can be truly transformative," says Nancy Roob, chief executive officer of the New York-based Edna McConnell Clark Foundation. The idea behind all these efforts – fighting poverty with philanthropic wealth – is one that holds great promise in an era of dazzling private fortunes, yawning economic inequality, and public-sector austerity.
Note: Explore a treasure trove of concise summaries of incredibly inspiring news articles which will inspire you to make a difference.
---
Paralyzed woman hikes the Appalachian Trail
July 15, 2016, CNN News
http://www.cnn.com/2016/07/15/health/turning-points-paralyzed-woman-hikes...
The 2,190-mile long Appalachian Trail is daunting even to those who have no trouble walking. That hasn't stopped Stacey Kozel. Her paralyzed body hasn't stopped her, either. The 41-year-old ... was always active until lupus stole her muscles and strength. Since her diagnosis at 19, she ... had always managed to get back on her feet - until a flare-up in March 2014. "I walked into a hospital, came out in a wheelchair," recalled Stacey Kozel. Although Kozel was able to walk stiffly with an old pair of braces, they wouldn't help her walk comfortably enough to embrace the outdoors. The chance finally came when she came across the Ottobock C-Brace. The brace functions essentially as the muscles and bones of a leg. The price tag for the technology was steep: $75,000 each. Kozel's doctors and therapists knew that getting these braces covered by insurance would be an uphill climb. When her claim was finally approved after 12 months, she was "in shock." Three days after Kozel got her braces, Joey Pollak, Kozel's orthopedist, got a call saying Kozel was in a 5K race. "To say Stacey is an overachiever is an understatement," said Pollak. What Pollak did not know was an idea forming in Kozel's head. She wanted to show insurance companies how useful the braces can be for those who have lost their mobility. She set her mind on the Appalachian Trail, just two months after she received her braces. Now, with support from her orthopedist, her mother and strangers along the way, she is slowly approaching her destination.
Note: Explore a treasure trove of concise summaries of incredibly inspiring news articles which will inspire you to make a difference.
---
Triple amputee doctor: Disability doesn't define you
June 22, 2016, CNN News
http://www.cnn.com/2016/06/22/health/turning-points-kellie-lim/index.html
If you had asked me 20 years ago where I would be, I never would have imagined I would be a physician working at UCLA Health, one of the best medical centers in the country. For over 25 years, my physical disability threatened to define who I was and what others thought I could become. I contracted meningococcal disease at 8 years of age. The infection overwhelmed my body's defenses, and I became a triple amputee. The disease left me with just enough to survive and carry on: two full fingers of the left hand, the thumb and ring finger. The first few years were physically and emotionally grueling; I was in and out of the hospital for surgical procedures to make my lower limbs fit better into prosthetic legs. I couldn't walk for nearly three years. I grew so quickly, my prosthetic legs could not keep up. My father would give me piggyback rides from the car to our house. My mother, who became blind as a teen, learned how to help me dress and put on my prosthetic legs every morning for school. My younger brother, Tarring, would help bring things to me since my mobility was limited. And my older sister, Nellie, was and is my inspiration and role model. I have been extremely lucky to have a strong and resilient family. I was lucky to be in a place where I had great medical care and where I had a community of friends and schools that supported my recovery and believed in my ability to succeed despite my disability. But luck is only part of my success; it takes courage, determination, honesty and integrity to pursue your dreams.
Note: Explore a treasure trove of concise summaries of incredibly inspiring news articles which will inspire you to make a difference.
---
The 'Medicine Baba' Goes Door to Door
April 25, 2012, New York Times
https://india.blogs.nytimes.com/2012/04/25/the-medicine-baba-goes-door-to-door/
The "Medicine Baba," Omkar Nath Sharma, 75, spends his days knocking on doors in Delhi's upper and middle class neighborhoods, collecting their leftover medicines and giving them to the poor. Mr. Sharma, a former medical technician ... starts his day at 6 a.m., when he leaves his rented home in Manglapuri, a southern Delhi suburb, and travels by buses on his senior citizen pass to wealthier parts of the city. He has built up a pool of regular contributors in neighborhoods like Green Park, who he calls on when they have medicines they no longer need. Wearing an orange shirt that says "Mobile medicine bank for poor patients," he picks up medicines that he estimates are worth 200,000 rupees, about $3,860, a month, and then distributes them to individuals and charitable clinics for no charge. Mr. Sharma knows that loosely distributing medicine brings real risks, so he said he will only give them out if a patient has a prescription from a doctor. Vimla Rani, a 47-year-old maid, said she is alive because of Sharma's medicines, which help to control her asthma. "I keep on getting inhalers and other medicines from Medicine Baba," she said. "Thousands of poor people die as they can't afford expensive medicines, while at the same time unused medicines worth millions get wasted," Mr. Sharma said. He also distributes medicine to more than a dozen nongovernmental organizations.
Note: Explore a treasure trove of concise summaries of incredibly inspiring news articles which will inspire you to make a difference.
---
Evidence of Abundance: Curing Addiction and Disease
August 27, 2014, Huffington Post
https://www.huffingtonpost.com/peter-diamandis/evidence-of-abundance...
Below are two powerful graphs in "Health Abundance" I wanted to share this week. First is the massive reduction in smoking from 45 percent in the 1960s to 25 percent today. The bad news is that smoking is still the #1 preventable cause of death in the United States. Cigarette smoking causes more than 480,000 deaths each year in the United States. This is about one in five deaths. Smoking causes more deaths each year than all of these combined: HIV, alcohol, car accidents and guns. Second, is a look at the reduction of global malaria deaths, and the increase in funding allocated for research and development to cure malaria. As medical research continues and technology enables new breakthroughs, there will be a day when Malaria and most all major deadly diseases are eradicated on Earth. I hope you enjoyed this week's Evidence of Abundance.
Note: See a great booklet filled with inspiring graphs showing how our world is gradually becoming ever more abundant.
---
The Promise of Ecstasy for PTSD
November 3, 2017, New York Times
https://www.nytimes.com/2017/11/03/opinion/ecstasy-ptsd.html
In July, the Food and Drug Administration took the important step of approving two final-phase clinical trials to determine whether a party drug that has long been on the Drug Enforcement Administration's Schedule I list of banned substances could be used to treat a psychiatric condition that afflicts millions. The drug is MDMA, a psychedelic commonly known as Ecstasy. The trials aim to determine whether the drug is, as earlier trials have suggested, a safe and effective treatment for post-traumatic stress disorder. The F.D.A. approval is a beacon of hope for the roughly eight million Americans believed to suffer from PTSD, a group that includes victims of abuse, refugees and combat veterans. The shortcomings in the way we have typically treated PTSD mean that many are condemned to suffer from the condition for years, even decades, with little relief. Less than 20 percent of patients are estimated to get effective treatment through prescription psychiatric drugs ... which, along with psychotherapy, have been the global standard of mental health care since the 1990s. This could change with the F.D.A.'s decision, which has given MDMA-assisted psychotherapy for the treatment of PTSD the status of a potential "breakthrough therapy." This designation permits the fast-tracking of trials in hopes of proving the drug, which has psychedelic and stimulant effects, to be safe and capable of doing what no other drug on the market can.
Note: Read more about how MDMA has been found to be highly effective for treating PTSD in a therapeutic context. Articles like this suggest that the healing potentials of mind-altering drugs are gaining mainstream scientific credibility.
---
Can anything stop bitcoin? Price above $8,000
November 20, 2017, CNN News
http://money.cnn.com/2017/11/20/investing/bitcoin-prices/index.html
Forget about boring stocks. Bitcoin is where it's at these days for investors. The virtual currency is now trading at a record high above $8,200. If this keeps up, bitcoin could be trading at $10,000 before the end of the year. The price of one bitcoin has surged more than 735% this year alone and has skyrocketed nearly 40,000% in the past five years. Some investors are likely flocking to bitcoin as a speculative bet. But there's also a legitimate case to be made that bitcoin, ethereum, litecoin and other cryptocurrencies are the future of money and that more and more people will conduct actual transactions using these currencies. To that end, Square - the popular mobile payment service run by Twitter CEO Jack Dorsey - recently announced a trial that will let some users of its Cash app purchase bitcoin. "We're always listening to our customers and we've found that they are interested in using the Cash app to buy bitcoin," said a spokesperson for Square. "We believe cryptocurrency can greatly impact the ability of individuals to participate in the global financial system," the Square spokesperson added. And CME Group, owner of the Chicago Mercantile Exchange, said earlier this month it plans to soon list bitcoin futures contracts. Futures let investors buy and sell an asset at a specified price at a later date, They're popular bets for currencies, metals and agricultural commodities. In other words, CME Group is now treating bitcoin as a legitimate financial asset.
Note: Since this article was published two weeks ago, the price of Bitcoin has risen to an astounding $14,000. If you invested $100 in Bitcoin five years ago, it would now be worth about $5 million. Even since this article was written a week ago, Bitcoin's price has surged more than 10%. The fact that the media is hardly reporting this suggests it may have a ways to climb and that digital currencies might even dominate other currencies some day.
---
Note: For summaries of the latest news articles covering deep politics and censored news, click here. For summaries of the most important news articles ever along these lines, click here.
Don't miss our treasure trove of inspiring resources
Kindly support this work of love: Donate here
Explore the mind and heart expanding websites managed by the nonprofit PEERS network:
Subscribe to the PEERS email list of inspiration and education (one email per week). Or subscribe to the list of news and research on deep politics (one email every few days).