$1 Billion Donated to Conservation, Women Win Big in US Elections, Dogs Help Veterans With PTSD
Inspiring News Articles
November 30, 2018
Hey awesome friends,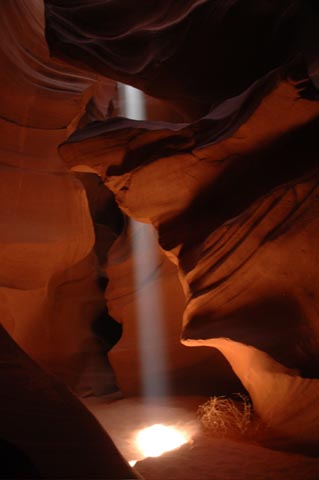 Explore below key excerpts of inspiring news articles with great information on philanthropist Hansjörg Wyss' donation of $1 billion to environmental conservation efforts across the planet, the historic number of women and minority candidates who won big in the recent US midterm elections, the use of service dogs to help war veterans manage PTSD, and more.
Each inspiring excerpt is taken verbatim from the media website listed at the link provided. If any link fails, click here. The key sentences are highlighted in case you just want to skim. Please spread the inspiration and have a great one!
With sacred love and warm wishes,
Fred Burks for the PEERS websites
Special note: Explore an intriguing article using quantum physics to claim that nothing is solid and everything is energy. See a thought-provoking article on the latest research into what LSD does to the brain and mind.
Quote of the week: "True freedom arises from the courage to feel, the willingness to be vulnerable and the humility to appreciate the wisdom all beings have to offer." ~~ Linda Kohanov in her deeply inspiring book "Riding Between the Worlds"
Video of the week: Don't miss this amazing 5-minute video by the founder of Tom's shoes that invites you to make a difference in our world.
---
We Have to Save the Planet. So I'm Donating $1 Billion.
October 31, 2018, New York Times
https://www.nytimes.com/2018/10/31/opinion/earth-biodiversity-conservation...
Some scientists, including the Harvard biologist Edward O. Wilson, have concluded that at least half the planet needs to be protected to save a large majority of plant and wildlife species from extinction. Indeed, the food, clean water and air we need to survive and prosper depends on our ability to protect the planet's biological diversity. In other words, we have to protect half to save the whole. Every one of us - citizens, philanthropists, business and government leaders - should be troubled by the enormous gap between how little of our natural world is currently protected and how much should be protected. For my part, I have decided to donate $1 billion over the next decade to help accelerate land and ocean conservation efforts around the world, with the goal of protecting 30 percent of the planet's surface by 2030. This money will support locally led conservation efforts around the world, push for increased global targets for land and ocean protection, seek to raise public awareness about the importance of this effort, and fund scientific studies to identify the best strategies to reach our target. I believe this ambitious goal is achievable because I've seen what can be accomplished. Indigenous peoples, local leaders and conservation groups around the world are already busy setting aside protected areas that reflect the conservation, economic and cultural values of nearby communities. Financial support from philanthropists and governments is critical to helping these leaders conserve places like the coral reefs of the Caribbean, the glaciers of Argentina and what is known as the "place of many elephants" in Zimbabwe.
Note: The above was written by philanthropist Hansjörg Wyss. Explore a treasure trove of concise summaries of incredibly inspiring news articles which will inspire you to make a difference.
---
Night of Firsts: Sharice Davids, Ilhan Omar and More Make History in Midterm Elections
November 7, 2018, New York Times
https://www.nytimes.com/2018/11/07/us/politics/election-history-firsts-blackburn...
There were historic firsts across the country on Tuesday night, as voters chose from a set of candidates that was among the most diverse ever to run in the United States. Native American, Muslim and African-American women, and L.G.B.T. candidates, were among those who broke barriers. In next year's session of Congress, there will be at least 100 women in the House for the first time in history. Sharice Davids [is] the first lesbian Native American to be elected to the House and part of "a rainbow wave" of L.G.B.T. candidates in this year's election. She has criticized the Republican tax bill and called for "a true tax cut for the middle class." Ilhan Omar, a Democratic state legislator in Minnesota, and Rashida Tlaib, a Democratic former state legislator in Michigan, became the first Muslim women elected to Congress after winning their House races. Ms. Omar will also be the first Somali-American to serve in Congress. Ms. Tlaib, a Palestinian-American attorney, has championed Medicare for All, a $15 minimum wage and abolishing the federal agency Immigration and Customs Enforcement. Ayanna Pressley will become the first African-American woman to represent Massachusetts in Congress. She beat a 10-term incumbent in the Democratic primary and vowed to pursue "activist leadership" to advance a progressive agenda. Alexandria Ocasio-Cortez, 29, became the youngest woman elected to Congress. Like Ms. Pressley, she defeated a white male incumbent who had served 10 terms in a Democratic primary.
Note: Explore a treasure trove of concise summaries of incredibly inspiring news articles which will inspire you to make a difference.
---
Veterans using dogs to help with PTSD
May 3, 2018, The Journal-Gazette/Washington Post
http://www.journalgazette.net/features/20180503/veterans-using-dogs-to-help-with...
Every month, a new cycle of training begins with yet another class of veterans in a program run by the northern Florida K9s for Warriors. The seven-year-old nonprofit is one of dozens of private organizations that offer "psychiatric service" dogs to address the military's mental health crisis. "The numbers are startling on veteran suicides, and this is working," said Rory Diamond, a former federal prosecutor who quit to become chief executive of K9s for Warriors. A recent [Purdue University] study ... used standard questionnaires to assess PTSD symptoms and other aspects of mental health among 141 K9s for Warriors applicants, half teamed with a service dog and half on a wait list. Those with dogs showed significantly lower levels of post-traumatic stress, depression and social isolation, with higher levels of psychological well-being. Dogs have provided services to humans for millennia, often as hunting and herding partners. But not until World War I were they systematically trained to assist people with disabilities, as guides for the blind. Service dogs now prompt deaf people when a doorbell rings, retrieve pills for people in wheelchairs and alert people with diabetes to blood sugar spikes. Psychiatric service dogs [blend the missions of] of task-oriented service canines and animals seen as providing emotional support. While the dogs paired with veterans with PTSD are commonly trained to wake them from nightmares ... advocates also laud their ability to soothe a panicking vet and provide companionship.
Note: Explore a treasure trove of concise summaries of incredibly inspiring news articles which will inspire you to make a difference.
---
Surprising New Study Confirms the 'Warm Glow' of Kindness Is Real
November 14, 2018, Inc.com
https://www.inc.com/peter-economy/surprising-new-study-confirms-warm-glow-of...
Psychologists at the University of Sussex, after analyzing the brain scans of over 1000 people who made kind decisions, are now able to say for sure that the warm glow of kindness is real. In fact, it exists in a particular place within your brain. For the first time, researchers were able to bring together previous studies that suggested generosity activates the brain's reward network. These scientists were able to differentiate between two types of kindness: altruistic (when there is nothing to be gained from being kind) and strategic (when an act of kindness can lead to something gained). The study's findings revealed ... something unique about altruistic acts of kindness. Being kind with no intent of personal gain not only activates the brain's reward areas, it also activates other brain regions (in the subgenal anterior cingulate cortex) as well. This means that when you act kind with no hope of gaining something in return, your brain will activate more and in different ways than when you are strategically kind. Acting strategically kind can even make you feel worse, and diminish your glow. Co-author of the study and PhD student Jo Cutler explains, "...if after a long day helping a friend move house, they hand you a fiver, you could end up feeling undervalued and less likely to help again. A hug and kind words however might spark a warm glow and make you feel appreciated." Ultimately, it does matter what the intent is behind kindness.
Note: The study described in the article above is available here. Explore a treasure trove of concise summaries of incredibly inspiring news articles which will inspire you to make a difference.
---
Bologna: The City that Rewards You with Free Beer and Ice Cream for Riding Your Bike
November 5, 2018, The Independent (One of the UK's leading newspapers)
https://www.independent.co.uk/travel/news-and-advice/bologna-bike-riding-free-beer...
If you've ever felt that your green credentials have gone unrewarded, it might be worth considering a move to the Italian city of Bologna. For six months a year, an initiative called Bella Mossa ("Good Job") operates within the city, which rewards users of sustainable forms of transport with free beer, ice cream or film tickets. The programme ... aims to reduce pollution and offers residents and visitors an incentive to walk, cycle or take public transport, rather than travel by car. Participants simply download the Better Points app on their phone, where they can log up to four journeys per day. Over 100 businesses in Bologna have signed up to the scheme to offer benefits for points accrued. Points are awarded for the number of trips taken, rather than the distance covered. Whether you travel one kilometre or 10, the points will remain the same. To avoid any abuse of the system, a GPS tracker makes sure people are being honest about the journeys they log and the method of transport used. The app also tells users how much CO2 was saved on each journey. Urban planner Marco Amdori devised the scheme in 2017; it's funded by the EU and Bologna's local government. Last year, [Bella Mossa] recorded 3.7 million kilometres of sustainable journeys in the city. This isn't the first time Bologna has led the way when it comes ethical living. In 2008, the Festival of Responsible Travel was established in the city and has continued to run annually ever since.
Note: Explore a treasure trove of concise summaries of incredibly inspiring news articles which will inspire you to make a difference.
---
New CDC reports show meditation and yoga have grown significantly in popularity
November 8, 2018, US News and World Report
https://www.usnews.com/news/healthiest-communities/articles/2018-11-08/yoga...
Yoga and meditation have increased in use among both U.S. adults and children in recent years, two new reports from the Centers for Disease Control and Prevention show, with the number of adults who had recently practiced yoga soaring by nearly 60 percent. In 2017, an estimated 35.2 million adults had put themselves in a downward-facing dog, lotus pose or other yoga position in the past 12 months, accounting for a 14.3 percent population share and up from 22.4 million (9.5 percent) in 2012. Women and adults between 18 and 44 were most likely to have recently practiced yoga in 2017. Meanwhile, a separate CDC report showed that the shares of children ages 4 to 17 who had practiced yoga or meditation each increased substantially. In 2012, an estimated 3.1 percent of children had done yoga in the past 12 months, compared with 8.4 percent in 2017. The estimated share of kids who had meditated recently increased nearly tenfold during that time frame, from 0.6 percent to 5.4 percent. "An increase in promoting yoga or promoting meditation in studios, gyms, et cetera, could play a role in ... more people using these approaches," says Tainya Clarke, an epidemiologist with the CDC's National Center for Health Statistics. Outpacing meditation and use of a chiropractor, yoga remained the most commonly used of the three "complementary health approaches" that were assessed. Still, the share who had meditated in the last year more than tripled between 2012 and 2017, from 4.1 percent to 14.2 percent.
Note: Explore a treasure trove of concise summaries of incredibly inspiring news articles which will inspire you to make a difference.
---
UK renewable energy capacity surpasses fossil fuels for first time
November 6, 2018, The Guardian (One of the UK's leading newspapers)
https://www.theguardian.com/environment/2018/nov/06/uk-renewable-energy-capacity...
The capacity of renewable energy has overtaken that of fossil fuels in the UK for the first time, in a milestone that experts said would have been unthinkable a few years ago. In the past five years, the amount of renewable capacity has tripled while fossil fuels' has fallen by one-third, as power stations reached the end of their life or became uneconomic. The result is that between July and September, the capacity of wind, solar, biomass and hydropower reached 41.9 gigawatts, exceeding the 41.2GW capacity of coal, gas and oil-fired power plants. Imperial College London, which compiled the figures, said the rate at which renewables had been built in the past few years was greater than the "dash for gas" in the 1990s. Dr Iain Staffell, who undertook the research, said: "Britain's power system is slowly but surely walking away from fossil fuels, and this quarter saw a major milestone on the journey." In terms of installed capacity, wind is the biggest source of renewables at more than 20GW, followed by solar spread across nearly 1m rooftops and in fields. Biomass is third. In the past year, coal capacity has fallen by one-quarter, and there are only six coal-fired plants left in the UK. Coal operators have been affected by the UK's carbon tax on electricity generation, as well as competition from gas.
Note: Explore a treasure trove of concise summaries of incredibly inspiring news articles which will inspire you to make a difference.
---
Bionic Leaf Is 10 Times Better At Photosynthesis Than Real Plants
June 7, 2016, Popular Science
https://www.popsci.com/scientists-debut-system-making-fuel-through-more-efficient...
Plants take in carbon dioxide, water, and sunshine to create a sugary fuel. Now researchers have done the same, but even better. A recent study in Science describes the system, named Bionic Leaf 2.0. In the "leaf," solar energy splits up a water molecule, and bacteria turn hydrogen and carbon dioxide into liquid fuel, mainly isopropanol. The fuel could possibly be used to power a car's engine or motor in the future. The researchers, led by Daniel Nocera and Pamela Silver from Harvard University, have made advancements on their original Bionic Leaf, released last year. The system had some problems, mainly with the metal catalyst that helped the reaction. In the first edition, the catalyst also set off a reaction that attacked the bacteria's DNA. The new system has a new catalyst made of cobalt and phosphorus. This solves the bacteria-attacking problem and also increases the efficiency of the reaction to 10 percent efficiency. Normal photosynthesis in plants is one percent efficient at converting solar energy to biomass. This technology has the potential to bring another type of solar energy to users. Nocera said in a press release that they are continuing their research, chiefly on bringing this technology to the developing world.
Note: Explore a treasure trove of concise summaries of incredibly inspiring news articles which will inspire you to make a difference.
---
Note: For summaries of the latest news articles covering deep politics and censored news, click here. For summaries of the most important news articles ever along these lines, click here.
Don't miss our treasure trove of inspiring resources
Kindly support this work of love: Donate here
Explore the mind and heart expanding websites managed by the nonprofit PEERS network:
Subscribe here to one of the two popular PEERS email lists