The Future is Looking Bright, From Crippled Child to Gold Medalist, the Magic of Eye Contact
Inspiring News Articles
December 14, 2018
Hey awesome friends,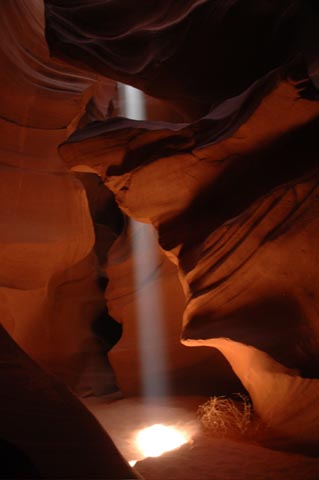 Explore below key excerpts of inspiring news articles with great information on the major global trends revealing hidden progress on improving the living conditions of humanity as a whole, Wilma Rudolph's amazing life from crippled child to Olympic gold medalist, a public event revealing the magic of holding eye contact with strangers, and more.
Each inspiring excerpt is taken verbatim from the media website listed at the link provided. If any link fails, click here. The key sentences are highlighted in case you just want to skim. Please spread the inspiration and have a great one!
With sacred love and warm wishes,
Fred Burks for the PEERS websites
Special note: Watch an awesome, three-minute video with great advice on raising children in a healthy, loving way. Watch a highly engaging one-minute video of the spiritual community and splendid underground temples of Damanhur in Italy. Learn how plants given wheels move towards the light on their own. Explore a great article with detailed information on which foods increase cancer risk and which foods help prevent it. GQ magazine has a great article on spiritual leader Ram Dass a major proponent of the art of being here now.
Quote of the week: "We are like islands in the sea, separate on the surface, but connected in the deep." ~~ William James
Video of the week: Watch transformational speakers Joe Dispenza and Lynne McTaggart talk about literal miracles that happen when we come together in a group with a clear shared intention.
---
Steven Pinker Thinks the Future Is Looking Bright
November 19, 2018, New York Times
https://www.nytimes.com/2018/11/19/science/steven-pinker-future-science.html
Steven Pinker, a cognitive psychologist at Harvard, has been known to take provocative positions. He has argued that women are intrinsically different from men, that we are more driven by our genes than academics like to acknowledge, and that society is getting less violent over time — despite the mass shootings and other atrocities we hear about daily. The thesis of his latest book, "Enlightenment Now," is that life on Earth is improving. By every major measure of human well-being, from personal safety to longevity to economic security to happiness, people everywhere are far better off today than they were before the start of the Enlightenment in the 17th century. "I stumbled across data showing that violence had declined over the course of history. The homicide rate in England was 50 times higher in the 14th century than it is today," [said Pinker]. "Like any other news reader, I just assumed that there was as much mayhem as ever. It's only when you plot it over time ... that you can see the trends. It's not just in violence that one sees progress, but in poverty, in illiteracy, in access to small luxuries. The percentage of the world getting an education, in gender parity in education - girls are going to school all over the world. Even in ... the world's most retrograde countries, the rate of female education has increased. It was an epiphany from seeing graphs of human improvement that changed my view of the overall course of history: that progress is a demonstrable fact.
Note: Explore a treasure trove of concise summaries of incredibly inspiring news articles which will inspire you to make a difference.
---
Her Life's a Sprint, Legacy Long Running
November 13, 1994, Chicago Tribune
https://www.chicagotribune.com/news/ct-xpm-1994-11-13-9411130119-story.html
Wilma Rudolph outran poverty, polio, scarlet fever and the limits placed on black women by societal convention to win three gold medals in sprint events at the 1960 Olympics in Rome. By the time brain cancer caught Rudolph, leading to her death Saturday at age 54, she had achieved a stature that made her legend and her sport greater in the long run. The 20th of 22 children of a porter and a cleaning lady, Rudolph lost the use of her left leg after contracting polio and scarlet fever at age 4. Doctors told her parents she never would walk again without braces, but she refused to accept that prognosis and began to walk unassisted at age 9. It wasn't long before she was outrunning all the girls and boys in her neighborhood. At 16, already under the tutelage of Tennessee State University coach Ed Temple, Rudolph won a bronze medal on the 4 x 100-meter relay at the 1956 Olympics in Melbourne, Australia. Four years later, when she was the mother of a 2-year-old, Rudolph won the three golds despite running all three events with a sprained ankle. After being voted Associated Press female athlete of the year in 1960 and 1961 and the Sullivan Award as the nation's top amateur athlete in 1961, Rudolph retired at 21, a decision that reflects an era in which lack of financial incentives kept most Olympic careers short. She turned to a variety of humanitarian projects, including goodwill ambassador to West Africa, coaching at DePauw University and working for underprivileged children through the Wilma Rudolph Foundation.
Note: The remarkable woman once commented, "My doctors told me I would never walk again. My mother told me I would. I believed my mother."
---
Magic Happens When Bostonians Actually Make Eye Contact
September 28, 2017, NBC (Boston affiliate)
https://www.nbcboston.com/news/local/Magic-Happens-When-Bostonians-Actually-Make...
The rule of thumb for folks walking around Boston is to not look anyone in the eyes. The World's Biggest Eye Contact Experiment held on Saturday challenged people in the city and across the world to break down their walls and to actually make full eye contact with another human being for a full minute. It was a sunny day ... as participants invited others to have meaningful staring sessions. Sixty full seconds looking into a stranger's eyes without conversation or facial expressions to hide behind. It sounds easy enough, but silently sharing eye contact with a stranger can be a foreign feeling for many people more used to being connected to technology than humans. Deborah Knight, who organized Boston's event, said that eye contact is actually more important than most people think. When you actually look at someone's eyes, you actually bypass everything and you get into their soul. It is an unspoken language of love. The global social experiment is organized each year by The Liberators International, an Australian-based group that aims to empower people with love and compassion through events and media. Boston was just one of the hundreds of locations participating this year. Dozens of people just sitting silently and staring, but most would talk and laugh right after the exercise. "People are really hesitant," [said one participant]. "Maybe thirty seconds into it, people relax and their eyes just open up."
Note: Explore a treasure trove of concise summaries of incredibly inspiring news articles which will inspire you to make a difference.
---
Signs That Institutional Investors May Be Reorienting Towards Sustainable Investing
November 19, 2018, Forbes
https://www.forbes.com/sites/robday/2018/11/19/signs-that-institutional-investors...
For a long time entrepreneurs, investors and advocates of sustainable investing have spoken longingly about the $2 trillion of institutional investor dollars that have been reputed to be sitting skeptically on the sidelines, teasing everyone with the prospect of finally putting their sizeable investment muscle to work to scale the sector. Throughout this period, institutional investors have argued that they have withheld their dollars over sound investment concerns with the sector. For a number of years, innovative entrepreneurs in growth sectors like food, energy, water and waster have been doing the heavy lifting to demonstrate that some of these smaller-scale projects can provide attractive investment returns for those investors willing to step in and pioneer these structures. Institutional investors are taking notice. Now a new investor survey and report issued by Bright Harbor Advisors, a private fund advisor, provides some compelling evidence that institutional investors are warming to sustainable investing. 81% now have some type of sustainability, impact, or ESG [Environment, Social, and Governance] mandate as part of their formal investment policy. And an increasing number are allocating internal resources to implement these policies. About a third of respondents have someone on their team dedicated to the space and nearly 20% have sustainable private fund managers in a dedicated investment bucket.
Note: See this Forbes article for more on these inspiring shifts in investing. Explore a treasure trove of concise summaries of incredibly inspiring news articles which will inspire you to make a difference.
---
World's first solar panel road opens in Normandy village
December 22, 2016, The Guardian (One of the UK's leading newspapers)
https://www.theguardian.com/environment/2016/dec/22/solar-panel-road-tourouvre-au...
France has opened what it claims to be the world's first solar panel road, in a Normandy village. A 1km (0.6-mile) route in the small village of Tourouvre-au-Perche covered with 2,800 sq m of electricity-generating panels, was inaugurated on Thursday by the ecology minister, Ségolène Royal. It cost €5m (£4.2m) to construct and will be used by about 2,000 motorists a day during a two-year test period to establish if it can generate enough energy to power street lighting in the village of 3,400 residents. In 2014, a solar-powered cycle path opened in Krommenie in the Netherlands and ... has generated 3,000kWh of energy – enough to power an average family home for a year. The cost of building the cycle path, however, could have paid for 520,000kWh. Before the solar-powered road – called Wattway – was opened on the RD5 road, the panels were tested at four car parks across France. Normandy is not known for its surfeit of sunshine: Caen, the region's political capital, enjoys just 44 days of strong sunshine a year compared with 170 in Marseilles. Royal has said she would like to see solar panels installed on one in every 1,000km of French highway – France has a total of 1m km of roads – but panels laid on flat surfaces have been found to be less efficient than those installed on sloping areas such as roofs. The company says it hopes to reduce the costs of producing the solar panels and has about 100 other projects for solar-panelled roads – half in France and half abroad.
Note: Explore a treasure trove of concise summaries of incredibly inspiring news articles which will inspire you to make a difference.
---
Can lefties and right-wingers find common ground? One site thinks so
December 3, 2018, San Francisco Chronicle (San Francisco's leading newspaper)
https://www.sfchronicle.com/business/article/Can-lefties-and-right-wingers-find...
"Have you experienced being the target of intolerance? What causes you to be intolerant?" Sitting in his book-filled Berkeley living room, Lewis Brown Griggs chewed over those questions and others with six other people via the Zoom conferencing app last month. Ranging in age from early 20s to early 70s, and hailing from Colorado, Virginia, Utah, Maryland and California, the group was brought together by Mismatch.org, a site that aims to "mismatch" people who are politically and geographically diverse for group chats with others of varying viewpoints. It's like a non-romantic dating service for civil discourse. "Our nation has so many problems with division," said John Gable, Mismatch co-founder. "We need to learn how to talk to people who are different than we are, how to listen to them and understand them as people." In an increasingly polarized country, Mismatch aims to help people across the political spectrum find common ground via structured conversations on topics like immigration, tax reform and climate change. Mismatch grew out of Living Room Conversations, another trans-partisan project that brings together folks of varying views to engage in discourse. But while Living Room Conversations hosts in-person groups ... Mismatch casts a wider net by seeking people nationwide to meet up via videoconferencing. "It is about understanding each other as humans," [Gable] said. "We may or may not find common ground, but we always find common humanity."
Note: Explore a treasure trove of concise summaries of incredibly inspiring news articles which will inspire you to make a difference.
---
These Kids Are Learning How to Have Bipartisan Conversations
December 4, 2018, Greater Good
https://greatergood.berkeley.edu/article/item/these_kids_are_learning_how_to_have...
Dozens of high schoolers and their teachers are flowing into the University of Southern California's Galen Center, dressed in their debating best and bantering in various languages. All of these students are members of the Junior State of America (JSA), and they're used to spirited exchanges about government. But they're here today to practice a different diplomatic skill: having thoughtful conversations across political boundaries. "People say, 'When I try to have these kinds of conversations, they go really badly,'" [workshop leader Brooke] Deterline says. Such verbal blowouts often breed simmering resentment and fracture relationships. Deterline wants to teach people how to cultivate compassion for others even when they don't agree with them, which she sees as necessary for a divided country to find a shared vision for its future. From the start, Deterline makes clear that what she's about to teach is the conversational equivalent of t'ai chi—a philosophy focused on holding back, not charging forward. "I used to think courage was giving somebody a piece of my mind," she tells the students. "It's acting with an open heart in the face of conflict. It is a choice, and it also is a muscle." What often shuts down conversations across the political aisle, she explains, is when our brains go into what she calls "the red zone." "When we're stressed, our natural compassion is cut off," she says. Deterline's core message is that when you notice your brain heading into the "red zone," you can take steps to divert its course.
Note: Explore a treasure trove of concise summaries of incredibly inspiring news articles which will inspire you to make a difference.
---
Inside Payless's elaborate prank to dupe people into paying $600 for shoes
November 30, 2018, Washington Post
https://www.washingtonpost.com/business/2018/11/30/they-had-us-fooled-inside...
A mini-runway, lined with stiletto heels, glistens in bright fluorescent lighting. Shoes of various types sit neatly in individual glass shelves. It was a private launch party of a new luxury brand of shoes called Palessi, designed by Italian designer Bruno Palessi. "I would pay $400, $500.'" a woman said as she tried on a pair of bright-gold sneakers. The woman was not actually buying a Palessi because there's no such brand, and there's no Bruno Palessi. There is, however, Payless ShoeSource, a discount shoe retailer hoping to shake things up through an ... advertising prank to attract new customers and change the perception that the company sells cheap, unfashionable shoes. The prank also points to a reality about the human mind: Consumers are not capable of discerning the quality and value of the things they buy, said Philip Graves, a consumer behavior consultant. Slap a fancy-sounding European label on $30 shoes, and you have an illusion of status that people will pay an exorbitant amount of money for. On the day of the launch ... after attendees purchased overpriced shoes ― some for $200, $400 and $600 ― they were taken toward the backroom, where the prank was revealed. "You've got to be kidding me," said [one attendee], her eyes wide as she stared down at the overpriced shoes in her hands. "Consumers have been paying hugely inflated prices," [said Graves]. "Some of the pleasures that we get from things that we buy come from the money we spent on them."
Note: While this marketing prank demonstrated the public's willingness to ignore product quality in evaluating the cost of purchases, a much more serious study recently found that the average CEO-to-worker pay ratio has now reached 339 to 1 across US companies.
---
The Remarkable Rise Of ESG
July 11, 2018, Forbes
https://www.forbes.com/sites/georgkell/2018/07/11/the-remarkable-rise-of-esg...
Responsible investing is widely understood as the integration of environmental, social and governance (ESG) factors into investment processes and decision-making. ESG factors cover a wide spectrum of issues that traditionally are not part of financial analysis, yet may have financial relevance. This might include how corporations respond to climate change, how good they are with water management, how effective their health and safety policies are ... how they manage their supply chains, [and] how they treat their workers. The term ESG was first coined in 2005 in a landmark study entitled "Who Cares Wins." Today, ESG investing is estimated at over $20 trillion in AUM or around a quarter of all professionally managed assets around the world, and its rapid growth builds on the Socially Responsible Investment (SRI) movement that has been around much longer. Cynics may argue that responsible investing is just a fad. But a closer look at the forces that have driven the movement over the past 15 years suggests otherwise. The big challenge for most corporations is to adapt to a new environment that favors smarter, cleaner and healthier products and services, and to leave behind the dogmas of the industrial era when pollution was free, labor was just a cost factor and scale and scope was the dominant strategy. Today, ESG investing has matured to the point where it can greatly accelerate market transformation for the better.
Note: Explore a treasure trove of concise summaries of incredibly inspiring news articles which will inspire you to make a difference.
---
The 'Neo-Banks' Are Finally Having Their Moment
November 20, 2018, New York Times
https://www.nytimes.com/2018/11/20/technology/finance-start-ups-neo-banks.html
After the financial crisis 10 years ago, unhappy customers were expected to flee the megabanks for smaller competitors. It didn't happen. And the big banks became even more entrenched. Now another wave of alternative banks are at it again. Chime, the biggest new name to pop up, has opened two million fee-free online checking accounts and is adding more customers each month than Wells Fargo or Citibank. Venture capitalists are pouring money into American start-ups that are offering basic banking services — known as neo-banks or challenger banks. In 2018 so far, American neo-banks have gotten ... 10 times as much funding as they did in 2015. "In consumer banking, you have what is one of the largest industries in the United States, in terms of profits, and at the same time one of the least disrupted industries, and the most unpopular with consumers," said Andrei Cherny, the founder of Aspiration, a neo-bank that has attracted nearly a million customers. "Those three things create a perfect storm for disruption." The banks are struggling to adapt because they have built an expensive infrastructure of local branches and have become increasingly reliant on revenue from fees. Surveys have shown that a wide array of fees, for everything from A.T.M. use to checking account maintenance, have been steadily rising in recent years. The big banks have also held on to the interest payments they get rather than passing them along to depositors.
Note: For more along these lines, see concise summaries of deeply revealing banking corruption news articles from reliable major media sources.
---
Note: For summaries of the latest news articles covering deep politics and censored news, click here. For summaries of the most important news articles ever along these lines, click here.
Don't miss our treasure trove of inspiring resources
Kindly support this work of love: Donate here
Explore the mind and heart expanding websites managed by the nonprofit PEERS network:
Subscribe here to one of the two popular PEERS email lists