NYC Has Fewest Murders in 60 Years, GravityLight For Those Without Electricity, Quebec's Basic Income
Inspiring News Articles
January 26, 2018
Hey awesome friends,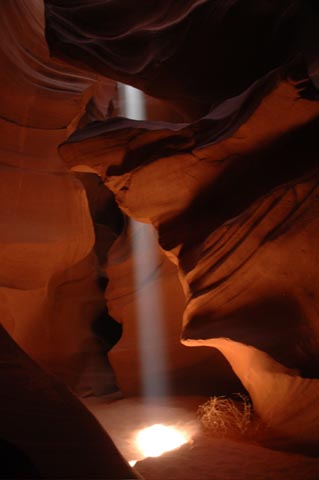 Explore below key excerpts of inspiring news articles with great information on New York City posting the lowest number of murders and lowest crime rate in over 60 years, an inexpensive gravity-powered lamp for those without electricity in Kenya, Quebec's plan to provide a basic income to 84,000 people unable to work, and more.
Each inspiring excerpt is taken verbatim from the media website listed at the link provided. If any link fails, click here. The key sentences are highlighted in case you just want to skim. Please spread the inspiration and have a great one!
With sacred love and warm wishes,
Fred Burks for the PEERS websites
Special note: Explore an intriguing essay titled "The Origin, Purpose, and Destiny of the Earth Game." Read how comedian Sarah Silverman responded to an attack on Twitter and ended up turning her attacker's life around in a most inspiring way. This photo essay will astound you with the work of artists who are severely disabled.
Quote of the week: "One of the attributes of love, like art, is to bring harmony and order out of chaos, to introduce meaning and affect where before there was none, to give rhythmic variations, highs and lows to a landscape that was previously flat." ~~ Molly Haskell
---
New York City records fewest murders, lowest crime rate in decades
January 5, 2018, ABC News
http://abcnews.go.com/US/york-city-records-fewest-murders-lowest-crime-rate...
New York City ended the year with the fewest murders and the lowest crime figures in decades, the mayor and the NYPD said Friday. There were 290 murders in the nation's largest city in 2017, compared to 335 killings the previous year, said Mayor Bill de Blasio in a news conference. "No one believed it was possible to get under 300 murders," de Blasio said. The murder rate is a far cry from 1990, when 2,245 people were killed in the city. The numbers of other crimes - shootings, robberies, burglaries and grand larcenies auto - also dropped, officials said. "To see crime levels as low as we have today, you'd have to go back to 1951, when the Dodgers played in Brooklyn and a slice was 15 cents," de Blasio added. Overall, 2017 was the fourth straight year of declines in crime in New York City. According to NYPD records there were 96,517 crimes reported last year, compared with 102,052 in 2016, a drop of 5.4 percent.
Note: Major media consistently under-reports the remarkable drop in crime in the US. In 1990, there were nearly twice as many reported violent crimes as there were in 2016.
---
Where There Is Gravity, Let There Be Light
October 31, 2017, National Geographic
https://news.nationalgeographic.com/2017/10/sponsor-content-where-there-is...
British designers are using the power of gravity to generate electricity, bringing safe and affordable light to people living off-grid. The kerosene that fuels most off-grid lamps is very expensive. Kerosene is also dirty and dangerous. In 2009 ... designers Martin Riddiford and Jim Reeves were challenged to create a safe, affordable, and sustainable lamps for low-income families living off-grid. Looking beyond solar and battery power, they had a lightbulb moment about gravity. Lifting a weight creates a potential energy store which is turned into kinetic energy as the weight descends. Through the GravityLight's innovative gear train, this kinetic energy spins a generator that produces enough electrical energy to power an LED bulb. When the light goes out, the weight is simply hoisted back up to begin again. GravityLight has been piloted in Kenya where kerosene lamps are used extensively, especially in rural areas. A 50-night roadshow, supported by International celebrities, saw GravityLight engage with communities and organizations across the country. The results were impressive, with 90% of people saying they were happy to switch from kerosene. Little wonder, as the benefits quickly stack up. The GravityLight pays for itself in just seven weeks, and delivers an immediate improvement in the air quality of the home. It is clean, robust, renewable, reliable, and safe—as well as being better for the environment, giving off no CO2 or black carbon emissions.
Note: Watch a great two-minute video on this ingenious invention.
---
Quebec to offer basic income for 84,000 people unable to work
December 10, 2017, CBC (Canada's public broadcasting system)
http://www.cbc.ca/news/canada/montreal/quebec-proposes-basic-income-poverty...
Quebecers who have a severely limited capacity to work will gradually be able to access a guaranteed minimum income beginning next year, Premier Philippe Couillard's government announced. The measure is part of a $3-billion action plan to fight poverty and promote "economic inclusion," but falls short of offering a basic income for all Quebecers, a demand of many anti-poverty groups. An estimated 84,000 Quebecers would qualify for the minimum income measure, largely those with physical and intellectual disabilities. Of the 84,000, the vast majority are single people, long a neglected demographic when it comes to poverty reduction programs in Quebec. By next year, they will see their government assistance increased by at least $73 per month. That figure will reach $440 per month by 2023, bringing their annual guaranteed minimum to $18,029. Many of the measures announced Sunday either encourage low-income Quebecers to enter the job market or help them stay employed. This includes $1.8 million in funding to improve the digital skills of those living in poverty and nearly $34 million for Quebecers who receive social assistance and want to learn more skills. The measures also come one year after the Couillard government introduced controversial new rules that penalized social assistance recipients who failed to take steps to find a job. The $3 billion in spending will be spread out over several years, with the goal of helping 100,000 Quebecers out of poverty by 2023.
Note: Explore a treasure trove of concise summaries of incredibly inspiring news articles which will inspire you to make a difference.
---
It's Now Illegal to Pay Men More Than Women in Iceland
January 2, 2018, Fortune
http://fortune.com/2018/01/02/illegal-to-pay-men-more-than-women-iceland/
Iceland is the first country to make it illegal to pay men more than women. Equal pay policies is now mandatory for companies with 25 or more employees. Those that cannot show that they provide equal pay will be subject to fines. The law, which was passed last year, went into effect on Jan. 1. Iceland is already a leader in gender parity. The World Economic Forum (WEF) ranked Iceland as the top country for gender quality for the last nine years based on criteria involving economics, education, health, and politics. For example, Icelandic women make up 48% of the country's parliament - without a quota system. Despite this, wage inequality has persisted. In 2016, thousands of women in Iceland left work at 2:38 p.m., to protest pay disparity. The time was symbolic of when woman stop receiving pay during their 9 to 5 work day compared to men. The wage gap in Iceland was 72 cents to every man's dollar. On International Women's Day in 2017, the country moved to change that. The tiny country, pop. 323,000, aims to completely eliminate the wage gap by 2020.
Note: Explore a treasure trove of concise summaries of incredibly inspiring news articles which will inspire you to make a difference.
---
China, Moving to Cut Emissions, Halts Production of 500 Car Models
January 2, 2018, New York Times
https://www.nytimes.com/2018/01/02/climate/china-cars-pollution.html
China is suspending the production of more than 500 car models and model versions that do not meet its fuel economy standards, several automakers confirmed Tuesday, the latest move by Beijing to reduce emissions in the world's largest auto market and take the lead in battling climate change. The suspension, effective Jan. 1, would affect both domestic carmakers and foreign joint ventures ... in China, where 28 million vehicles were produced in 2016. China has dozens of small-scale automakers - some producing just a few hundred cars a year. Cui Dongshu, the secretary general of the China Passenger Car Association, said that the ban would affect at most 1 percent of the Chinese market. But the government's decision to cite fuel economy in the deregistration of so many versions at the same time is nonetheless a signal of the government's commitment to fuel economy. The country, which for years prioritized economic growth over environmental protection ... has emerged as an unlikely bastion of climate action. "They're sending a signal to everybody," said Michael Dunne, president of ... a Hong Kong-based consultancy on China's clean car market. "This shows their emissions standards have teeth." The Chinese government has already become the world's biggest supporter of electric cars, offering automakers numerous incentives for producing so-called new energy vehicles. Those incentives are set to decrease by 2020, to be replaced by quotas for the number of clean cars automakers must sell.
Note: Explore a treasure trove of concise summaries of incredibly inspiring news articles which will inspire you to make a difference.
---
Low-carbon sources produce majority of UK electricity supply for first time ever
January 3, 2018, The Independent (One of the UK's leading newspapers)
http://www.independent.co.uk/news/business/news/uk-energy-production...
More than half of the electricity generated in the UK in 2017 came from low-carbon sources for the first time ever. Renewables and nuclear provided more electricity than all fossil fuels combined, with wind generation alone supplying twice as much energy as coal, according to analysis by Carbon Brief, a website that tracks climate change and energy policy. Wind made a greater contribution to the country's electricity needs than coal in every month apart from January. The share from low-carbon sources doubled between 2008 and 2017, Carbon Brief said. The UK has also added wind and solar power generation rapidly, as costs have fallen. Future development will increasingly be possible without the Government subsidies that have aided the industry's development until now. The UK also passed a series of other milestones last year, including its first day without coal power since 1882, the most electricity produced from solar power at any one moment and the most wind power produced in a day. Wind saw the biggest increase of any energy source, with supply up 31 per cent for the whole of 2017 on 2016's level. The electricity sector has been the primary focus of renewable power generation as that power can then be used to revolutionise the other sectors, for example through the electrification of transport. Britain's power system is the fourth cleanest in Europe and the seventh cleanest in the world.
Note: Explore a treasure trove of concise summaries of incredibly inspiring news articles which will inspire you to make a difference.
---
Power Prices Go Negative in Germany, a Positive for Energy Users
December 25, 2017, New York Times
https://www.nytimes.com/2017/12/25/business/energy-environment/germany...
Germany has spent $200 billion over the past two decades to promote cleaner sources of electricity. That enormous investment is now having an unexpected impact - consumers are now actually paid to use power on occasion, as was the case over the weekend. Power prices plunged below zero for much of Sunday and the early hours of Christmas Day on ... a large European power trading exchange, the result of low demand, unseasonably warm weather and strong breezes that provided an abundance of wind power on the grid. Such "negative prices" are not the norm in Germany, but they are far from rare, thanks to the country's effort to encourage investment in greener forms of power generation. Prices for electricity in Germany have dipped below zero ... more than 100 times this year alone. Several countries in Europe have experienced negative power prices, including Belgium, Britain, France, the Netherlands and Switzerland. But Germany's forays into negative pricing are the most frequent. At times, Germany is able to export its surplus electricity to its neighbors, helping to balance the market. Still, its experiences of negative prices are often longer, and deeper, than they are in other countries. In one recent example, power prices spent 31 hours below zero during the last weekend of October. At one point, they dipped as low as minus €83, or minus $98, per megawatt-hour, a wholesale measure. Anyone who was able to hook up for a large blast of electricity at that time was paid €83 per unit for the trouble.
Note: Explore a treasure trove of concise summaries of incredibly inspiring news articles which will inspire you to make a difference.
---
'We Can Take Them Apart.' ICAN Chief Beatrice Fihn Accepts Nobel Peace Prize for Group's Work to Ban Nuclear Weapons
December 10, 2017, Time
http://time.com/5056523/beatrice-fihn-nobel-peace-prize/
When Beatrice Fihn received a call on Oct. 6 informing the 35-year-old Swede that her group, the International Campaign to Abolish Nuclear Weapons (ICAN), had been awarded the Nobel Peace Prize, she suspected a possible prank. Not that you should blame her - ICAN is just 10 years old, and the group's aims can seem positively fanciful: the complete elimination of the world's roughly 15,000 nuclear warheads. But that call from the Norwegian Nobel Committee was real, and so is Fihn's goal. ICAN, a global coalition of 440 partner organizations in 98 countries, was honored for its efforts to advance the Treaty on the Prohibition of Nuclear Weapons, which was successfully finalized by two-thirds of the United Nations' 192 members this summer. The treaty—which would outlaw nuclear weapons' use, production and possession—is now open for ratification, and will become international law after 50 countries sign on. Those countries almost certainly won't include the members of the nuclear club: The U.S., Russia, China, Great Britain, France, Pakistan, India and North Korea. Fihn is realistic that nuclear weapons won't be abolished overnight. But just as earlier treaties banning biological weapons and land mines eventually led to such munitions being phased out, she believes a nuclear arms ban could help turn the public against these truly horrific weapons of mass destruction.
Note: Explore a treasure trove of concise summaries of incredibly inspiring news articles which will inspire you to make a difference.
---
Tesco: No edible food will go to waste by February 2018
December 23, 2017, BBC News
http://www.bbc.com/news/uk-42464912
No food fit for human consumption will be wasted by Tesco's UK stores by the end of February, the retail giant says. Chief executive Dave Lewis told the Daily Telegraph food waste had been "talked about for years" as he unveiled the plans for all 2,654 stores. Urging other chains to follow suit, he said edible food should be used for people, not go to waste. Tesco, with all major UK supermarkets, has signed a commitment to cut food waste by one-fifth within a decade. The voluntary agreement is known as the Courtauld Commitment 2025. Mr Lewis ... said the contrast between the amount of wasted food in the UK and the situation in countries suffering food shortages was "really stark". He said: "Last year we sold 10 million tons [10.2 million tonnes] of food to the British public. But even if our waste is just 0.7% of the food, that's still 70,000 tons [71,100 tonnes] of food. Tesco says it cuts waste by selling surplus groceries with "reduced to clear" stickers and [by using] an app, FoodCloud, to scan and upload surplus food that stores have at the end of the day, which is shared with registered charities that collect the food. "That goes a long way in reducing charities' bill burdens, so they can spend the money on ... providing much more needed services," Mr Lewis said. "Food waste has been talked about for years but if Tesco can make this work, with all of our different stores across the country, then why can't everybody," he added.
Note: Explore a treasure trove of concise summaries of incredibly inspiring news articles which will inspire you to make a difference.
---
A little hope for a homeless solution: Tiny housing units sprout in the Bay Area
December 26, 2017, San Francisco Chronicle (San Francisco's leading newspaper)
http://www.sfchronicle.com/bayarea/article/A-little-hope-for-a-homeless...
Nearly two years after a smattering of tiny homes popped up in the Bay Area as a peculiar new way of housing homeless people, the technique is exploding from one end of the region to the other. Nearly 1,000 tiny homes or their close cousins - stackable modular housing units, typically with less than 200 square feet of living space - are being planned in San Francisco, San Jose, Richmond, Berkeley, Oakland and Santa Rosa. Tiny units can be built in a fraction of the time it takes to construct typical affordable housing, at a sliver of the cost, and that means a lot of homeless people can be housed quickly. In one of the most expensive housing markets in the nation, with tent-camp problems everywhere, that prospect sounds like a game-changer to officials. Contra Costa has a $750,000 federal homelessness grant to pay for 50 stackable micro-units of supportive housing, and Richmond Mayor Tom Butt would like to see them in his city. Developer Patrick Kennedy brought a prototype of his MicroPad unit to Richmond in November, and county and city leaders say they are leaning toward choosing it. Tiny homes have also caught on in San Jose, where the City Council this month approved plans for a village of 40 of them for homeless people. "You really have two options," said [city Councilman Raul] Peralez, who said he wants the village in his downtown district. "You can allow the homeless to live on the streets, or you can provide ... shelter [and] services. In my mind, that's a way better option for managing this community in an organized way."
Note: Explore a treasure trove of concise summaries of incredibly inspiring news articles which will inspire you to make a difference.
---
Star Trek's secret weapon: a scientist with a mushroom fetish bent on saving the planet
December 24, 2017, CBC (Canada's public broadcasting system)
http://www.cbc.ca/news/canada/british-columbia/paul-stamets-star-trek...
On Star Trek: Discovery, the character Lieutenant Paul Stamets is an "astromycologist" - a mushroom expert in outer space who is passionate about the power of fungi. Stamets is actually named after a real U.S. scientist who ... looks nothing like his blond-haired TV counterpart, but he's just as enamoured with fungi. Over 40 years, Stamets has pioneered methods for using mushrooms to do everything from clean up oil spills to save disappearing bees by boosting their immune systems. But he's just as excited about Star Trek's potential to inspire people to create some of the science they see presented in screen - even if it does seem a bit fantastic. So were flip phones when people first saw Spock's, he said. "What I love about Star Trek is that we can actually set the stage for science fact," said Stamets. In a 2008 TED Talk, Stamets explained how fungi can be used to "save the world" by cleaning polluted soil, replacing toxic insecticides and even treating viruses. "I'm just a messenger for the mycelium," he said, referring to the network of fungal filaments under the soil that form the largest organism on earth. Mycelium can be found in every forest, but the biggest one he knows of is a massive, 970-hectare mass - bigger than 1,600 football fields - in an Oregon forest. Stamets believes this network "communicates," not unlike a fungal internet. The filaments transfer nutrients and information, and even sabotage unwelcome plants by spreading toxins.
Note: Explore a treasure trove of concise summaries of incredibly inspiring news articles which will inspire you to make a difference.
---
Microbrewery's edible six-pack rings create eco-friendly alternative to plastic
May 25, 2016, Los Angeles Times
http://www.latimes.com/food/la-dd-edible-six-pack-rings-20160524-snap-story.html
Saltwater Brewery, along with New York City-based ad agency We Believers, developed edible six-pack rings made of the wheat and barley remnants left over from making beer. We Believers co-founders Marco Vega and Gustavo Lauria were working on a production shoot. After the crew ate lunch, Lauria looked around and realized how much plastic trash they'd managed to produce. They decided to create a product that would take the responsibility off the consumer by not using any plastic in the first place. They set their sights on six-pack rings. Vega and Lauria connected with Chris Gove ... of Saltwater Brewery. Originally, Lauria had envisioned six-pack rings made of dried seaweed, but the potential environmental impact made that idea untenable. So the trio turned to something Gove had in abundance: wheat and barley remnants. Two months after that fateful ... lunch, they manufactured 500 working prototypes using a 3-D printer and produced and published a video showing off their creation. The next step for the team is to build a hydraulic mold that can handle making 200,000 units a month. At that point, Saltwater Brewery will be able to use the rings on all of the beers they make. "We feel truthful about finding a solution to use ways to reduce the carbon footprint, and that's to use byproducts of the beer processing as it exists right now," he said.
Note: A video on these pollution reducing six-pack rings is available at the link above. Explore a treasure trove of concise summaries of incredibly inspiring news articles which will inspire you to make a difference.
---
UFO Existence "Proven Beyond Reasonable Doubt," Says Former Head of Pentagon Alien Program
December 24, 2017, Newsweek
http://www.newsweek.com/ufo-existence-proven-beyond-reasonable-doubt-says...
The existence of UFOs had been "proved beyond reasonable doubt," according the head of the secret Pentagon program that analyzed the mysterious aircrafts. Luis Elizondo [said] of the sightings, "In my opinion, if this was a court of law, we have reached the point of 'beyond reasonable doubt.' I think it's pretty clear this is not us, and it's not anyone else, so no one has to ask questions where they're from." Elizondo led the U.S. Defense Department's Advanced Aerospace Threat Identification Program, investigating evidence of UFOs and alien life, from 2007 to 2012, when it was shuttered. Its existence was first reported by The New York Times last week. Elizondo [said] that there had been "lots" of UFO sightings and witnesses interviewed during the program's five years. Investigators pinpointed geographical "hot spots" that were sometimes near nuclear facilities and power plants. They also observed trends among the aircrafts, including lack of flight surfaces on the objects and extreme maneuverability. "There was never any display of hostility, but ... they maneuvered in ways no one else in the world had," he said. Despite Pentagon funding running out in 2012, Elizondo oversaw UFO work for another five years before resigning in October 2017 out of frustration with the secrecy of the investigations. He had pushed for videos of the possible alien sightings to be made public so people could see the footage. In his resignation letter to Defense Secretary Jim Mattis, Elizondo asked, "Why aren't we spending more time and effort on this issue?"
Note: Elizondo is one of several former government officials now employed by To the Stars Academy for Arts and Sciences, which claims it will "advance research into unexplained phenomena and develop related technology." This may be part of a planned roll out so that the public becomes more comfortable with the existence of UFOs. Many dozens of top officials have spoken openly of their personal involvement in the UFO cover-up, yet the media has failed to make this headlines until now. For more, explore the excellent, reliable resources in our UFO Information Center.
---
Note: For summaries of the latest news articles covering deep politics and censored news, click here. For summaries of the most important news articles ever along these lines, click here.
Don't miss our treasure trove of inspiring resources
Kindly support this work of love: Donate here
Explore the mind and heart expanding websites managed by the nonprofit PEERS network:
Subscribe here to one of the two popular PEERS email lists