Optimism Increases Longevity, Plants Talk to Us, More Women in STEM Fields
Inspiring News Articles
September 13, 2019
Hey awesome friends,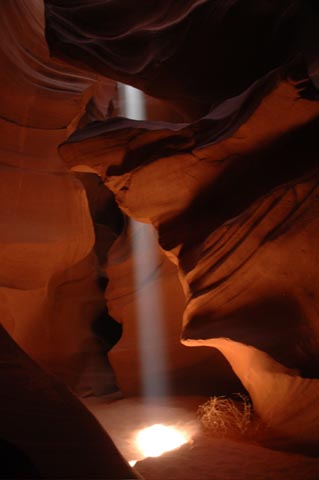 Explore below key excerpts of inspiring news articles with great information on new research finding that those with high optimism tend to live much longer than those with low optimism, scientist Monica Gagliano's experience listening to plants as part of her research, how women are breaking into the male-dominated fields of engineering and computer science at top colleges, and more.
Each inspiring excerpt is taken verbatim from the media website listed at the link provided. If any link fails, click here. The key sentences are highlighted in case you just want to skim. Please spread the inspiration and have a great one!
With sacred love and warm wishes,
Fred Burks for the PEERS websites
Special note: See a great guide by NPR to more efficient recycling of plastics in your home.
Quote of the week: "The only way to find your Self is to lose your self." ~~ Jonathan Kolber
Awesome online courses: PEERS has developed several highly praised online courses which have  not only helped to educate and inspire thousands, many have said their lives were transformed in remarkable ways. The courses bring together the very best of WantToKnow.info and other PEERS websites and weave this material into a beautiful tapestry. Explore these free courses on this webpage  and read the rave reviews of those who have taken the Transformation Course.
---
People with higher optimism more likely to live 'exceptionally long lives'
August 27, 2019, Medical News Today
https://www.medicalnewstoday.com/articles/326163.php
New research finds that individuals with higher optimism tend to live longer and also have greater odds of living 85 years and more. A recent PNAS paper describes how the researchers assessed the link between higher optimism and longer lifespan, with a particular focus on the chances of reaching "exceptional longevity." The team carried out the study because most research on exceptional longevity has tended to focus on the effect of "biomedical factors." More recently, however, scientists have become interested in the role of nonbiological factors. "While research has identified many risk factors for diseases and premature death," says first and corresponding author Lewina O. Lee, Ph.D., "we know relatively less about positive psychosocial factors that can promote healthy aging." She and her colleagues defined optimism as the "general expectation that good things will happen or the belief that the future will be favorable because one can control important outcomes." For the analysis, the team brought together data on 69,744 females ... and 1,429 males. The questionnaires that they completed ... included items on optimism. When the researchers analyzed the data, they found that the females and males with the highest levels of optimism ... lived on average 11–15% longer than those with the lowest levels of optimism. In addition, [those] with the highest levels of optimism had a 50–70% greater likelihood of living until their 85th birthday and beyond.
Note: Explore a treasure trove of concise summaries of incredibly inspiring news articles which will inspire you to make a difference.
---
Do Plants Have Something to Say?
August 26, 2019, New York Times
https://www.nytimes.com/2019/08/26/style/can-plants-talk.html
Monica Gagliano says that she has received Yoda-like advice from trees and shrubbery. She recalls being rocked like a baby by the spirit of a fern. She has ridden on the back of an invisible bear conjured by an osha root. These interactions have taken place in dreams, visions, songs and telekinetic interactions, sometimes with the help of shamans or ayahuasca. Dr. Gagliano's scientific research ... has broken boundaries in the field of plant behavior and signaling. Currently at the University of Sydney in Australia, she has published a number of studies that support the view that plants are, to some extent, intelligent. Her experiments suggest that they can learn behaviors and remember them. Her work also suggests that plants can "hear" running water and even produce clicking noises, perhaps to communicate. She believes, like many scientists and environmentalists do, that in order to save the planet we have to understand ourselves as part of the natural world. It's just that she also believes the plants themselves can speak to this point. "I want people to realize that the world is full of magic, but not as something only some people can do, or something that is outside of this world," she said. "No, it's all here." At the [world science] festival, a young woman asked Dr. Gagliano how her scientific work had changed her understanding of the world. "The main difference is that I used to live in a world of objects, and now I live in a world of subjects," she said. There were murmurs of approval. "And so, I am never alone."
Note: Explore a treasure trove of concise summaries of incredibly inspiring news articles which will inspire you to make a difference.
---
Women break barriers in engineering and computer science at some top colleges
September 16, 2016, Washington Post
https://www.washingtonpost.com/local/education/women-break-barriers-in-engineering...
Women are making major gains in enrollment in engineering and computer science at some of the nation's most prominent colleges and universities. While men still far outnumber women nationally — 4 to 1 in engineering, 5 to 1 in computer science — female students are gaining ground slowly at many schools and rapidly at others. The federal government and industry leaders acknowledge that more should be done to bring women into science, technology, engineering and math, known as the STEM fields, and they have pushed programs such as Girls Who Code to boost interest among girls at a young age. Samantha Horry, 18, from the suburbs of Philadelphia, is one of 80 young women among 165 new computer science students this fall at Carnegie Mellon. She fell for the subject in high school, taking eight classes. Almost always, she was the only girl. "Just me and some guys," she recalled. That didn't deter her from winning admission to one of the country's most prestigious programs to pursue her interests in machine learning and artificial intelligence. Now Horry is startled at how many young women on campus are following her path in a field where the stereotype of the male teenage computer geek, obsessed with gaming and programming, looms large. She looks around in class and sees, for the first time, gender balance. "It's crazy and awesome," Horry said. "I don't feel out of place."
Note: Explore a treasure trove of concise summaries of incredibly inspiring news articles which will inspire you to make a difference.
---
This southern city is fighting food deserts with a forest of free produce
May 24, 2019, CNN News
https://www.cnn.com/2019/05/24/us/atlanta-food-forest-fighting-food-desert...
Among the heavily trafficked streets of Atlanta, a massive urban food forest is growing to provide fresh produce for the public. But what exactly is a food forest? In the fight against food deserts - low income areas that lack access to fresh, whole foods - a food forest is a public space in the city where fresh produce will grow in trees, bushes, plants, and community garden beds for the community to enjoy. And at 7.1 acres, the site in Atlanta will become the city's first and the nation's largest. In the Lakewood-Browns Mill community, which will house the Urban Food Forest, more than a third of the population lives below the poverty line, according to the USDA, who has assisted in the project. "Residents still talk about the land's former owners, who left excess produce from their farm on fence posts for neighbors to claim and enjoy," the USDA said. "Now this land will celebrate that history and make new memories for the community." A city ordinance passed in the beginning of the month grants money for the city to purchase the plot from the Conservation Fund, which currently owns and has helped develop the land. In addition to community outreach and education, the forest is meant to make strides in the city's goal of putting 85% of residents within a half mile of fresh food by 2021.
Note: Explore a treasure trove of concise summaries of incredibly inspiring news articles which will inspire you to make a difference.
---
Cutting-edge experiments show an electrical zap improves memory in older adults
May 10, 2019, CBC (Canada's public broadcasting system)
https://www.cbc.ca/radio/quirks/may-11-2019-zapping-the-brain-to-improve-memory...
Two complementary studies recently found that noninvasive and extremely mild brain stimulation could be used to improve episodic and working memory in older adults. "We can make these 60 and 70-year-olds look strikingly like our 20-year-old participants," researcher Robert Reinhart [said]. The first study used a technique called transcranial magnetic stimulation (TMS) to induce mild neural firing in the brain. The research team stimulated the participants' brains for half an hour a day for five days. They then measured the adults' memory ability 24 hours after the final day of stimulation and found their recall ability on a memory test had improved 31 per cent. The second study, led by Robert Reinhart from ... Boston University, used a different technology, and stimulated different regions of the brain. Using electroencephalography, or EEG, which records the electrical activity of the brain, Reinhart found evidence that older adults' brain waves were out-of-sync in critical brain regions used by working memory or short-term memory. Reinhart then tried to ameliorate the problem by using a precise and customizable electrical stimulation technology called "high definition transcranial alternating current stimulation," or HD-tACS for short. The team applied current for 25 minutes to 42 older participants' brains, and saw improvements during this time on a memory test that they did before they received stimulation. As in Voss' study, the subjects' performance increased to the point that it was equal to that of 20-year-olds.
Note: Explore a treasure trove of concise summaries of incredibly inspiring news articles which will inspire you to make a difference.
---
12-Year-Old Spiritual Prodigy Akiane
December 14, 2006, CNN Video Clip
http://edition.cnn.com/video/bestoftv/2006/12/14/beck.akiane.child.prodigy.cnn/content.html
A self taught artist who says her inspiration comes from above.... [These] Paintings ... are spiritual, emotional, and created by a 12-year-old prodigy. Her name is Akiane. She picked up the brush when she was just six years old, but the visions -- what she calls inspiration from God -- started when she was just four. She began to describe to her mother in great detail her visits to heaven. "All the colors were out of this world. There are hundreds and millions of more colors that we don't know yet." Her mother remarkably was an atheist. The concept of God [was] never discussed in their home. [Akiane:] "I explained to her you have to believe me. This is a different way ... a way that's so mysterious that God wants me to go through. The visions to me [are] like he's explaining himself to me and what he does. " To four-year-old Akiane, God quickly became a part of her daily life, and eventually became a part of her family's life, too. Her talent doesn't stop at her art work. Only a few months ago she decided to learn the piano and is now already composing her own music. But it is her painting that truly captures the incredible spirituality of this young girl. She is a self taught painter, and as she grows older her paintings grow more expressive, more colorful, [and] more complex. A girl -- who armed only with a brush and some paints -- is determined to capture the essence of her faith, and hopefully along the way inspire others to feel the same way. [Akiane:] "It's just so beautiful! The most important things in this world is faith, because without faith you cannot communicate with God."
Note: The above CNN link takes you to a three-minute video (after commercial) showing the incredible talents of this amazingly gifted girl. If the link fails, click here. For her website, click here. For a collection of videos showing Akiane and her inspiration as she gets older, click here.
---
He teaches incarcerated kids to honor his mom who was denied education. Now, he's National Teacher of the Year.
April 26, 2019, CNN News
https://www.cnn.com/2019/04/24/us/rodney-robinson-2019-teacher-of-the-year...
[Rodney] Robinson, who teaches at Virgie Binford Education Center, a school inside the Richmond Juvenile Detention Center in Virginia, was just named the National Teacher of the Year by the Council of Chief State School Officers. "He creates a positive school culture by empowering his students - many of whom have experienced trauma - to become civically minded social advocates who use their skills and voices to affect physical and policy changes at their school and in their communities," the council said in a statement. After seeing his mom "transform" while pursuing her GED, Robinson decided to become a history and social studies teacher. He has been teaching for 19 years. In 2015, Robinson moved to teaching at the juvenile detention center because he wanted to understand the school-to-prison pipeline, which refers to strict school policies that can push students from disadvantaged backgrounds to leave school and become incarcerated. Many of the students at Virgie Binford come from impoverished backgrounds, live in high-crime areas and have had negative contact with schools and the judicial system, Principal Ta'Neisha Ford said. The educators' goal is to help these students fall back in love with school. "(Robinson) allows students to really shine and he gives them the tools to succeed," Ford said. Robinson said he's honored to have won the teacher of the year title. He is working on programs to lower high school dropout rates.
Note: Explore a treasure trove of concise summaries of incredibly inspiring news articles which will inspire you to make a difference.
---
Judge's running club helps Skid Row's homeless rebuild their lives
April 12, 2019, CNN News
https://www.cnn.com/2019/04/04/us/cnnheroes-judge-craig-mitchell-skid-row...
Twice a week, before the sun comes up, Judge Craig Mitchell runs the mile from his office at the county courthouse to The Midnight Mission, a social services organization centered in Downtown's Skid Row - the notorious area where the city's largest homeless population resides. At the mission, he meets a group of 30 to 40 people, and together they run through East L.A. The group includes runners from all walks of life and all levels of athleticism. Some members are homeless or in recovery, and others are lawyers, social workers, students or off-duty LAPD officers. Mitchell developed the program in 2012 after a man he'd once sentenced to prison returned to thank him. "He was paroled to The Midnight Mission and decided to come back and say, 'Thank you, Judge Mitchell, for treating me like a human being.' "The president of the mission at the time asked me if there was something that I could do to contribute to the mission's program, and I thought of starting a running club. That was the inception," Mitchell said. Between 300 and 500 people have since run with the group, now an official nonprofit. Every year, Mitchell takes his most dedicated Skid Row runners on a free trip to participate in an international marathon. In recent years, Mitchell and club members have participated in marathons in Ghana, Rome, Vietnam and Jerusalem. Mitchell says he's seen participants turn their lives around, attending college, securing full-time employment and maintaining sobriety.
Note: Explore a treasure trove of concise summaries of incredibly inspiring news articles which will inspire you to make a difference.
---
Who's the boss? In worker-owned cooperatives, everyone is.
August 2, 2019, Christian Science Monitor
https://www.csmonitor.com/Business/2019/0802/Who-s-the-boss-In-worker-owned...
The chain of command at PV Squared, a solar panel installation company in Massachusetts's Pioneer Valley, is admittedly convoluted. "Technically, I'm Kim's boss," says general manager Jonathan Gregory of bookkeeper Kim Pinkham. But "Kim's on the board, and the board oversees my position, so technically she's my boss." As members of a worker-owned cooperative, the 40-plus employees elect their own board of directors and make decisions based not on majority rule, but by consensus. When they're not holding the microphone, members at meetings express themselves with hand signals: a flat palm for a question or statement, a raised index finger for direct response, and a hand cupped in a "C" for a clarification. Currently, worker-owned entities employ about 17 million people, or 12% of the U.S. workforce. Such business can take a variety of forms, from equity-sharing plans like those found at Publix super markets, Land O'Lakes, and King Arthur Flour, to more radical models, like at PV Squared. By far the most common are employee stock ownership plans, or ESOPs. On the other end of the spectrum are workers collectives ... where there is no hierarchy. Collective Copies, a copy shop with 11 workers and locations in Amherst and Florence, Massachusetts, operates according to this model. After a trial period of six months, new hires are invited to become owners. "Everyone's on the board of directors," says Matt Grillo, a worker-owner who has been with Collective Copies for 20 years.
Note: Explore a treasure trove of concise summaries of incredibly inspiring news articles which will inspire you to make a difference.
---
Danish bank launches world's first negative interest rate mortgage
August 13, 2019, The Guardian (One of the UK's leading newspapers)
https://www.theguardian.com/money/2019/aug/13/danish-bank-launches-worlds-first...
A Danish bank has launched the world's first negative interest rate mortgage – handing out loans to homeowners where the charge is minus 0.5% a year. Negative interest rates effectively mean that a bank pays a borrower to take money off their hands, so they pay back less than they have been loaned. Jyske Bank, Denmark's third largest, has begun offering borrowers a 10-year deal at -0.5%, while another Danish bank, Nordea, says it will begin offering 20-year fixed-rate deals at 0% and a 30-year mortgage at 0.5%. Under its negative mortgage, Jyske said borrowers will make a monthly repayment as usual – but the amount still outstanding will be reduced each month by more than the borrower has paid. The mortgage is possible because Denmark, as well as Sweden and Switzerland, has seen rates in money markets drop to levels that turn banking upside-down. Høegh said Jyske Bank is able to go into money markets and borrow from institutional investors at a negative rate, and is simply passing this on to its customers. In Denmark, interest rates on savings deposited in Jyske ... have already fallen to zero. In reality, the Jyske mortgage borrower in Denmark is likely to end up paying back a little more than they borrowed, as there are still fees and charges to pay to compensate the bank for arranging the deal, even when the nominal rate is negative.
Note: Explore a treasure trove of concise summaries of incredibly inspiring news articles which will inspire you to make a difference.
---
The World's Largest Electric Vehicle Is a Dump Truck
August 21, 2019, Popular Mechanics
https://www.popularmechanics.com/technology/infrastructure/a28748306/worlds...
While electric vehicles are quickly proliferating throughout the world, most electric engines are still relegated to smaller vehicles. But then there's the Elekto Dumper - the world's largest EV - which flouts the rule that EVs can't handle serious work. The truck is used to haul lime and marlstone, which contains clay and silt, from the sides of mountains in Switzerland. Then, the material is transported directly to a cement factory. But here's the really impressive piece of engineering—this heavy dump truck never needs to be charged. Here's how it works: The dump truck, itself, weighs 45 tons and ascends a hill at a 13 percent grade, in one scenario. On the way back down, it's more than twice as heavy, carrying 65 tons of ore. To rectify that scenario, the truck's "regenerative braking system" actually recaptures the energy created by going downhill, refilling the battery's charge for the next time the truck travels uphill. The dump truck is officially called the Elektro Dumper, but the German manufacturer, Kuhn Schweitz, made life a lot easier by naming it eDumper for short. The eDumper was modeled on a Komatsu HB 605-7, a massive dump truck: It's 30 feet long, 14 feet wide, and 14 feet tall. Kuhn Schweitz said that making the trip from quarry to cement factory 20 times in one day produces a surplus of 200 kilowatt-hours of energy (or 77 megawatt-hours per year). Your average dump truck, by contrast, uses between 11,000 and 22,000 gallons of diesel fuel each year.
Note: Explore a treasure trove of concise summaries of incredibly inspiring news articles which will inspire you to make a difference.
---
Child Psychiatrist Says Past-Life Memories Not So Uncommon in Kids
July 25, 2006, ABC News
http://abcnews.go.com/GMA/story?id=2232830
From the ages of 2 to 6, James Leininger seemed to recall in striking detail a "past life" he had as a World War II Navy pilot who was shot down and killed over the Pacific. The boy knew details about airplanes and about pilot James Huston Jr. that he couldn't have known. James' parents say he also had terrible nightmares about a plane crashing and a "little man" unable to get out. James, now 8, stills loves airplanes, but he is free of those haunting images of the pilot's death. Jim Tucker, a child psychiatrist and medical director of the Child and Family Psychiatric Clinic at the University of Virginia, is one of the few researchers to extensively study the phenomenon of children who seem to have memories of past lives. He says James' case is very much like others he has studied. "At the University of Virginia, we've studied over 2,500 cases of children who seem to talk about previous lives when they're little," Tucker said. "They start at 2 or 3, and by the time they're 6 or 7 they forget all about it and go on to live the rest of their lives." Tucker -- the author of Life Before Life: A Scientific Investigation of Children's Memories of Previous Lives -- has seen cases like James' where children make statements that can be verified and seem to match with a particular person. "It means that this is a phenomenon that really needs to be explored," Tucker said. "James is one of many, many kids who have said things like this." While about three-fourths of Americans say they believe in paranormal activity, 20 percent believe in reincarnation, according to a 2005 Gallup poll.
Note: To watch the engaging ABC News video clip of this incredible story, click here. For an even better Fox News clip, click here. For an excellent survey of powerful evidence of life and death, click here. For a collection of news articles with other powerful evidence of past-lives, click here.
---
Note: For summaries of the latest news articles covering deep politics and censored news, click here. For summaries of the most important news articles ever along these lines, click here.
Don't miss our treasure trove of inspiring resources
We're $1,100 in the red for the year.
Kindly support this work of love: Donate here
Explore the mind and heart expanding websites managed by the nonprofit PEERS network:
Subscribe here to one of the two popular PEERS email lists