Solar Energy Storage Breakthrough, Our Greening World, Library of Live Humans
Inspiring News Articles
April 29, 2022
Hey wonderful friends,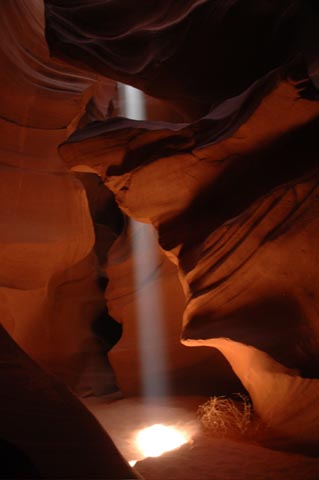 Explore below key excerpts of inspiring news articles with great information on newly released documents describing strange health impacts associated with UFO encounters, the U.S. government's new food labeling rules that hide genetically modified ingredients behind the term "bioengineered," an Israeli study finding that extra COVID-19 booster shots do little to prevent infections, and more.
Each inspiring excerpt is taken verbatim from the media website listed at the link provided. If any link fails, click here. The key sentences are highlighted in case you just want to skim. Please spread the inspiration and have a great one!
With sacred love and warm wishes,
Fred Burks for the PEERS websites
Special note: Read a great essay titled "10 Reasons For Hope and Optimism." If you are interested in the paranormal and expanded realities, you might enjoy this fascinating presentation.
Quote of the week: "There is evil cast around us, but it's love that wrote the play." ~~ David Wilcox in this beautiful song
---
Scientists figure out how to store solar energy for 18 years
April 13, 2022, The Independent (One of the UK's leading newspapers)
https://www.independent.co.uk/tech/solar-power-renewable-energy-climate-b2056327.html
Scientists have discovered a way to capture solar energy and store it for nearly two decades, before releasing it when it is needed. Using a system called molecular solar thermal energy storage (MOST), researchers at Chalmers University of Technology in Sweden and Shanghai Jiao Tong University in China developed an ultra-thin chip to act as a thermoelectric generator. "This is a radically new way of generating electricity from solar energy," said Kasper Moth-Poulsen, a professor at the Department of Chemistry and Chemical Engineering at Chalmers who led the research. "It means that we can use solar energy to produce electricity regardless of weather, time of day, season, or geographical location." The MOST system uses a specially designed molecule that reacts to sunlight in order to capture the Sun's energy. After loading it with solar energy in Sweden, Chalmers University sent it to their colleagues in Shanghai where they were able to convert it into electricity. "Essentially, Swedish sunshine was sent to the other side of the world and converted into electricity in China," said a statement released by Chalmers University. The researchers hope the technology can lead to self-charging electronics that use stored solar energy on demand, as well as holding the potential to transform renewable and emissions-free energy production. More research and development is required before the system can be implemented at scale, thought Chalmers University said it has already attracted "great interest worldwide."
Note: Explore a treasure trove of concise summaries of incredibly inspiring news articles which will inspire you to make a difference.
---
The grass really IS greener! NASA discovers 'ambitious tree planting programs' in China and India has made the world more leafy now than it was 20 years ago
March 1, 2019, Daily Mail (One of the UK's popular newspapers)
https://www.dailymail.co.uk/sciencetech/article-6759901/NASA-discovers-China-India...
China and India have planted so many trees that the world is now greener than it was 20 years ago, a counterintuitive new study claims. The superpowers are two of the world's top three most polluting nations and the increase in foliage is mostly a result of 'ambitious tree planting programs'. NASA research discovered there is five per cent more greenery every year compared to the 2000s, resulting in more than two million square miles of extra greenery - the equivalent of more than the Amazon rainforest. Chi Chen from Boston University, who led the research, said China and India 'account for one-third of the greening, but contain only 9 percent of the planet's land area covered in vegetation'. The greening on the planet was first detected in the mid-1990s and from images provided by NASA'S MODIS tool which orbits the Earth on two satellites and provides high resolution images of Earth's surface. China is responsible for a quarter of the overall increase in green leaf area but has only 6.6 per cent of all the world's foliage. India has contributed a further 6.8 per cent rise in green leaf area. Scientists say it is important to factor in this latest finding into future climate change prediction models. 'This long-term data lets us dig deeper,' said Rama Nemani, a research scientist at NASA's Ames Research Center, and a co-author of the work. The research was published in the journal Nature Sustainability.
Note: Explore a treasure trove of concise summaries of incredibly inspiring news articles which will inspire you to make a difference.
---
The Human Library Is Tackling Diversity And Inclusion One Person At A Time
July 13, 2020, Forbes
https://www.forbes.com/sites/kimelsesser/2020/07/13/the-human-library-is-tackling...
The Human Library challenges stereotypes and prejudices through dialogue. In the Human Library, people, instead of traditional books, are on loan to readers. Founder, Ronni Abergel says the Human Library was started to create a space "where you can walk in, borrow a human being and talk to them about a very challenging topic. Ideally, we wanted people to talk about issues that they normally would not talk about, or potentially don't like to talk about, but that we need to talk about." These human "books" are volunteers that come from diverse backgrounds and have experiences that they are willing to share with their human readers. Just like traditional books, the human books have titles that describe their experiences like Black Activist, Chronic Depression, Survivor of Trafficking, Muslim, Latino, Transgender and many more. Sometimes one-on-one and sometimes in small groups, the Human Library creates a safe space where people can engage with someone different from themselves. When the library aids in corporate diversity and inclusion efforts, the readers are the organization's employees who are encouraged to ask difficult questions of the human books—things they always wanted to know but never had the opportunity to ask."It's easy to hate a group of people, but it's harder to hate an individual, particularly if that person is trying to be friendly and open and accommodating and totally non-threatening," says Bill Carney, a volunteer book in the Human Library.
Note: Explore a treasure trove of concise summaries of incredibly inspiring news articles which will inspire you to make a difference.
---
Study: Running 5 Minutes a Day Could Add Years to Your Life
July 29, 2014, Time Magazine
http://time.com/3053081/running-daily/
According to a new study published in the Journal of the American College of Cardiology, running five minutes per day can reduce an individual's risk of premature death by about three years. Researchers found that people who ran less than an hour per week also saw an increase in lifespan, not just a decrease in risk of premature death. The study took place over the course of 15 years, testing participants ranging in age from 18-100. Separate research found that running more than 20 miles per week could take years off an individual's life, providing further evidence that less can be more with regard to exercise. According to that research, individuals who exhibit consistent but moderate workout patterns are likely to live the longest.
Note: Explore a treasure trove of concise summaries of incredibly inspiring news articles which will inspire you to make a difference.
---
Giraffe populations are rising, giving new hope to scientists
January 12, 2022, National Geographic
https://www.nationalgeographic.com/animals/article/giraffe-populations-rising...
Giraffe numbers have increased across Africa, new research shows, a rare spot of good news in the conservation world. According to a recent analysis of survey data from across the African continent, the total giraffe population is now around 117,000, approximately 20 percent higher than it was thought to be in 2015, when the last major survey was published. This rise is a result of genuine growth in some areas, but also stems from more accurate census data, says Julian Fennessy, executive director of the Giraffe Conservation Foundation, based in Namibia. "It's great to see these numbers increasing," says Fennessy, a co-author of the new research. Giraffes were once considered a single species. But recent genetic evidence shows there are likely four species of giraffe, three of which have increased considerably in number: northern, reticulated, and Masai giraffes. The fourth, southern giraffes, have remained relatively stable. Data were collected during the last few years across 21 countries, by governments, researchers, nonprofits, and even citizen scientists. Fennessy and six co-authors then analyzed this vast trove of information and published the results ... in the peer-reviewed research volume Imperiled: The Encyclopedia of Conservation. Northern giraffes, the most threatened species, live in isolated populations across Central and West Africa, as well as Uganda and parts of Kenya. The new paper estimates there are more than 5,900 of this species, a significant increase from 2015, when there were 4,780.
Note: Explore a treasure trove of concise summaries of incredibly inspiring news articles which will inspire you to make a difference.
---
The deep seafloor is filled with entire branches of life yet to be discovered
February 5, 2022, Live Science
https://www.livescience.com/deep-ocean-floor-teeming-with-unknown-life
The deep-ocean floor is teeming with undiscovered life-forms that help to regulate Earth's climate, a new study finds. Researchers sequenced DNA from deep-sea sediments around the world and found that there is at least three times more life on the seafloor than there is higher up in the ocean. What's more, nearly two-thirds of that life has not been formally identified yet. "It's been known since the 1960s that species diversity is very high in the deep sea, so very high numbers of species," co-author Andrew Gooday [said]. "What was new about this study was that there was a lot of novel diversity at the higher taxonomic level." In other words, there are a lot of unknown evolutionary lineages — like whole families of species — waiting to be discovered. The deep-ocean floor covers more than half of Earth's surface but is home to some of the least-studied ecosystems, according to the study. Previous research analyzed DNA collected through the water column, from above the ocean floor up to the surface, so this latest study sought to complete the picture and give a global view of biodiversity in the ocean by looking at seafloor DNA within deep-sea sediments. The researchers also learned more about the role the deep ocean plays in the so-called biological pump, the process by which ocean organisms such as phytoplankton absorb carbon from the atmosphere near the surface and sink to the deep sea, where the carbon is sequestered in the sediments.
Note: Explore a treasure trove of concise summaries of incredibly inspiring news articles which will inspire you to make a difference.
---
What if College Were Free? This State Is Trying to Find Out.
March 31, 2022, New York Times
https://www.nytimes.com/2022/03/31/us/new-mexico-free-college.html
As universities across the United States face steep enrollment declines, New Mexico's government is embarking on a pioneering experiment to fight that trend: tuition-free higher education for all state residents. After President Biden's plan for universal free community college failed to gain traction in Congress, New Mexico, one of the nation's poorest states, has emerged with perhaps the most ambitious plans. A new state law approved in a rare show of bipartisanship allocates almost 1 percent of the state's budget toward covering tuition and fees at public colleges and universities, community colleges and tribal colleges. All state residents from new high school graduates to adults enrolling part-time will be eligible regardless of family income. The program is also open to immigrants regardless of their immigration status. Some legislators and other critics question whether there should have been income caps, and whether the state, newly flush with oil and gas revenue, can secure long-term funding to support the program beyond its first year. The legislation, which seeks to treat college as a public resource similar to primary and secondary education, takes effect in July. Although nearly half the states have embraced similar initiatives that seek to cover at least some tuition expenses for some students, New Mexico's law goes further by covering tuition and fees before other scholarships and sources of financial aid are applied, enabling students to use those other funds for expenses such as lodging, food or child care.
Note: Explore a treasure trove of concise summaries of incredibly inspiring news articles which will inspire you to make a difference.
---
Dolphins Guide Scientists to Rescue Suicidal Girl
May 29, 2014, National Geographic
https://blog.nationalgeographic.org/2014/05/29/dolphins-guide-scientists-to-r...
My research team and I were following a school of bottlenose dolphins near shore ... off Los Angeles, California. The dolphins were still feeding in circle near shore, when suddenly, one individual changed direction heading out toward deeper water. A minute later, the rest of the school turned to follow. Seeing them abruptly leave a foraging ground and change direction came as a surprise to the research team. I decided to follow them. The dolphins increased their speed. Somewhere near three miles offshore the dolphin group stopped, forming a sort of ring around a dark object in the water. "Someone's in the water!" yelled my assistant, standing up and pointing at the seemingly lifeless body of a girl. As the boat neared, she feebly turned her head toward us, half-raising her hand as a weak sign for help. If we didn't act immediately, the girl would die. We [pulled] the frail and hypothermic body on board. "She is cyanotic," said one of my researchers, also a lifeguard, after a cursory examination. "She has severe hypothermia. We need to get her warm!" We managed to get some of her wet garments off and wrap her in a blanket. We took turns keeping her warm by huddling with her under the blanket. A couple of hours later, we were all waiting outside the emergency room at the Marina del Rey hospital. The ER doctor came out to talk with us. The girl, it seems, would pull through, and he thanked us for our quick action. He tells us the girl was vacationing in L.A. from Germany and, as the letter found in her plastic bag explained, she was attempting suicide. If we hadn't found her, if the dolphins hadn't led us offshore when they did, to that specific place, she would have died.
Note: This article has been adapted from the book Dolphin Confidential: Confessions of a Field Biologist. For more on the amazing capacities of dolphins and other marine mammals, as well as the threats they face from human activities, click here. For a treasure trove of great news articles which will inspire you to make a difference, click here.
---
Note: For summaries of the latest news articles covering deep politics and censored news, click here. For summaries of the most important news articles ever along these lines, click here.
Don't miss our treasure trove of inspiring resources
We're $7,400 in the red for the year.
Kindly support this work of love: Donate here
Explore the mind and heart expanding websites managed by the nonprofit PEERS network:
Subscribe here to one of the two popular PEERS email lists